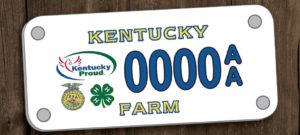 FRANKFORT, Ky. – One of the greatest honors of serving as Commissioner of Agriculture is the opportunity to travel around the state, put the tailgate down on a farm truck, and have a conversation with a farmer about how the year looks. Oftentimes when I do that, that farm truck is proudly displaying an "Ag Tag," a license plate with the Kentucky Proud, FFA, and Kentucky 4-H symbols on it. That "Ag Tag" means a lot to producing locally-grown leaders across our state.
Every year when farmers go to renew their farm license plates, they have the opportunity to donate $10 to the "Ag Tag" fund. That $10 donation can make a huge difference for our state's agriculture youth. Last year, Kentuckians donated almost $612,000 through the Kentucky Ag Tag Fund when they purchased or renewed their farm license plates at their county clerk's office. That simple "Ag Tag" donation helps invest funds back into our communities to develop locally-grown leaders for Kentucky's agricultural future. 
Ag Tag donations are equally divided among Kentucky 4-H, Kentucky FFA, and the Kentucky Department of Agriculture (KDA) for youth development and promotional programs. Each of the organization uses the dollars to promote the future of Kentucky agriculture and invest in future leaders.
At KDA, the funds support initiatives that promote agriculture in Kentucky, such as the Kentucky Leopold Conservation Award and the Kentucky Ag Athletes of the Year scholarship program conducted annually with the Kentucky High School Athletic Association (KHSAA). The funds also support many commodity organizations and events, ranging from the Kentucky Agricultural Leadership Program (KALP) to AgLand at the Kentucky State Fair. In recent years, the Ag Tag Fund has even assisted industry groups such as Kentucky Women In Agriculture in sponsoring its annual conference.
Kentucky FFA uses the donated funds to support more than $20,000 in agriculture program grants to make a capital investment in curriculum or facilities. FFA also provides $1,000 to each of the 12 FFA regions to recognize students at regional FFA banquets and for travel scholarships for Kentucky FFA members who are competing at the National FFA Convention. It also supports statewide initiatives such as the Kentucky FFA website, state officer leadership development, and support for teacher educators at the university level.
The Kentucky 4-H Foundation uses its portion of its Ag Tag funds to support statewide programs such as engineering events, the Issues Conference, the Performing Arts Troupe, the 4-H Summit, and state officer scholarships.
Half of the 4-H and FFA donations are returned to local councils and chapters, meaning when you donate, leaders in your community are able to use those funds to cover the cost of 4-H and FFA camp and other leadership programs for your youth. County 4-H councils use Ag Tag dollars to provide opportunities, such as 4-H camp scholarships and travel for life-changing, educational experiences, to enable local 4-H youth to grow as leaders and engaged citizens. FFA chapters are free to use the money to meet the greatest needs in their community, such as FFA jackets for students in need or helping cover travel costs to leadership events.
At the end of the day, the donation goes back into your community to support statewide programs impacting 274,000 students. This year's challenge is for Kentucky farm families to continue to invest in Kentucky's agriculture future. Even in a pandemic, it is more important than ever to keep investing in the future of our agricultural youth.
As you head to your county clerk's office this month or next, think about the impact you are making into our locally-grown leaders. There's no greater return on investment than through the "Ag Tag" program.