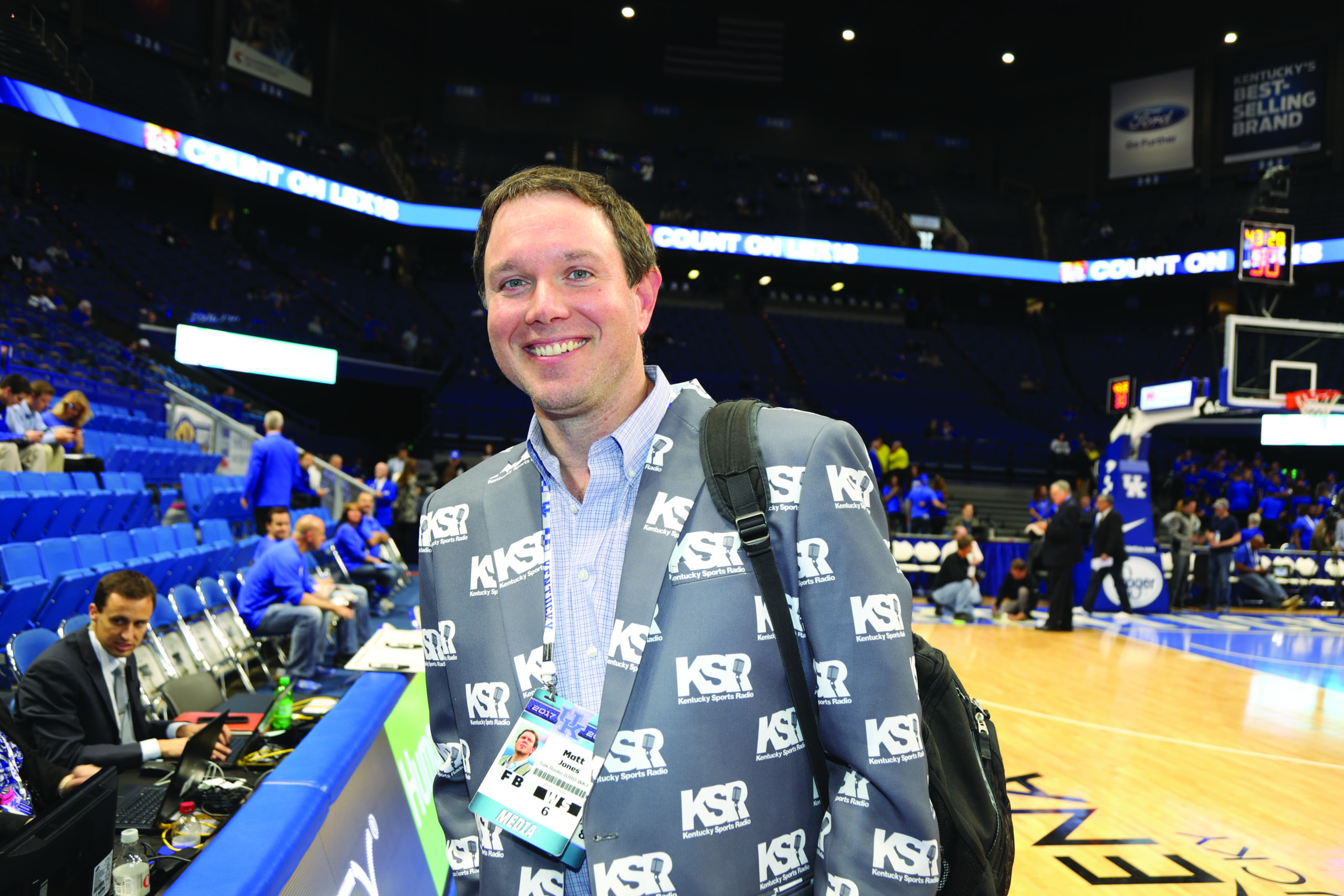 Mark Green: Matt Jones, why do you connect with Kentucky sports fans and seemingly Kentuckians in general better than nearly anybody else? Is it enthusiasm, intelligence, insight? What do you have going on?
Matt Jones: I hope it is because they realize I am one of them. Most of the people that cover teams in the media—and this is not a bad thing—are not fans of the team. They are doing the job and they are covering them, and they don't care whether the team wins or loses. There is definitely a place for that. But for me, I do care and I think the fans like that I care. They think I am one of them. Over my lifetime I have learned about the state. I love the state. I have a lot of pride in the state. In a place like Kentucky, that is often looked down upon, I think they appreciate someone who has pride in the state. I hope those are the reasons. I have been doing this 15 years now, and I think I have a pretty good handle on what entertains folks. If you are not entertaining it wouldn't matter anyway, and I think we are able to—hopefully—be pretty entertaining.
MG: One of the state's top newspaper sports columnists and I went to UK and worked on The Kernel student newspaper together. He is a friend. I would say he cares, but he has to be agnostic professionally.
MJ: That is a viewpoint a lot of people have: that you have to be agnostic. And again I think there is place for those folks. But I think one of the things we have seen—and this has happened in politics too—is that over the years coverage of all events has become more, for lack of a better term, partisan. Because of that, people want to hear folks they believe are like them talking about it. I don't think that is always necessarily positive on the politics side. But on the sports side, I have always thought, 'What's the harm in having people wanting to win?' Especially on radio. I think radio is different than print. I think in radio people want to know that you care and that it matters to you and that is the big difference.
MG: You have your finger exactly on it. When I lived in southeast Louisiana, radio sports personality Buddy Diliberto was a big New Orleans Saints backer. The Saints were terrible most of the time, but Diliberto had one of the most loyal followings I have ever encountered. What do others not understand about the Kentucky audience?
MJ: What most folks don't get—and this is true of a lot of people in all areas—is that this is serious, but it also needs to be fun. One of the things we have always believed is, let's have fun with this stuff. People's lives are hard enough that they don't want to sit around all day and be miserable. When COVID hit I wondered, are people still going to listen to this? There are not sports going on, so are they going to listen? Our listener numbers actually went up because we provided a diversion to people. One of the things that has always been my goal is to not just be sports; to be life and to talk about everything. During COVID, that's what people wanted, because there really wasn't much sports. For shows that only do sports, COVID was really hard. Sports radio ratings tanked all across the country because there were no sports. Ours stayed pretty solid because we have always been more a sports and pop culture show rather than just a sports show.
MG: Congratulations on topping 1 million iHeart podcast downloads in January, the best in the nation. Does this suggest that there is a significant audience outside of the state for KSR and for Kentucky sports in general?
MJ: I think what happens is, Kentucky kind of gets in people's bones. When they leave the state, for a lot of people, we are the way they keep connected to their home. They listen to us and we talk about Kentucky, we sound like Kentucky. I have had many people say to me, 'I live in Chicago, I live in New York, I live in LA, and you are my connection to home.' Or people in the military who are overseas and say, 'You are my connection to home.' We do play that role for a lot of people, and that makes me very happy. When I lived out of state in my life, I have always wanted to keep a connection and I am glad we can do that for folks.
MG: How much preparation is required for each KSR show?
MJ: I spend usually a half hour the night before planning topics and trying to figure out the things we are going to talk about, but for the most part I am a little different than a lot of folks—I think off-the-cuff conversation is much better. There are some hosts who prepare a monologue; I don't do that. You want to make sure you have some direction, but after that I think we just go. Ryan (Lemond) has been in TV and radio for 20-plus years. Shannon ("The Dude" Grigsby) has done radio forever and we all have the ability to just talk. There are a lot of people in broadcasting who don't think that, but to me the less formal the better, the more real the better. Even people who don't like us—and there are a lot of people who don't like us—I think would all agree that we are real. And I think in 2021, the thing people crave is real.
MG: People want that, and you do have it. So, you don't have every block in the show slated out?
MJ: I don't have any blocks slated out. When I do ESPN Radio—I host a national show on ESPN on weekends—they do plan every block. I'll be on for four hours and unless there is breaking news, they know what's going to be talked about each segment. I have gotten used to it now, but for a while that wasn't easy for me because I just didn't enjoy that format; I have learned how to do it. ESPN is different because you have to serve a lot of different people on that show, but for what I do on Kentucky Sports Radio, it makes more sense just to be real. Part of the reason is, our audience tunes in every day with knowledge of who we are as people, so I can reference things and people know what I am talking about. That makes it so much easier because you don't have to reset and tell everybody what has happened. They all know, and that makes it to where it's almost like talking to friends. You don't need to be formal with friends. The audience considers us friends and so we don't need to be formal.
MG: How long have you been doing the ESPN show?
MJ: Three years. It started with me doing an NFL show for two years, and now I do a Saturday afternoon general sports show.
MG: How did a Middlesboro guy who went to college in Lexington at Transylvania University and attended Duke Law School, both on scholarship, decide to get into the business of talking about sports?
MJ: It was just random. In 2005 I started a blog; I did it really out of boredom. I was working (as a lawyer) for a couple of judges, and when I was not doing legal stuff I wanted something else to do. I started a blog to talk about UK sports, and my friends and I would write on it. We found that we were doing it from a different perspective, and people liked it. We got a small audience and it kind of grew. It was a lot of the stuff that now is more common. You know, fans, journalism, being casual. That wasn't common then. When we did it, it was very unique. It served a niche that most people didn't have in Kentucky, and then as blogs really grew in the late 2000s, we kind of exploded with them. About 2009 it occurred to me: I can make this a career. And I sort of set out to do it. Then I got offered a radio show. Then I got offered a television show and things just kind of happened.
MG: What is your law specialty?
MJ: Well, it's nothing now; I haven't practiced in a decade. Back then, the thing I was best at, the thing I liked the most, was appellate law. I have always been an academic at heart and appellate law—where you would argue the intricacies of the law, what it means and what it should mean—I always enjoyed that. I was one of the few people who really enjoyed law school. I thought it was fun and I liked the intellectual challenge of it. The problem is, when you practice law you don't get to do a lot of that. I was fortunate. For a few years I did get to practice basically only appellate law—which is very, very rare—and I did enjoy doing it. After a while I opened my own place, and we did a more general practice and it was fine. I didn't hate it, but it wasn't for me.
MG: Where were you then?
MJ: I worked at Frost Brown Todd in Louisville. I clerked for three federal judges: one on the (U.S. Court of Appeals for the) D.C. Circuit, one of the (U.S. Court of Appeals for the) Fourth Circuit, and then Judge Karen Caldwell (of the U.S. District Court for the Eastern District of Kentucky). I worked at Frost Brown Todd for two and a half years and then I had my own law practice with a buddy for two years.
MG: Business wise, what went into the decision to get involved with Ohio Valley Wrestling and are you hoping or planning to grow it into something national? Who approached whom? How did that happen?
MJ: Craig Greenburg, who is a businessman in Louisville and used to run 21C Hotels (see the April 2016 Lane One-on-One with Greenburg at tinyurl.com/57s7h2dr), approached me. He had found out that Ohio Valley Wrestling was potentially for sale and he thought that with his business acumen and my marketing ability it would be a good partnership and I agreed. Unfortunately, COVID had really hurt the organization because so much of that business was based on attendance and crowds, etc. We were able to get it at a fairly good price, and we decided it was worth it. I really liked the idea.
Wrestling has always been big in Kentucky. It has a rich history, especially in Louisville. We don't have professional sports here, so my theory is there still is a huge appetite when Kentucky basketball and football are not playing for something to do and I thought there was no reason we couldn't build this up. There are two major wrestling associations in America, WWE and AEW. Our goal is to kind of be right beneath them and become a developmental organization for those two major groups. That's what OVW used to be back in the day. In the early 2000s, they had a partnership with the WWE and they were producing talent. So, John Cena, Brock Lesnar, Randy Orton, these big names in wrestling, started with OVW in Louisville. We want to get it back to that spot. I want to take it around the state. One of the things I want to do is provide traveling entertainment for small towns all around the state, and I think we will be able to do that as well.
MG: How has the pandemic affected Kentucky sports in general? Do you think we will make a full recovery or are people still going to be leery of attending events for a while?
MJ: It has been a devastating impact. From a business perspective, the business of sports in Kentucky—not just the actual sports but all of the secondary businesses like my restaurant that rely on it—it has been a huge hit for all of us. As an example, KSBar & Grille (in Lexington) is a restaurant that really is an event bar. We have good food, but most people come to watch games and there were no games. We have had a long period of time where there are restrictions on how many people can come, so it's been a huge hit. I think it's going to take a while to recover. It will be much better next season than it was this one, but it probably won't be fully recovered for another season.
I hope they get back to full attendance at games next year, but even if they do there are going to be a lot of people hesitant to go. I think it is probably going to take another year to get back where you want it to be. Part of me wonders if it will ever be totally the same. Are people going to all want to pile into a gym and sit right next to each other? I think it is going to be a while before a lot of people want to do that. Eventually I think it will get back to normal, but I think it is going to take a while.
MG: Prior to COVID, was live attendance at sporting events in decline? Is it decreasing as a revenue stream?
MJ: That is not just pandemic-related. Live attendance has been in major decline for a decade. The reason is that it is really easy to watch the games at home, right? People have access to really nice televisions. They have access to replay, and there are places like KSBar where you can go and be in public and it's fun, and you don't have to deal with traffic and all of that stuff. Attendance at games has been going down for a long time.
What ends up happening is, you cannot beat the in-game atmosphere for a big game when your team is good. That will always exist. Back in the day, even if the teams stunk, people went because it was something fun to do. I don't know if that is going to happen anymore. What is going to happen is, there is going to be a lot more pressure on these teams to win because the days of Kentucky drawing 50,000 to football games when they are going 2-and-9, I just don't think that's going to happen anymore. For people to go, because they now have so many entertainment options, you have to win.
MG: Regarding KSBar & Grille, are you looking to expand that? Might there be other KSBar & Grilles in other parts of the state?
MJ: We were considering that pre-COVID. Post-COVID, we are going to have to wait and see how things go in terms of the rebuilding of restaurants. The restaurant industry—and The Lane Report has talked about this over the last year—has just been decimated and it is not an easy fix because the same thing I just said about stadiums is going to be true about restaurants. It is going to take awhile. We could have 100% capacity allowed tomorrow and places are still not going to be full because not everybody wants to leave their house.
One day, there are a couple of markets that it would be good to consider. We thought about Owensboro. We thought about Henderson, Bowling Green, those kinds of places. But I want to see what the restaurant industry looks like in a year. It is tough. We have done better than most because I have a built-in advertising platform. The restaurants that have survived this deserve everybody's support because for many of them it was just barely surviving. If the government did not pass the PPP programs, I think we now would have only about one in 10 restaurants we had before.
MG: Why do you think Kentucky gets overlooked when courting professional sports in the big four: NFL, NHL, Major League Baseball, NBA? Do you think the state can make it more attractive?
MJ: Louisville would be the only consideration and there are a couple of problems. The biggest problem is it's about the 48th- or 49th-size U.S. market. You are not going to be a slam dunk because you aren't big enough. Then, they look at other factors and we have a couple of things that are positive but also are a little bit of a negative. Cincinnati being close is helpful because if you had a pro sports team maybe Cincinnati people would come sometimes. But they already have two historic pro sports teams there with baseball and football. You are never going to get a baseball or football team (in Louisville) because it is an hour away from Cincinnati, and you are never going to get a hockey team because Nashville is two hours away from Louisville.
The only real option is NBA basketball. Indianapolis is only two hours away, and that hurts. I think basketball is close; if you were going to ask the NBA to give us your five cities you would expand to, Louisville is probably third behind Seattle and Las Vegas. I think the NBA is going to add two more teams, though, and I think we are going to be the last one out. The other thing is that I think the NBA genuinely worries about corporate sponsors. Are there enough (Louisville) corporate sponsorships? That's getting a lot better in recent years with UPS. One of these days if they ever do it, I think UPS will be a big part of it. We are probably just short.
MG: If Louisville got an NBA team, what would the impact be on UK and UofL basketball? Good or bad?
MJ: I think it's none. Maybe a small impact on Louisville because there might be some people who go to Louisville games now who would instead go to the NBA games. But the history of Louisville and Kentucky athletics is so strong that it is not going to quit. People didn't stop going to University of Indiana games because of the Pacers, right? People didn't stop going to Duke and North Carolina games because of the Hornets. I think it's very, very little. I think the University of Louisville's reticence over the years put us a little behind. But I think the leaders of the city now know that even if it is a small impact on UofL basketball or UK basketball, for our state, the economic impact is much greater and we need to try to do it.
MG: What are your thoughts on legalized sports gambling in Kentucky?
MJ: We should have it; it is dumb that we don't. Within two years, maybe 40 of the 50 states will have it. The question is do we want to be the 41st or do we want to be the 14th and get that head start? There are so many things our legislature does that are stupid; this is one of them. It is going to be legal everywhere soon, so what are we waiting on? The question is: Do you want to wait a few years so that you can look like you are morally superior? That's just dumb because you are letting all of these other people get a head start in the market. It will eventually be legalized everywhere, but our legislature has decided for reasons that make no sense to me to be at the back of the line. I hope they feel good about it. Right now, every state we border has it except us. That's idiotic.
MG: The dollars involved in the sports business have grown tremendously. Statista estimates that in North America, the sports market grew from $47 billion in 2009 to $80 billion last year. Do you pay attention to those metrics, and do you think it is going to keep on growing?
MJ: The growth is going to end somewhere, but the biggest reason it is growing is that there is more access. It used to be that for all of the sports leagues, there was a maximum amount of revenue that could be generated; you could only charge so much for tickets. There were only so many seats in your arena. There is only so much a television network would pay you to show the games. All of those things have changed.
The internet has made it to where there are infinite ways to follow a team and to watch a team. They have found other sources of revenue that are much easier. And television networks—probably what's most important is that there are so many channels and so much content. The only thing television networks know they can rely on (to get viewers that advertisers pay for) is live sports. Live sports are a commodity that there is not enough of, so it is the one thing worth doing. They can put out 50 shows and one of them will hit, but when the Lakers play or the Yankees play, it is a guaranteed success. That is one of the reasons you see the money going way, way up.
MG: Should college athletes be paid?
MJ: Of course. It is amazing in 2021 that that is even a question. There is nothing else on earth that the question of should people be paid to do labor would even be a debate, yet somehow in college sports we act like that is controversial and that is ridiculous. These men and women make colleges a lot of money, and they should be rewarded for it. Now, how you do it is a question that there are a lot of different theories about, and I have various opinions on it. But the idea of 'should they get anything' is ridiculous; we don't let anyone else in America work for free except for college athletes. They are really the only ones. I just think that's absurd.
MG: My secondary question to that is: Do the existing layers of TV, radio and intellectual-property contracts that pay these schools billions of dollars pose a legal hurdle to starting to pay the players? Is that part of the problem?
MJ: What would the hurdle be? They should just get a cut. John Calipari makes around $8 million and the guys who can play don't get anything except a college scholarship. In the NBA, players make five, 10, 15 times as much as their coach. In college, coaches make 1,000 times more than the players. That is just ridiculous. The market wouldn't justify that; there is no rationale except this old, antiquated idea of amateurism, which was created at a time when we were a different country. Amateurism started before integration, before women had the right to vote. The idea that we would hold on to it for some reason is just silly.
MG: Is soccer's moment finally about to arrive as a true major league sport in the United States?
MJ: I have been told soccer's moment was about to arrive for 30 years, and it never arrived. Soccer is a much bigger deal than it was when I was a kid, but it is never going to be one of the 'big' sports because there is not enough action. At the end of the day, America likes action, and there is not enough of it. Baseball deals with the exact same issue. I do think soccer is much more popular than it has been. It will continue to grow. You have pockets of the country where people really like it. Seattle and Portland, their soccer teams are huge. But will it ever be a nationwide sport that can be in there with basketball, football and baseball? I don't think so, at least not in the next 30 years; maybe a long time down the road. It is just not in our blood and our culture, but it is infinitely more popular than it was. The Louisville soccer teams are very popular. I enjoy going, but it is never going to be on the level of the big sports.
MG: An article about you selling KSR reported that part of your motivation to do this was that college sports media and the way they cover college sports is changing. What did you mean?
MJ: I sold it to an investor named Stuart McWhorter, who long ago started 247Sports.com. My rationale was we were basically the last really big independent college sports website in the country. The model for college sports websites across America is that they are all partnered up with either 247 or Rivals or whatever. We always stayed independent for a variety of reasons. Partially because we had been successful enough that it didn't ever make sense to join one of them. But we are entering a different era in terms of coverage and a different era in terms of websites, and now you have to invest in video and audio (content); it's different than it was when I started.
We hit a point that we thought, OK if we want to maintain our status as a premier website, we are going to have to do a pretty big investment getting ready for the future. And the question was, did we want to do that investment ourselves or did it make sense to pair up with somebody more experienced? That (second option) is what we decided. I think it is best for the site. The coverage that will happen starting over the next year will be the most state-of-the-art that any school in the country will have, and that is what the Kentucky fans deserve. Anybody who starts something from scratch, when they sell it, there is a little moment where you go, 'Man, am I really doing this?' But it is the right decision, and our new owners have been great to work with. Starting this fall and next year in 2022, people are going to be really impressed with what happens.
MG: What is your favorite sport?
MJ: My favorite sport is probably basketball. I enjoy it; I get the most entertainment from it. My favorite to watch is basketball, but I also really enjoy football and golf. I get some joy out of every sport. I will watch a little bit of pretty much everything. I am a competitor, so if it's competitive I like it. The one I get the most joy out of watching is basketball because I think it is the best combination of athleticism, intellectual, being a thinking person's sport, and excitement. I think it combines all of those things the best.
MG: Do you spend a lot of your spare time as a sports fan?
MJ: Depends on what you mean by a lot. I spend less than I used to. I used to be a sport-obsessed person. I used to watch everything that was on. That's not true anymore. My interests have diversified a lot in the last decade. I still like sports, I still watch a lot of sports, but I do a lot of other things as well. I watch, read about and do other stuff. I wrote a book. I am interested in politics. I enjoy movies, I enjoy traveling. I still love sports, but I am not quite as obsessed as I was 15 years ago. ■