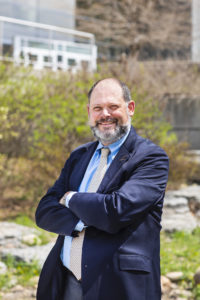 RICHMOND, Ky. — Eastern Kentucky University's Ryan Green has been appointed by Gov. Andy Beshear to the Kentucky Environmental Education Council (KEEC). 
"The Kentucky Environmental Education Council has far-reaching services that affect educational programming, not limited to traditional environmental concerns and sustainability but including the health of students and educators and the educational facility environment, and given the prior and current impacts of the COVID pandemic on primary and secondary education service delivery, I look forward to helping the Council move forward with their current tasks and recognize new challenges for the Green and Healthy Schools program," said  Green, who has been EKU executive director budgeting, financial planning and fiscal effectiveness since 2016. 
Green holds a bachelor's in history from the University of Kentucky and a master's in national security policy from the UK Patterson School of Diplomacy and International Commerce. He previously served in various financial analyst and budget leadership roles in Kentucky's state government since finishing graduate school in 2001. He lives in Clays Ferry with his wife, Keely, and their two sons.
"EKU has long been a leader in environmental stewardship and sustainability efforts and the role such efforts should play for students and educators; these include the responsibilities of the Center for Environmental Education, the Office of Sustainability and the mission of the Division of Natural Areas," said senior vice president for finance and administration, Barry D. Poynter. The Office of Budgeting and Financial Planning reports to Poynter. "We applaud the Governor for selecting Ryan for the Kentucky Environmental Education Council. Ryan worked directly with KEEC at the Education and Workforce Development Cabinet prior to assuming his duties here at EKU and I'm confident his prior and current experience will assist his role on the council."
The KEEC is a state agency within the Education & Workforce Development Cabinet. The agency's mission and vision are to promote learning and skills for a sustainable and economically healthy environment for all Kentuckians through environmental education.
KEEC members oversee the work of the agency. Council members are appointed by the governor to four-year terms and meet quarterly. Members serve entirely as volunteers. By statute, membership on the council must represent four constituencies: businesses and industry, the environment, education, and government.