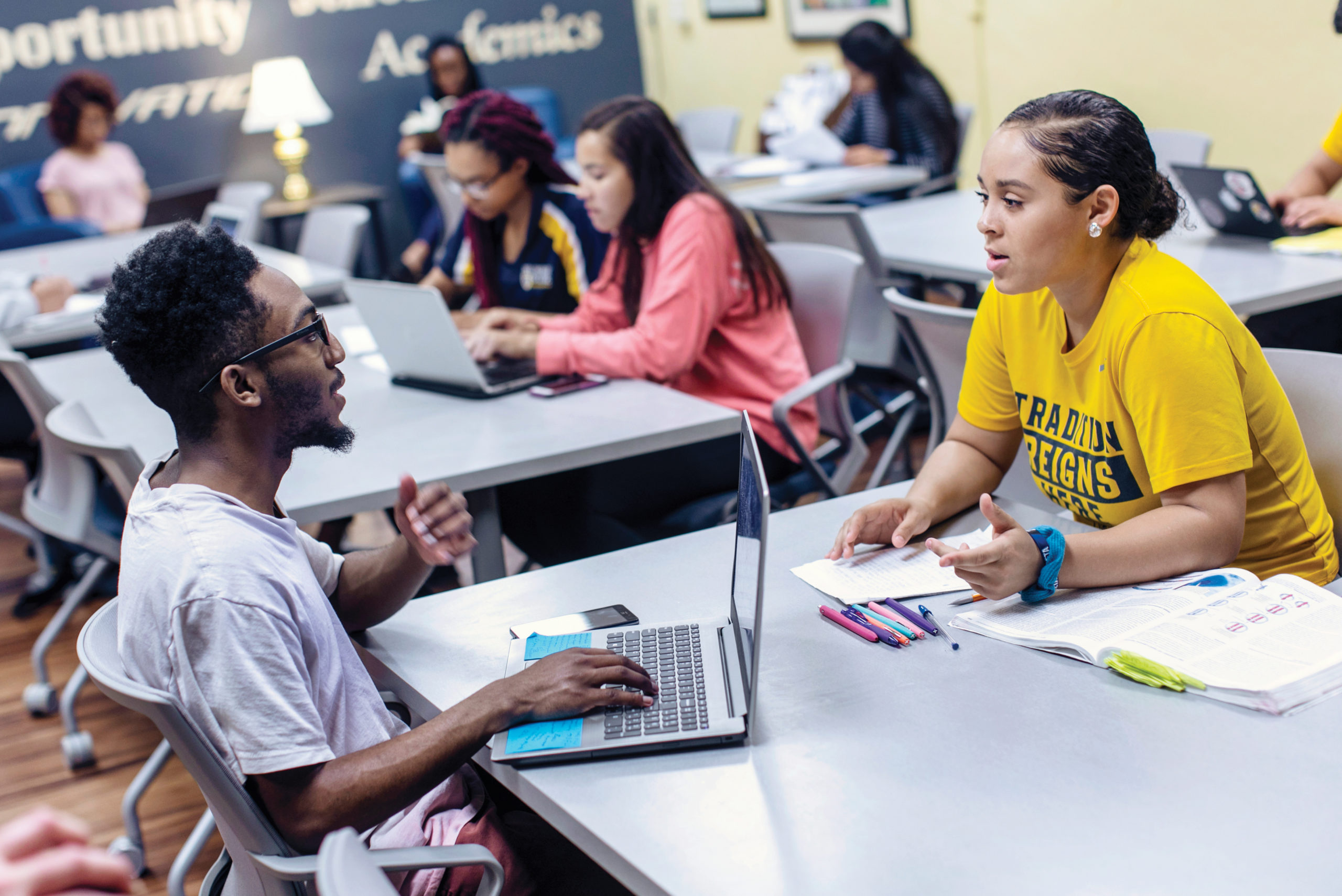 Amid a national landscape rife with political and social nuance and debate, Kentucky colleges and universities are working to provide climates of diversity, equity and inclusion for students, faculty and staff to promote better educational outcomes and positive societal impacts.
Over the decades, American college campuses have been the epicenters for a number of high-profile protests and social movements sparked by current events, seeking free speech, end to wars, and calls for racial justice and human rights.
Spalding University in downtown Louisville has been a strong voice for racial justice. Chief Justice, Equity, Diversity and Inclusion Officer Steven Kniffley Jr. said the university supported protests against racial injustice last year, with two demonstrations held on campus.
Education sows seeds for future progress. On Martin Luther King Jr. Day 2021, a professional development and training program called Restorative Practices for the Anti-Racist Journey was launched at Spalding, providing courses in anti-racism and cultural humility to the public, private companies and organizations.
On campus, diversity is fostered through representation, relationships and recruitment, Kniffley said.
"As the new chief diversity officer for Spalding University, I am working strategically in collaboration with our Spalding community from an assessment, implementation, evaluation framework to enhance our inclusive practices and empower/affirm our students, staff and faculty, utilizing an intersectional lens," he said.
Current Spalding University data shows that enrolled students by race/ethnicity are 68% white, 19% Black/African American, 4% Hispanic, 4% two-plus races, 2% Asian and 3% not disclosed.
Kniffley said an organizational consultant has been tapped to develop a cultural climate survey to evaluate opportunities and challenges within its learning culture, and from that, a strategic plan with measurable benchmarks and goals will be created.
Other efforts include widespread training on culturally responsive teaching, developing inclusive curriculum and hiring more diverse faculty and staff, he said, as well as recruiting and retaining students from historically marginalized groups, partnering with organizations led by and supporting those from historically marginalized communities.
Transylvania University Vice Presi-dent for Institutional Effectiveness Rhyan Conyers said total enrollment for fall 2021 is the most diverse in the institution's history at 18.8%, up from 9% a decade ago. Socioeconomically, 28% of incoming first-year students are Pell grant-eligible, with 76% indicating at least some financial need, and more than 10% of last year's students registered with the campus disability services offices with support requests.
The university's strategic focus and 2021-22 annual plan includes several diversity components such as a faculty committee focusing on DEI issues and efforts to review campus history related to buildings, signs, markers and artwork, among other categories.
When Milton C. Moreland is officially inaugurated as Centre College's 21st president this month, he plans to present a speech titled, "Building a Community of Inclusive Excellence."
Moreland took office in July this year and says it's part of the school's fiber to have a culture of diversity, equity and inclusion.
"It's clearly part and parcel of how we imagine the future of the college," he said. "It underlies so much of what we're doing. It's vital."
Data provided by college officials shows that between 2010 and 2020, the number of students of color at Centre increased 130% from 11% overall to 25.4%. Pre-COVID, the international student population at Centre rose as high as 8% and an average of 85% of Centre students studied abroad at least once while enrolled.
In socioeconomic terms, from 2015-present, the number of Pell grant-eligible students rose from 14% through increased grant funding, Centre data shows. The class of 2024 includes 90 first-generation college students and the current incoming class has 85.
Former anthropology professor Andrea Abrams recently started her fourth year as Centre College vice president for diversity, equity and inclusion, collaborating with faculty, staff and students to ensure practices, policies and education reflect these values, and pointed to several programs as proof, from scholarships targeting first-generation students and those seeking to study abroad and those conducting DEI-centered research to select faculty working on diversity and inclusion projects affecting the entire community.
While a DEI strategic plan is in development, there are already groups at Centre for faculty and students hailing from underrepresented populations. Equity audits are held campuswide to self-evaluate strengths, weaknesses and opportunities when it comes to DEI.
Hiring committees receive diversity training "to make sure that the process is as diverse and inclusive and as equitable as possible," Abrams said.
Four years ago, she helped create a new event for the campus and community called "Building Bridges and Community Day." Held each November, the event includes guest speakers, workshops and training in various DEI-related topics such as understanding implicit bias, talking across political differences and more. This year's event is Nov. 4 and will focus on anti-ableism and anti-racism.
Transylvania Director of Religious and Spiritual Life Emily Miller said an increasing number of student organizations meet the needs of a diverse student population there, "whether they are focused on a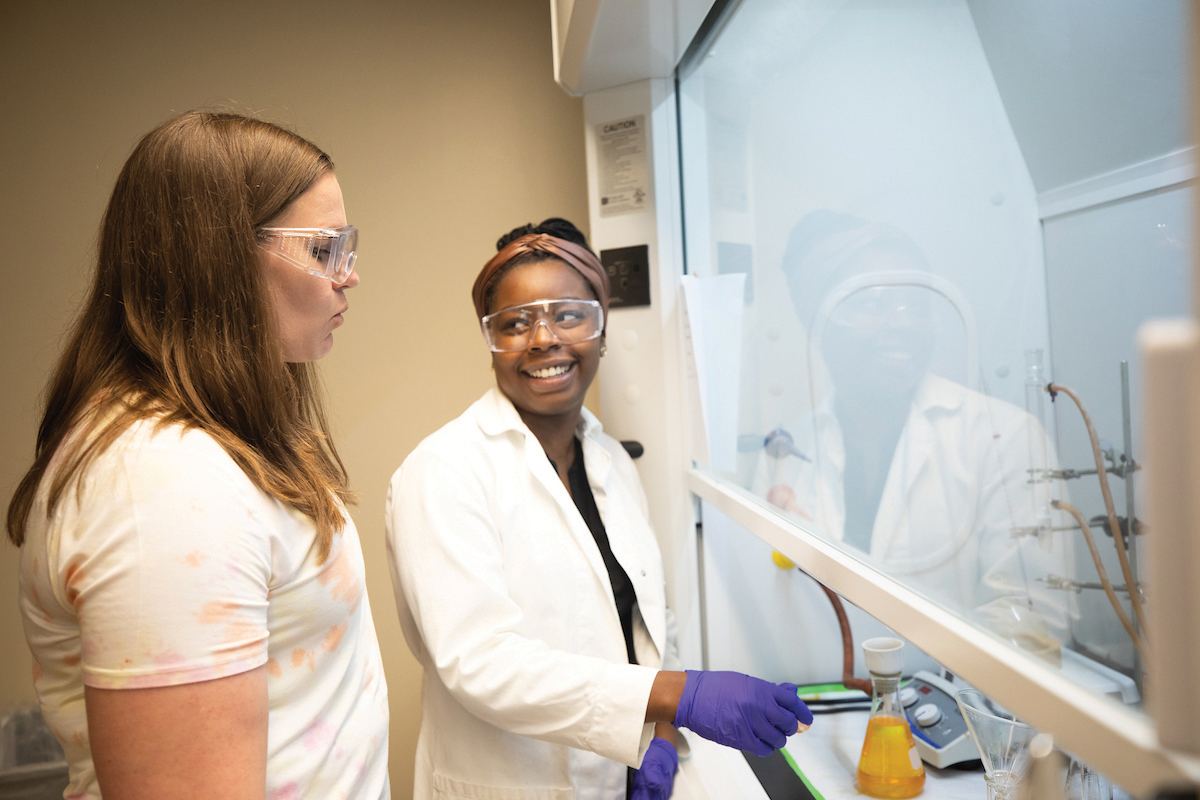 particular religious tradition such as Muslim Student Association or Baptist Campus Ministry, or a historically underrepresented group such as TUnity, Transy's LGBTQIA+ student group. We currently have four religiously affiliated student groups, with two more on the horizon this fall."
With the aim of better understanding others, a monthly event "What Matters to Me and Why" enables Transylvania faculty, staff and students to discuss life's questions while encouraging reflection and community in pondering values, beliefs and motivations. Earlier this year a Multicultural Center and relocated Interfaith Prayer and Meditation room opened in the campus center focusing on underrepresented student populations.
Interim Vice President for Institutional Diversity at the University of Kentucky George Wright said preliminary enrollment and retention numbers show continued increases in diversity on campus, with 16% comprised of underrepresented minorities—just over 5,000 students and a 6% increase over last year.
Of these, preliminary figures for fall 2021 show 2,196 (about 7%) are Black/African American, just over 5% Hispanic/Latino and 3.5% identifying as two or more races.
DEI efforts at UK, Wright said, include publishing a DEI website; establishing the multidisciplinary Commonwealth Institute for Black Studies to highlight UK's growing research around issues of race and racism; and creation of a detailed DEI Implementation Plan to build on past efforts and empower those seeking to be agents of change. The plan will introduce new initiatives and encourage community collaboration, he added.
To help alleviate economic barriers to higher education and increase retention rates, one-time grants and four-year scholarships are targeted to students with unmet financial needs, Wright said, and the results are showing promise.
At the University of Louisville, Interim Senior Associate Vice President for Diversity and Equity Faye Jones said the underrepresented minority population there in 2020 was 25.2, the highest among state-supported higher education institutions statewide. Additionally, she said, over the past five years UofL has consistently maintained or increased its underrepresented minority numbers in undergraduate and graduate programs. Those figures currently stand at 23% for undergraduates and 19.7% for graduate students.
The Cardinal Anti-Racism Agenda (CARA) was created by a group of faculty, staff, students, resident and post-doctoral trainees, and administration who drafted six priority areas and action steps that are expected to be finalized this year, Jones said.
Priority areas address cultural, equity, curriculum, communication and images, recruitment and retention of diverse talent and university-community relationships. Some work in these areas is already underway.
"UofL is home to more than 400 registered student organizations covering a wide variety of student interests," Jones added. "Some examples include the Black Student Association, Latinx Student Association, Black and Brown Honors Society, Black Law Students Association, Bridges International, and Cards 4 Freedom, in addition to fraternities and sororities."
At Bellarmine University the President's Advisory Board on Equity and Inclusion, formed in partnership with the Provost's Office and the Office of Identity and Inclusion, offers a host of DEI initiatives.
Bellarmine Chief DEI Officer Donald "DJ" Mitchell Jr. said the student population there is increasingly diverse. Of just under 600 first-time, full-time students, nearly 26% identify as students of color, 37% identify as first-generation college students and almost 28% are Pell-eligible and qualify for federal need-based funds, he said.
Intentional efforts are being made to recruit diverse students, he said, and DEI training is available for students, faculty and staff.
"Given our inclusive Catholic roots, we have always strived to foster diversity across various identities," he said. "We are seeing growth in numbers for students with disabilities, nontraditional students, LGBTQ+ faculty, staff and students."
Bellarmine officials regularly conduct a campus climate survey, have identity-based student groups, and faculty and staff affinity groups, including members who are Black and from LGBTQ+ communities. Interfaith practices are promoted, and Bellarmine recently completed a campus-wide accessibility audit. The college also has an online learning program available on a number of DEI topics.
Data supplied by college officials shows Western Kentucky University's underrepresented minority population rose by 2% between the 2019-20 and 2020-21 school years, and the number of first time, first-year students self-identifying as underrepresented minorities rose nearly 20% between 2019 and 2020.
There's a group for international students, an Intercultural Student Engagement Center graduation ceremony for Black/Hispanic/Asian students, a Lavender Graduation for LGBTQ+ students, a Pride Center serving the Queer Student Union, the QSU Transgender Non-Binary Association and the LGBTQIA+ Support Group. The Distinguished Minority Fellows group assists underrepresented minority graduate students with masters and doctorate degree goals by providing tuition and employment opportunities in their respective study fields.
In 2020, WKU's DEI Workgroup and its co-chief diversity officers launched the ONE WKU CAMPAIGN to create bias-reduction and inclusive culture initiatives, including book and media groups, deliberative dialogues and One WKU Institute for Inclusive Teaching set to debut next spring.
"WKU should mirror the world in which our students will live, work, and thrive," WKU Co-Chief Diversity Officer Molly Kerby said. "As an institution of higher learning, we have a responsibility to prepare students to be engaged citizens in our local and global communities."
At Murray State University, fall 2021 enrollment data shows underrepresented minority students comprise about 11% of total enrollment.
Murray State offers a Regents Fellowship Program, has a Marvin D. Mills Multicultural Center, Pride Center and an Office of Multicultural Initiatives, Student Leadership and Inclusive Excellence. A Presidential Task Force launched two years ago to foster a diverse, inclusive and supportive campus community, and several diversity scholarships have been restructured for new and continuing students to receive more financial assistance, school officials said.
"Murray State University places a great value on diversity, equity and inclusion," said Murray State President Bob Jackson. "These important tenets are a longstanding component of our university's strategic attributes and strategic plan.  Advancing diversity, equity and inclusion makes us better, not only as a university, but as a state, nation and world."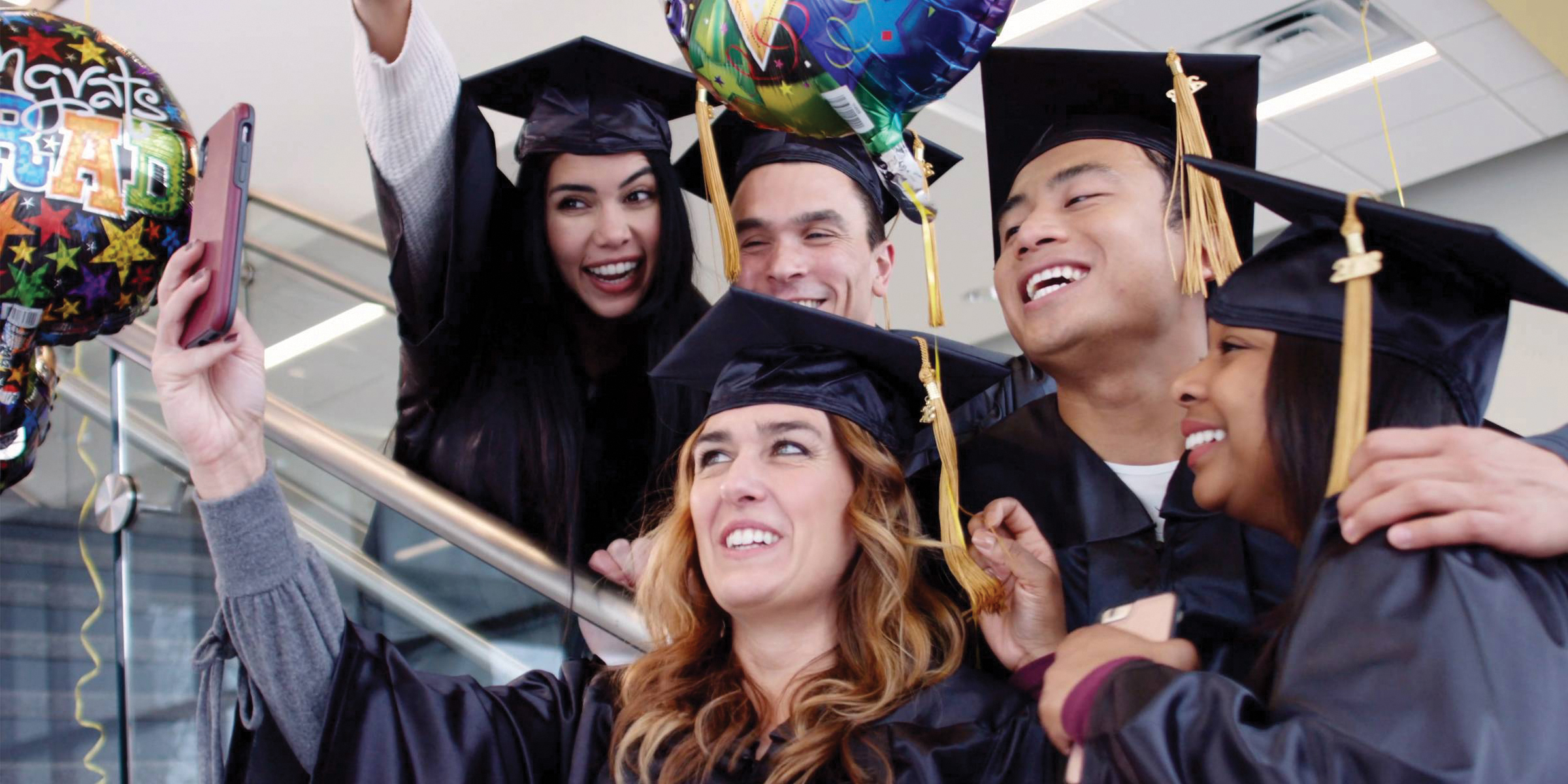 Morehead State University's website touts its campus as welcoming students from 28 countries worldwide, and its college brochure is published online in Arabic. The Student Eagle Diversity Center focuses on African American, Latino and Hispanic students with opportunities for engagement, leadership and scholarship. Services include a cultural and educational program as well as other support and development programs.
MSU recently held an "Open House for Diverse Students" as part of its cultural enrichment and inclusion efforts, and Tyra Pettigrew, MSU diversity enrollment counselor for the Office of Enrollment Services, was involved with the event, meant to showcase the diversity in student organizations, academic departments, programs and facilities.
She's also involved with recruiting diverse students, but says as an African American, it helps for the message to come from another person of color. She tells prospects that MSU is a place to be heard and to belong, and that it holds a special place in her heart.
"The challenge would be that I'm trying to bring diversity to Morehead, Ky., and a lot of people can't point out Morehead, Ky. on a map," she said, adding that larger schools often have more resources with which to woo prospective students.
Carlous B. Yates, associate vice president for DEI at Bluegrass Community and Technical College (BCTC), says his office advances academic excellence by increasing and advocating for campus diversity and inclusion.
School data shows underrepresented minority numbers hovering between 24-26% each term. On campus there are disability support services, LGBTQ services and LGBTQ*+ allies groups and TRIO student support services for low-income and first-generation college students or those with disabilities or other academic needs.
A National Hispanic Heritage Month is being planned, as well as the launch of a new Multicultural and Global Learning Center on the Newtown campus.
Committees and workgroups at BCTC include mentoring organizations like A Few Good Men, African Student Association, Becoming Her, Latinx Student Community, LGBTQ*+ ALLIES, and LGBTQ and Black faculty alliances organizations. A collegewide equity and unity statement is included in all syllabi.
Graduates of all backgrounds with diverse college experiences can change their communities and society.
"Our nation is changing, and so is our campus community," Yates said. "As the nation becomes more diverse, our campuses must reflect this diversity. Diversity on a college campus is not just to benefit the most marginalized/underrepresented groups. Research shows that learning with people from various backgrounds encourages collaboration and fosters innovation, which benefits all students. We believe at BCTC that students are first, and we must invest in our future workforce."
Diversity-rich campuses also benefit educational institutions and those they serve.
"Diversity brings difference, and difference brings excellence—it is that simple," Bellarmine's Mitchell said. "There is research about the positive business outcomes when teams are more diverse. Similarly, when educational institutions are more diverse, we see positive educational outcomes, particularly noncognitive development. … We strive to prepare our students to work in an increasingly diverse, global society. What better way to prepare them than to be a diverse, inclusive institution?"
At UK, Wright said those working on DEI issues understand that dismantling institutionalized oppression isn't a "project to complete."
"Instead, it is a continuous, multigenerational endeavor that requires all of us," he said. "DEI work will never be over, and we will continue to learn more about how best to support our community and advance our state."
Click here for more Kentucky business news.