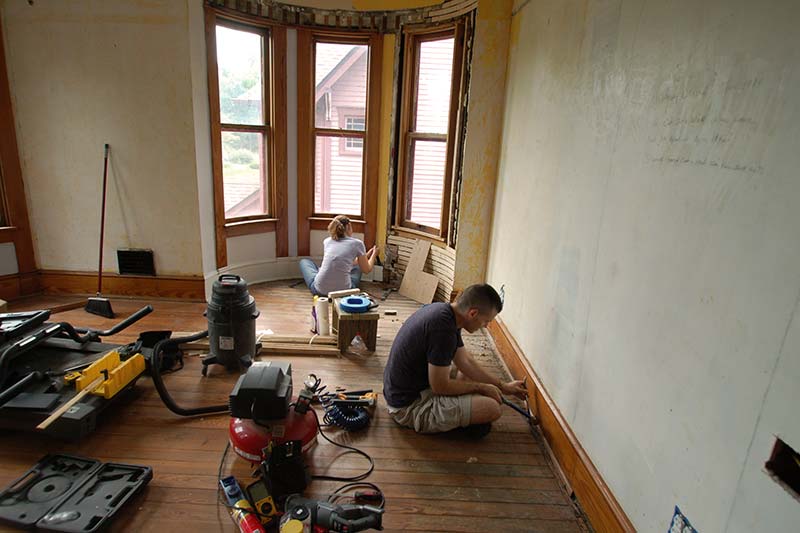 COVINGTON, Ky.
— Recognizing the growing need for specialized construction skills amid the gradual extinction of what's called "the lost arts" of historic preservation, the City of Covington and its partners are moving to create a solution that will also address the city's stubborn challenge of under-employment.
What's being proposed as the Covington Restoration Trades School could energize the local economy, "skill up" its workforce, and give The Cov a national reputation to match the richness of its veritable encyclopedia of architectural styles, said Christopher Myers, whose title of Regulatory Services Manager at the City includes oversight of historic preservation.
"If we're successful, Covington could build a uniquely skilled workforce essentially from scratch, create hundreds of jobs for its residents, and assist property owners desperate for trained expertise rehabbing their historic homes," Myers said. "With nearly half of our housing stock built before 1940 and an energized and established culture of rehab, we can make Covington a national mecca for restoration trades."
Next Tuesday and Wednesday evening, on Oct. 12-13, the City will go public with its plans during two virtual meetings to which it is inviting both specific stakeholders and the general public.
Part progress report and part listening session, the events aim to gather input on how the program can best be formatted to meet the needs of contractors, historic property owners, and job-seekers. With an optimistic goal of the program starting near the end of May 2022, much remains to be solidified about its setup, format, and size. But the City has strong partners in the effort and funding to build the framework of the program.
Chief among those partners is the Building Industry Association of Northern Kentucky, non-profit advocacy and membership organization that promotes and advances the needs of the building industry.
The BIA's Enzweiler Building Institute, in operation since 1967, remains the nation's oldest continually operating association trades training program under the auspices of the National Association of Home Builders. It uses an apprentice-style format to develop skilled labor in trades like rough and finish carpentry, plumbing, masonry, electric, and welding.
This year, it has 155 adult evening students as well as 50 day-time students who attend through local high schools, said Vicki Berling, director of professional development at the association.
But one thing the Institute doesn't do is teach restoration trades.
"You can build from the ground up, you can remodel, and you can restore," Berling said. "With the latter, the skills, material, tools, and rules can be different than the other two ways. Given the astounding numbers of historical buildings in not only Covington but other parts of Northern Kentucky, there's a huge need to create a robust workforce dedicated to restoration."
The current plan is to base Covington's Restoration Trades Program at the Enzweiler Building Institute's large "laboratory" space in Erlanger, with the institute providing space, equipment, and oversight of the instructors.
The program will likely be workshop-based, rather than feature a semester-long or year-long curriculum like at traditional schools, but it will still consist of trade-organization-recognized training and certifications.
"While this is all a work in progress, we have a good sense of what needs to be done and how to do it," Berling said.
The City has hired two consultants to help move the program forward, primarily using two federally funded grants it received this summer through the Kentucky Heritage Council.
With a $23,162 grant and a City match, Covington has hired Preservation Resources Inc. of Hannibal, Mo., as the primary consultant to complete a variety of tasks:
Report on the broad needs of historic buildings and find properties that could be used as hands-on classroom projects, including a detailed report on the condition of a City-owned building at 1515 Madison Ave.
Identify (and train) skilled tradespeople as potential teachers.
 Assess equipment available at the building association.
Write the final curriculum for the program.
Provide a draft of job descriptions for its administration.
And provide a report outlining marketing initiatives and sponsorship opportunities.
Likewise, with a separate grant for $15,241.80 and a City match, Covington has hired Donovan Rypkema and his Washington, D.C.-based firm, PlaceEconomics, to:
Conduct an economic analysis of the need for the program.
Compile case studies of successful restoration trades programs in other states.
And create a baseline of data to be used to gauge the success of the program at later dates, including data related to skilled labor availability, numbers of rehabilitation-related businesses, and numbers of rehab projects.
The program has three general goals:
Grow Covington's skilled workforce. Many Covington households are strained by under-employment, with almost half of those households earn at least $10,000 under what is considered a "living wage" in Kenton County.
Increase investment in historic properties by reducing costs. The demand is high for skilled tradespeople who can repair and maintain pedestrian-scaled details on houses in a sensitive manner, so the wait tends to be long and the cost high. Increasing the supply of tradespeople would reduce the wait time and costs, putting historic rehab more in the reach of people of all income levels.
Support new and expanding restoration businesses. Covington has a thriving entrepreneurship community, particularly as it relates to food-oriented small businesses. The Restoration Trades School similarly could establish Covington as a hub for restoration businesses, fostering entrepreneurship in the preservation repair sector.
"We hope people come through this and start their own business," Economic Development Director Tom West said. "We have the entrepreneurial support system in place to help people turn their new skills into standalone businesses if that's what they want to do."
Click here to sign up for The Bourbon Flight Newsletter (coming January 2022).