FRANKFORT, Ky. — The Kentucky Nurses Association (KNA) released results of a statewide "Survey of Kentucky Nurses" that revealed what's most important to nurses, regarding work safety, emotional health, physical health, and professional stability during the pandemic and beyond.
KNA joined statewide nurse leaders to address Kentucky's nursing shortage and made recommendations about how to combat this urgent issue.
The 850-person sample was rich in experience with most (61%) had 21 to more than 30 years of experience. Approximately 25% of the sample indicated it was likely they would leave their current position in the next three months, while 75% were unsure or unlikely to leave soon.
Respondents identified both highly rated explanations with both financial and non-financial implications for the nursing profession.
"Many actions which could support the nursing workforce rely heavily on the availability of additional staff, which involve the availability and allocation of financial resources," said Delanor Manson, chief executive officer of the KNA.
Nurses offered the highly rated non-financial explanations of exhaustion, lack of breaks during work, lack of support from management, and lack of voice/influence as contributors to the nursing shortage. Highly rated explanations with financial implications included insufficient nursing/support staff and not enough pay/financial incentives as primary contributors to the nursing shortage in Kentucky.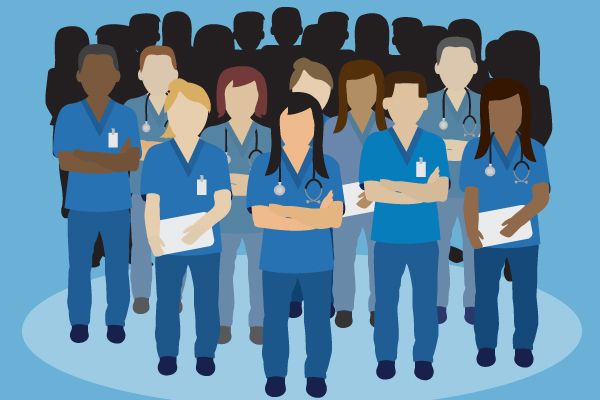 Nurses identified the following highly-rated non-financial supportive actions to help alleviate the nursing shortage:
Breaks from work
Ability to influence decisions impacting nursing
Ability to influence decisions impacting patient care
Better communication pathways between nursing and management/administration
Solutions to address physical/verbal abuse from patients/family members
Nurses also identified financially supportive actions to alleviate the nursing shortage:
More staff to alleviate heavy patient assignments
Higher pay
Non-clinical staff to offload non-essential nursing tasks
Financial incentives, including student loan forgiveness.
The KNA task force made these recommendations to alleviate the nurse shortage problem in Kentucky:
Solutions Non-Financial
Nursing at the table to discuss solutions to the nursing shortage, including funding allocation
Creation of a task force of nursing leaders representing all corners of Kentucky and all major areas of nursing (e.g., practice, education, research, advocacy, innovation/technology).
Solutions Financial $100 Million
$20 million-Faculty retention, recruitment, and reward for NCLEX pass rates and graduation rates. Colleges and schools of nursing council to research why schools of nursing seats are unfilled.
$20 million-Loan forgiveness for nursing faculty, students, graduate nurses to work in underserved areas 2021-2026 CHFS application for the loan forgiveness grant through HRSA- 1 million a year in addition to this request.
$10 million-Nurse emeritus program to utilize retired nurses for support, augment staffing needs, and retain novice nurses
$50 million-Retention bonuses (incremental) for local nurses only. Include all that have stayed local and worked to support their community. Recruitment and marketing campaign that enhances the image of nursing and entices students to go to nursing school while ensuring current nurses feel recognized, gratitude and valued
These recommendations are based on the survey results and polling of nurse leaders in the group that has been meeting to problem solve.
 The Kentucky Nurses Association, established in 1906, is the only full-service professional organization for the state's entire nurse population. In addition to promoting the essential role of the registered nurse in healthcare delivery, the KNA serves as an advocate for quality patient care in all settings.
Click here for more Kentucky business news.