FRANKFORT, Ky. – As Kentucky reaches a historic level of economic momentum, the demand for state-of-the-art sites to support growing businesses in the commonwealth has never been greater. Gov. Andy Beshear announced Tuesday that Eddyville's local leadership will move forward with upgrades to the Eddyville Industrial Park, the result of a long-term development plan to create a rail-served industrial park.
The development project at Eddyville Industrial Park is designed to bring in new, large-scale companies and encourage smaller-scale industrial growth, both of which greatly benefit the community as it prepares for the future. The proposed upgrades will expand the park through the construction of new building pads and utility extension plans to create a premier rail-served industrial park, which positions Kentucky to attract even more large-scale investments.
The Lyon County location was selected for funding through the Product Development Initiative (PDI) in 2020. PDI was created through a partnership between the Kentucky Cabinet for Economic Development and the Kentucky Association for Economic Development (KAED) to provide competitive grants to Kentucky economic development organizations and local governments to supplement site and building improvement projects. PDI aims to create jobs and corporate investment by enhancing the quality and quantity of Kentucky's available sites and buildings. As well, it encourages collaboration among Kentucky economic developers and stakeholders with an emphasis on speed-to-market to help new and expanding businesses quickly find suitable locations in Kentucky.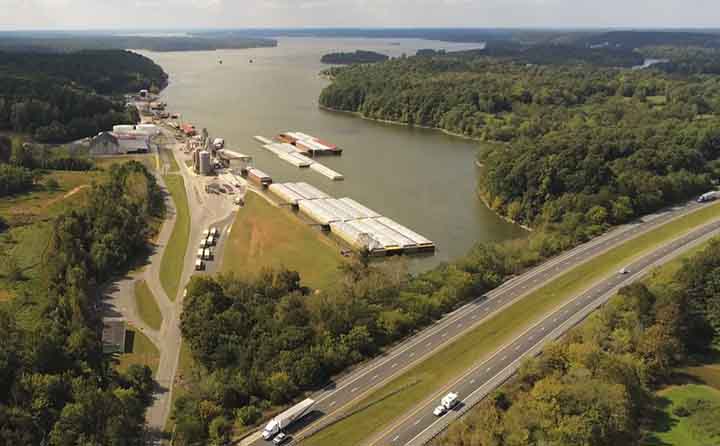 Matt Tackett, president and CEO of KAED, said PDI helps communities take a major step forward to quickly bring in new business.
"Global enterprise is well-aware of the undeniable advantage of doing business in the commonwealth, and PDI is a key tool that bolsters our ability to provide companies with quick and risk-free site selection experiences. KAED congratulates the leadership team in Lyon County for winning a PDI grant, strategically investing in a key regional asset and accelerating economic opportunity in Kentucky."
PDI boosts the commonwealth's ability to attract a diverse base of businesses of every size. This adds to the state's numerous other advantages, including its ideal geographic location with its borders within a day's drive of two-thirds of the U.S. population, the lowest industrial electric costs east of the Mississippi River and a skilled workforce ready to meet the needs of any company.
Billy Ray Coursey, board chair of Eddyville Riverport and Industrial Development Authority, said the investment in a build-ready site with high accessibility is a big win for the community.
"The Product Development Initiative and the investment in the build-ready site has created a momentum for our organization to invest in additional infrastructure planning and development within the industrial park," Coursey said. "We are looking forward to having a build-ready site that has access to rail, river and road in our community. The partnership between the community, Cabinet for Economic Development and KAED to develop competitive sites is a win for us all."
Amanda Davenport, Lake Barkley Partnership executive director, said winning a PDI grant shows the community is serious about bringing in new opportunities and investments.
"Working with KAED, KCED and our local stakeholders to have the vision for new product development is a success for Kentucky," Davenport said. "We are leading the way to invest in our existing parks to serve projects of all sizes. Receiving funds from the PDI program to construct a building pad shows that we are serious about our product development and that we are excited to make new investments in the community."
Click here for more Kentucky business news.