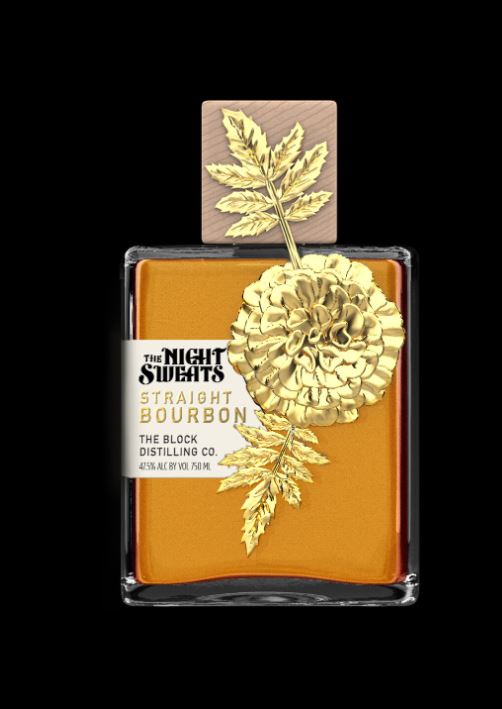 The Block Distilling Company has introduced a bourbon named The Night Sweats. The bourbon is made from yellow, blue, and red corn, millet, and malted barley. 70% of the grain is coming from The Block's dedicated acreage on a Missouri family farm where they are directly involved in the farming practices, the grain varietals, and the storage techniques.
The whiskey is open top-fermented, double distilled, and aged for a minimum of two years on charred American white oak barrels. The corn adds an expected sweetness with peppery complexity coming from the red corn, sweet tortilla notes from the blue corn, and balanced by the sweetness from the malted barley.
The 36-month air seasoned barrels contribute complex sweetness far beyond the vanilla heavy commonplace and into dark honey and caramel. Bottled at 47.5% ABV it can be sipped neat but it can also take a cube without being too watered down.
$10 of every bottle goes to The Marigold Project to support community and nonprofit organizations working on issues of economic, racial, and social justice.
The Marigold Project believes that all people deserve to be treated with respect. In order to move forward together, The Marigold Project seeks to fund strategies that solve problems caused by income inequality, boost civic engagement, spark creativity, offer equitable access to growing and eating good food, and encourage gender and racial justice. Funds we raise each year will be granted to organizations that propel our mission forward.
We know that how we operate in this space is just as important as the work we fund. We pledge to move ahead in humility and curiosity. We are here to learn from those who have spent their lives doing this work; we will call attention to it. We will share it. We will amplify it.
Click here for more Bourbon Flight news.
Click here to sign up for The Bourbon Flight Newsletter.