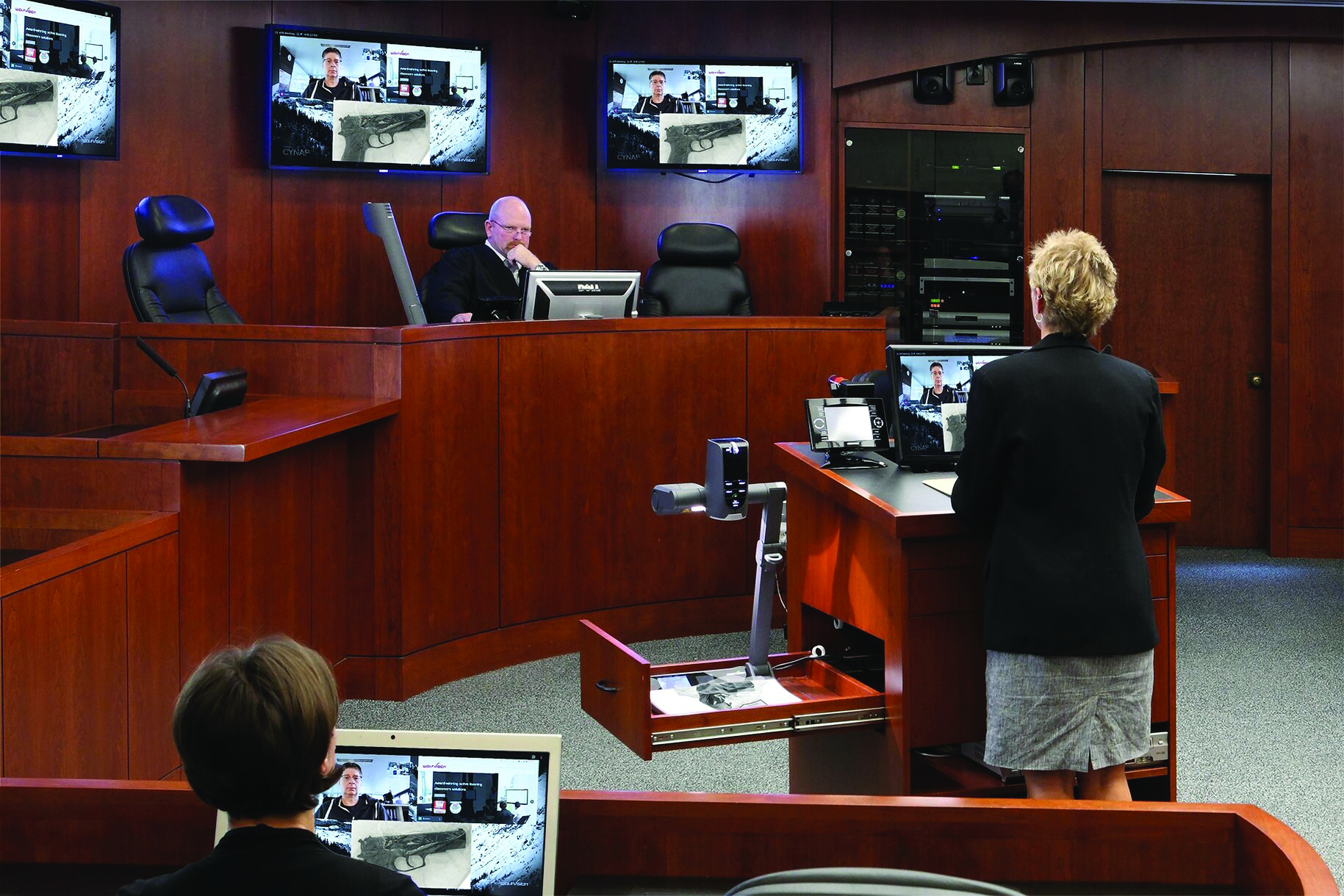 Embracing technology has been essential to the growth of Kentucky law firms. Whether it's online client intake, relationship management software, cloud-based document storage, or virtual meetings, Kentucky's legal services industry is finding these technologies provide the flexibility and security needed to manage their practices and service their clients.
The use of client-facing technology among legal services has been quietly and steadily increasing for at least the last eight years. Not surprisingly, the firms with the broadest national and/or global reach are investing the most in these emerging technologies.
However, it's the challenging work environment brought about by the pandemic of the last two years that has driven these technologies to the forefront.
"It's all about providing the best experience for our clients," said Jay Inman of Littler Mendelson in Lexington. "For instance, we have found that many clients appreciate the opportunity to connect through videoconferencing technology, which saves travel and other costs, but still provides some of the genuine connection we all experience through face-to-face communication.
"The relationships often gain new dimensions when those connections occur remotely, home-to-home, whether it's a family pet sneaking across the background of the video feed or just a less-formal presentation that's new and different," Inman said. "At the same time, we're mindful that other clients discuss 'Zoom fatigue' and deeply value and prefer the in-person connections we have historically enjoyed. The key is to be flexible, understand clients, and meet their goals, and we work hard to do those things."
"In many ways technology has made interaction with clients more intimate, more down-to-earth," said Jennifer Barber of Frost Brown Todd in Louisville. "Clients tune in from their home offices and living rooms. Children and pets make regular cameos. We are getting to see a more personal side of our clients that we didn't before."
"Many of our clients have primarily worked with us on a virtual basis through calls, emails and internet conferences for years" said P. Branden Gross, of the Dentons Bingham Greenebaum Lexington office.  "The COVID-19 pandemic has made even more of our clients more comfortable with virtual meetings. Our clients know that we will provide the same high level of service whether we meet in person or virtually, and some like that they don't have to leave their home or office to meet."
Maintaining the human factor
Kentucky law firms are finding that the benefits of cloud-based client-centered technology fall on both sides of the attorney-client relationship.
"Technology helps bring experts from across our firm's footprint to serve our Kentucky clients," said Greg Shumate of Frost Brown Todd in Florence. "It also helps our attorneys utilize their talents to work on complex matters for clients around the world, but they still get to live in Kentucky. Frost Brown Todd has some attorneys with truly national practices, yet our attorneys don't need to navigate big city traffic jams, suffer high cost of living, or live apart from family and friends to practice at the top of their fields. They can do it right here in Kentucky."
"We have been successfully using some of these technologies for some time," said P. Douglas Barr of Stoll Keenon Ogden in Lexington. "We have been very careful, however, to ensure that technology does not replace our human connection to our clients. Our clients demand and deserve relationships of trust; we are their trusted advisors. Technology can facilitate communication and help us be more efficient in our service, but it cannot replace human relationships formed and maintained over years of personal connections.
"Most clients are getting more comfortable with the use of remote technology and are carefully adopting use of it as appropriate," Barr said.
"But our profession is one that relies primarily on our skill of effective communication. And the most effective human communication is still achieved through face-to-face contact."
As the legal profession goes through a natural sorting-out process as to what form of communication is appropriate for each setting and circumstance, younger attorneys who grew up using similar technology may have been the quickest to adapt. Still, both younger attorneys and the more seasoned ones acknowledge that more frequent use of technology is likely the new normal.
"Over the pandemic, we utilized Zoom and other technologies to meet with clients and participate in hearings remotely," said Benjamin D. Allen of Gess Mattingly & Atchison in Lexington. "In my practice, I continue to use video conferencing technology to meet with my clients. While the clients still enjoy face-to-face conversations, I believe they have come to accept remote meeting options as well."
"I have been able to meet with a wide variety of clients to review documents and discuss their cases using videoconferencing technology," Allen said. "I have found that Zoom and other programs actually make it easier to review a voluminous amount of electronic discovery with my clients. I believe the COVID-19 pandemic forced firms and courts to adopt certain new technologies faster than they normally would have. I am interested to see how many firms and courts continue to implement technologies to allow attorneys to participate or work remotely in the future."
Thriving through chaos
While Kentucky law firms have enjoyed growth and expansion with stepped-up hiring and client acquisition, the challenge has become serving clients at a high level while working remotely.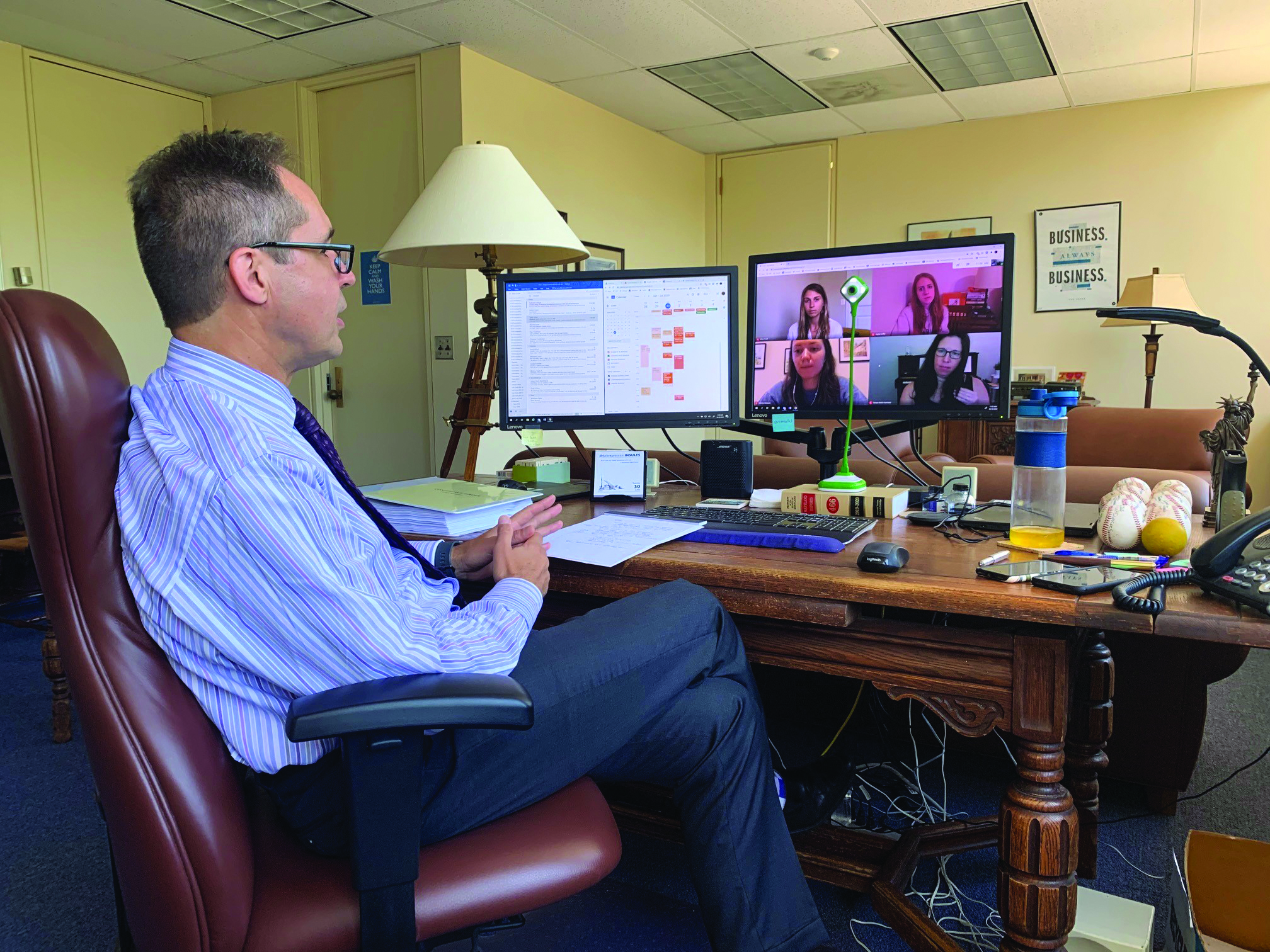 "We have enjoyed a pretty seamless transition using tech," said Clif Clark of Jackson Kelley in Lexington. "Oftentimes, our clients are using the same tech in their own companies, so we have not seen an aversion to utilization.  Also, face-to-face meetings between lawyers and clients had started shifting even before the pandemic because of location and time demands on the clients.  This is one of the reasons we did not really miss a beat with the pandemic shutdowns—the technology was in place, but the pandemic did enhance these technologies.  The keys to using any technology are communication and understanding your clients' needs. Keep those things in mind, and there are few issues with tech."
"We continually adapt, and technology has been a big part of our practice," Clark said. "We are celebrating 200 years as a law firm in 2022. You cannot survive in any industry for 200 years without embracing change and keeping up quality."
"It is important for our culture to remain office-centric, but technology allows us to provide our team with a great deal of flexibility in where they work," said Gross, of Dentons Bingham Greenebaum. "We have adopted a hybrid approach, which we believe will become standard in the legal industry.
"Technology is a critical tool for serving our clients," Gross said. "The COVID-19 pandemic accelerated our adoption and integration of technology in several areas. Our work platform is cloud-based, which allows our lawyers to work anywhere and collaborate with colleagues around the world. We have all become more experienced with internet platforms to securely communicate, share files and work on tasks internally and with our clients. Just this past month we relaunched our website to better focus on client needs and client questions."
Steptoe & Johnson is collaborating with First Law International, a global network of more than 100 law firms around the world, through FlightOne, a project-based case management digital platform.
"We're also a member of the International Legal Technology Association, which allows our IT folks to see cutting-edge technology in the legal space," said Andrew Fulton, marketing communications specialist with Steptoe & Johnson. "Members of our IT team attend networking conferences from Microsoft, RSA, VMware and other companies. This allows us to assess solutions implemented in nonlegal industries to determine if those techniques may be applied to our organization. Plus, we are working on some exciting projects that use data analytics and artificial intelligence."
Witnessing history
With mandatory social distancing, the routine act of a notary witnessing and attesting to the validity of the signature got a bit complicated.
Many transactions depend on the ability of the parties to ensure valid signatures on legally binding documents. However, during the pandemic notaries have often not been able to witness signatures in person.
Because of an online notary portal championed by former Secretary of State Alison Lundergan Grimes, Kentucky was well positioned for remote authorization. The 2019 legislation focused on modernizing the notary process for electronic documents.
"The most recent technology to be adopted by Kentucky was the e-recording of deeds, mortgages and other documents," said Gross. "Settlement agents and attorneys are able to scan and submit land records directly to county clerks' offices that have adopted the technology. Many counties have adopted e-recording, and we expect all 120 counties to have that capacity in the near future. The technology is enabling faster and more cost-effective recordation of documents and closing of transactions."
Sea-change in attitudes
As clients continue to demand efficiency, Kentucky law firms have responded by embracing cloud-based technology in their infrastructure to keep the attorneys connected, organized and secure.
"Law firms historically are slow to change," said James H. Frazier III of McBrayer in Lexington. "However, McBrayer's leadership team has always sought out new tools and been more innovative and is always thinking outside of the box. Firms that don't move forward eventually stop moving at all, and we have chosen to keep reaching for new ways to bolster our infrastructure and provide better, more efficient client service while maintaining that human connection.
"McBrayer has had an online payment solution since 2017 but knows that the best way to manage a relationship with a client and give the best legal services is to pick up the phone and keep in touch," Frazier said. "That continued personal touch is what sets McBrayer attorneys apart.
"The last couple of years have seen a near sea-change with regards to attitudes towards meeting remotely," Frazier said. "What seemed at first like a novelty and an impersonal method of communication became first essential and then accepted. Even the least tech-savvy of our clients are now open to the idea of opening up their phone or computer and jumping into a meeting."
What's on the horizon for Kentucky law firms
"As companies increase their adoption of technology, we anticipate clients' data privacy concerns will continue to grow, especially as clients expand their work overseas," said Gross. "We have seen a huge increase in demand for these services within the last 12 months alone."
"We will continue to hire talent, train our young lawyers, and utilize technology to provide our clients with the legal services they have come to expect," said Clark, of Jackson Kelley. "COVID-19 is a national crisis, and there is no minimizing its impact.  We have used the pandemic as a time to focus on client service, communication and utilizing technology to enhance this communication."
"Our world will continue to face variations of COVID-19, and deep experience and timely guidance will continue to be essential in making sure employers have the knowledge and evaluations necessary to protect employees and advance their business," said Inman, of Littler Mendelson. "Littler has already been involved in numerous virtual trials and arbitrations as well as hearings and other proceedings. The legal industry will continue to shift in this way, making experience with technological tools and support teams vital."
"Like other sectors, the legal services industry is seeing an increasing emphasis on automation and data-driven decision making," said
Barber, of Frost Brown Todd. "These technologies stand to have a profound impact on how legal services are delivered. But we must remain focused on our experience, creativity and sharp intellect being our most important tools."
Click here for more Kentucky business news.