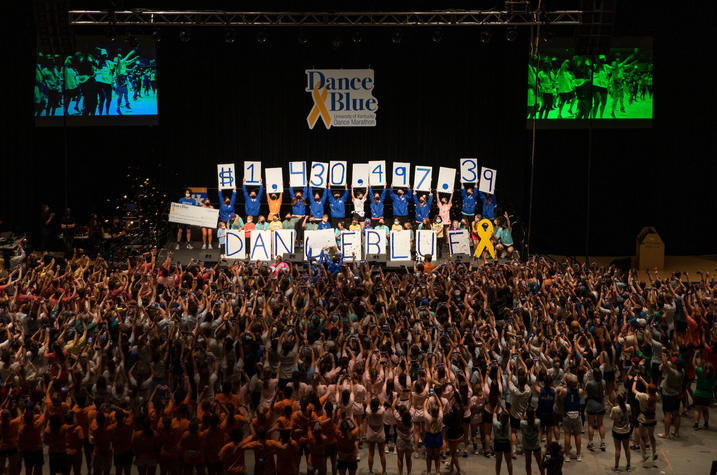 LEXINGTON, Ky. — The 17th University of Kentucky DanceBlue marathon has just concluded, with students raising $1,430,497.39 at its first in-person event since DanceBlue 2020.
With limited spectators, and in accordance with the university's COVID-19 guidelines, over 550 UK students came together and danced non-stop for 24 hours — all in support of children and families battling pediatric cancer.
"We are thrilled with how the event turned out this year," said DanceBlue overall chair Nick Joseph. "We are so grateful for how the student body adapted to the change and really showed out for the kids."
The money raised through DanceBlue is donated to the Golden Matrix Fund, established to support the kids of the DanceBlue Kentucky Children's Hospital Hematology/Oncology Clinic, both today and well into the future through an endowment. The Golden Matrix Fund was created to benefit the clinic's patients and families, by providing care, support and comfort. The funds also support research at the UK Markey Cancer Center.
"I am so beyond excited and thankful for all the support from our contributors, dancers, committee members and alumni," said Sydney Wahl, DanceBlue fundraising chair. "We could not have achieved our total had it not been for every individual that has touched DanceBlue. These funds are going to change so many lives and bring such great awareness to our amazing cause, and I am so happy to be able to contribute to the fight against pediatric cancer along with my closest friends who I now consider family!"
This event UK's largest student-run philanthropy — a yearlong fundraising effort involving thousands of UK students, culminating in a 24-hour no-sitting, no-sleeping dance marathon. Since the organization's launch in 2006, DanceBlue has raised more than $19,743,656 for the kids.
For more information about DanceBlue, or how to get involved, visit DanceBlue.org.
Click here for more Kentucky business news.