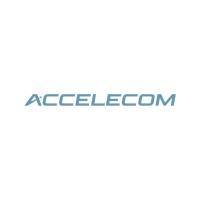 LOUISVILLE, Ky. — Accelecom and The Center for Rural Development (CRD) have teamed up to bring new fiber-optic infrastructure to the CRD's 45 county region. As the exclusive partner with the KentuckyWired network, Accelecom has been busy investing and expanding fiber within the region for local business use and facilitating Kentucky internet service providers to reach new areas to provide broadband service.
As the COVID pandemic hit, the CRD wanted to assist rural area health departments to upgrade their access to a high-speed secured fiber network so they could utilize Telehealth solutions.
Richard Taylor, Executive Vice President of CRD, and Dana Nickles, Executive Director of the Kentucky Health Departments Association and Kentucky Public Health Association, worked to explore this opportunity. Taylor explains, "We were right in the middle of the pandemic. We realized we needed to come up with a bold move forward and make a difference. This all really began as a telehealth initiative. Health departments were at the forefront of all of this so we pulled together a panel of Kentucky healthcare experts and asked what we could do to help while they were flooded. These experts proposed items like electronic medical record (EMR) software and other projects, which were great ideas, but highlighted a huge missing component: broadband connectivity. When the discussion was expanded to include health department directors, we uncovered that they needed better broadband."
Healthcare organizations are having to rely on bandwidth-intensive applications, meaning they need access to a network that is high-speed and reliable. The demand for easy access to healthcare services is going to continue to grow, placing greater expectations on healthcare providers. With telehealth visits on the rise, especially thanks to the pandemic, it's important that Kentucky healthcare providers stay in front of connectivity concerns within their local communities.
Patients' experiences and expectations should be the top concern for healthcare organizations moving forward. "That's where Accelecom was brought in," states Taylor. Accelecom successfully helps these rural healthcare organizations in Kentucky, like Lake Cumberland Health District or Pike County Health Department, get access to reliable internet and ethernet services.
Having access to high-speed, fiber broadband allows Kentucky healthcare providers the ability to communicate more efficiently, not only internally throughout their multi-location sites, but also with their patients. Having multiple departments and locations on one private network is huge for both efficiency and security.
These clinics will also now be able to properly offer telehealth solutions to their patients. By connecting to Accelecom's network, these rural clinics, which are already strapped for cash, are not only saving money but are increasing their ability to offer software features their patients otherwise couldn't have. "This is an exciting time for healthcare in Kentucky. Broadband availability has always been a challenge in our rural areas.
Bringing these low-cost, high-speed connections will give these health departments enough speed to utilize new bandwidth-intensive applications and allow them to grow into the future without worrying if they have the capability," states Kathryn Robertson, Director of Business Development at Accelecom.
Click here for more Kentucky business news.