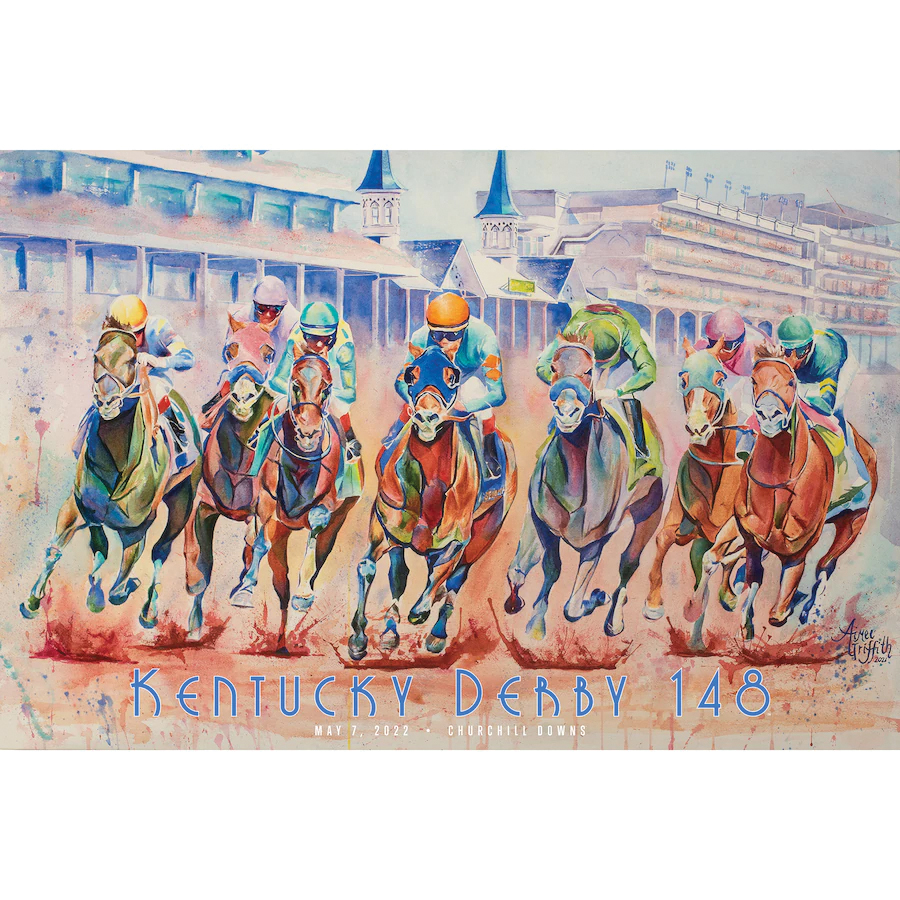 Sometimes, life just happens fast—and that has certainly been the case for Aimee Griffith.
Only six years ago, the Bardstown native and University of Kentucky graduate was a busy full-time mom living in Australia, where the family had moved for her husband's job. While on a family vacation, she signed up for a watercolor painting workshop, an experience that ended up igniting a passion for painting that has now launched a successful career.
After that first workshop, Griffith began painting works for family and friends. With their encouragement, she launched an Etsy shop for those who wanted prints of her paintings. Though she wasn't exactly sure what she was doing when she started her business, she used what she had learned in her strategic communications background to design an Etsy shop, website, wholesale line sheets and social media marketing. Those efforts proved successful enough to grow her hobby into a bona fide business instead of just a pastime.
However, her painting had to be put on hiatus in 2020, as she focused on helping her children navigate virtual classwork during the height of the pandemic. So, it came as a surprise in early 2021 when Griffith, who is now back in Kentucky and living in Lexington, received a request to submit her art to Churchill Downs for consideration as the official artist for the 148th Kentucky Derby. Churchill Downs announced her selection as the official artist in November.
With three children ages 8, 6 and 3, Griffith says it can be tough to find time to paint but "the Derby commission challenged me to explore and experience with my perspective of equestrian art like I've not done before.
"Before I began, I visited Cross Gate Gallery in Lexington and left inspired to try something new," she said. "Pushing brighter colors, more contrast and high energy in my work has helped me evolve as an artist. While I am primarily self-taught, I study and am inspired by artists such as Leroy Nieman, Peter Williams, Wayne Thiebaud and local artists Jim Cantrell and Tyler Robertson."
The paintings she created for Churchill Downs contrast in several ways. The painting for the Kentucky Derby is intended to display the energy, motion and excitement of "the fastest two minutes in sports" with unusual use of color and splashes of paint. Griffith says she wanted to capture the "bright spot" she felt when painting it—the feelings of hope, kids going back to school and the vaccine being released.
The Longines Kentucky Oaks painting, on the other hand, is intended to showcase the fashion, pageantry and anticipation common to the paddock area before a race.
Though others might find the unforgiving nature of watercolors intimidating, Griffith finds it magical. Watercolor is her specialty because she loves its unpredictability and transparency. She can simultaneously narrow in on the details of her paintings while also allowing the watercolors to freely flow.
"The magic is in the mixing and settling of the paint as it dries," said Griffith.
Griffith's work will be featured on the 2022 Kentucky Derby and Kentucky Oaks official racing programs and a variety of merchandise, including Derby and Oaks 148 limited edition artist-signed and numbered posters.
"I feel like the biggest lesson I've learned is to not limit myself," Griffith said. "We're all capable, but it doesn't hurt to try because if you try and it doesn't work out, so what? Throw it away. It's no big deal. Even if it's not something that grows into a business, it can be very therapeutic, and it can bring joy to people.
"I really want to try to find a way to use my art to help other people," she said. "I think that some things are a gift, and it's good to give that gift to other people so that it can help others. I'm trying to figure that out for me."