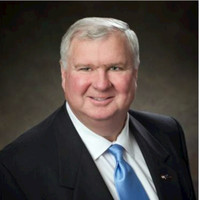 U.S. Bank Regional Executive Bill Jones announced his retirement after 37 years with the bank. Most recently, Jones oversaw the U.S. Bank Community East division for Consumer and Business Banking, an eight-state region that includes his home state of Kentucky.
A 1977 honors graduate of Western Kentucky University in Bowling Green where he received a degree in accounting and business administration, Jones began his career with U.S. Bank in 1985 as CFO of the publicly traded bank holding company, CBT Corporation, and its lead bank Citizens Bank & Trust in Paducah, assuming the role of President and CEO in early 1992. CBT Corporation was later sold to Mercantile Bancorporation in the late 90s which was later brought under the U.S. Bank brand.
From 1977 to 1982 Jones earned the distinction as a Certified Public Accountant, working for Ernst and Young in Louisville. Prior to becoming CFO of CBT Corporation, Jones served as CFO of a privately-owned company based in Louisville.
A past president of Western Kentucky Alumni, Jones currently serves as a member of the board of directors of the Commonwealth Fund for KET (Kentucky Educational Television) and is chair and board member of Mercy Health Hospital in Paducah. He is a former chair and/or board member of the Kentucky Chamber of Commerce, the Paducah Chamber of Commerce, the Paducah-McCracken County Joint Sewer Agency, the Association of Public Television Stations, the Four Rivers Council of the Boy Scouts of America, and a past member of the Economic Development Partnership Board of Kentucky.
He is a graduate of Leadership Kentucky and Leadership Paducah. He is a 2017 recipient of the Leadership Kentucky Flame of Excellence Award, which honors an outstanding Kentuckian "who bravely goes before and lights the way for others," and a 2021 recipient of Leadership Paducah's Alumnus of the Year. He also earned the Alben Barkley Distinguished Citizens Award in 1982.
Click here for more Kentucky business news.