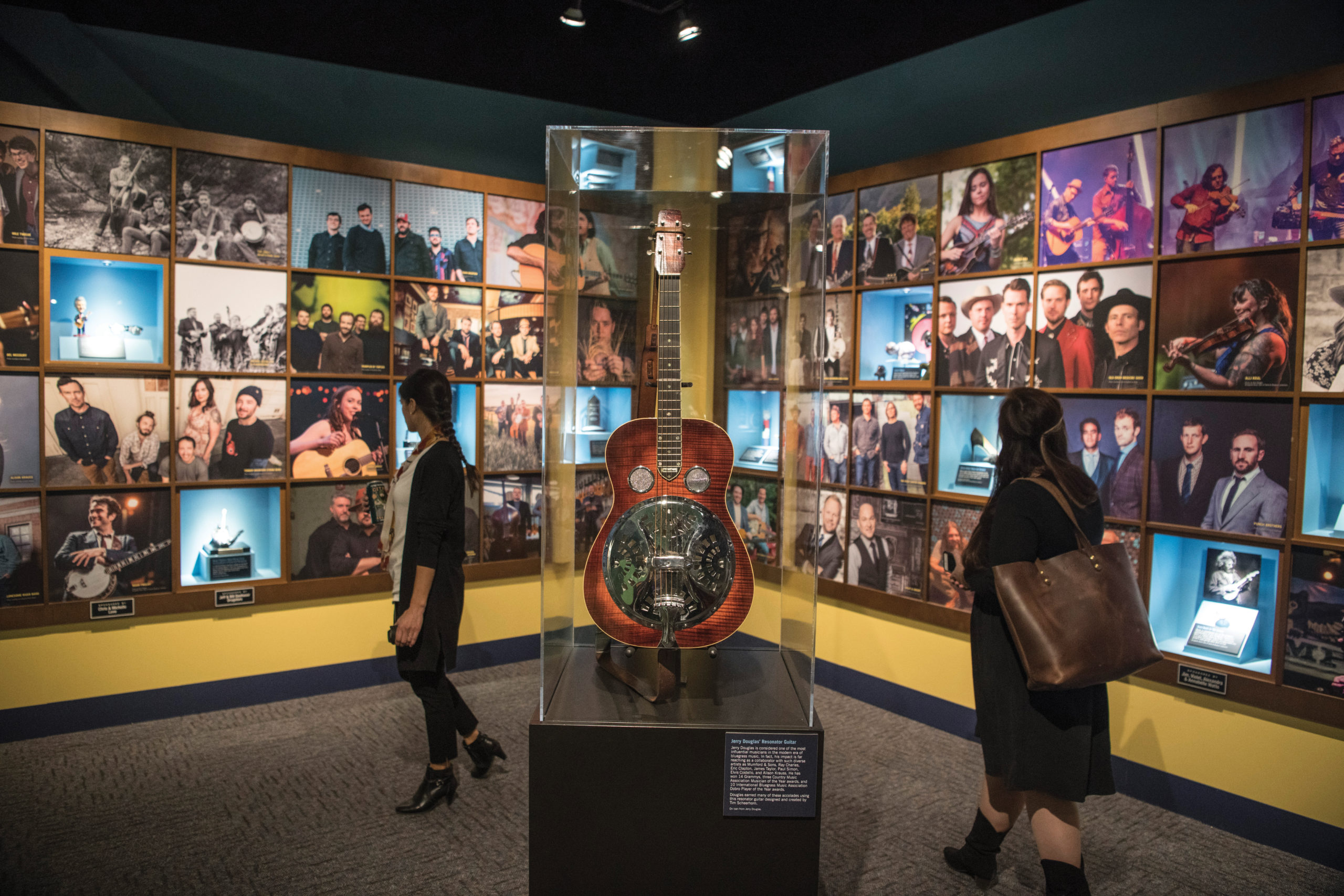 In November 2011 I had the honor and pleasure of attending the Bill Monroe 100th Birthday Celebration at RiverPark Center in Owensboro. By then, Bill was long gone but bluegrass musicians a-plenty showed up. We're talking three days of unadulterated toe-tapping fun that included a performance by banjo specialist Earl Scruggs, with his Family and Friends as backup, a year before he died.
On the off chance that you don't know, Monroe is the Father of Bluegrass Music. He and his band, The Blue Grass Boys, sang and played the "high lonesome" sound that initially captured the personality of this acoustical music with roots that reach back to traditional Scottish, Irish and English genres. Today bluegrass has become wildly popular on an international scope.
"Bluegrass music is people playing their style of music on bluegrass instruments," said Dave Kirk, director of destination management for Visit Owensboro. "It's interpreted in many different ways. That 'high, lonesome' sound is not everyone's cup of tea, but bluegrass musicians have a great deal of respect for what Bill Monroe did because without him, there'd be no bluegrass."
This past November, Owensboro became the Bluegrass Music Capital of the World. Finally! In 1985, the International Bluegrass Music Association was formed here. The Bluegrass Music Hall of Fame began paying tribute to the pioneers of bluegrass and those who made it great by selecting honorees in 1991. In 2018, the $15-million, 9,000-s.f. Bluegrass Music Hall of Fame and Museum (BGM) opened here as part of a complete downtown Owensboro makeover.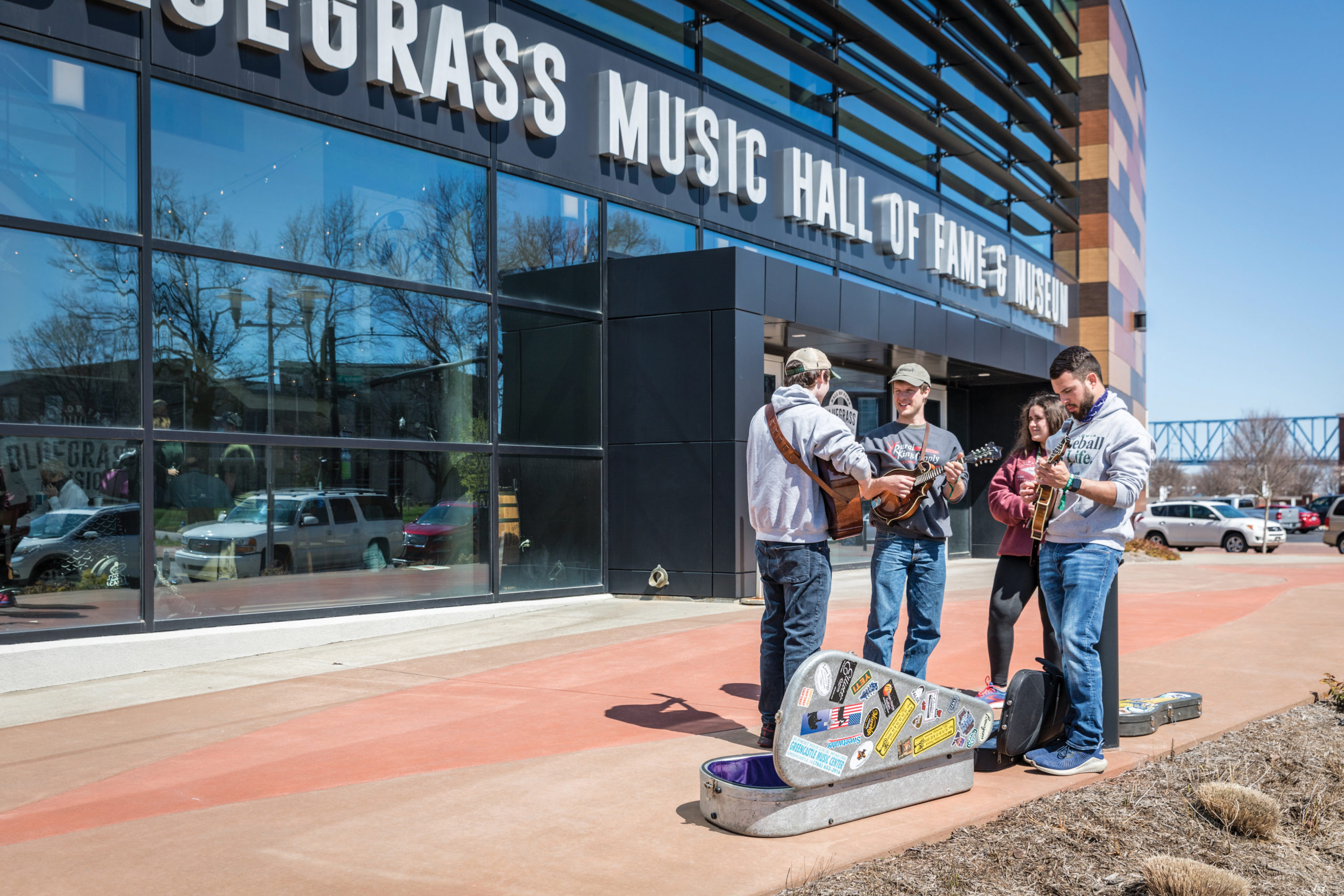 "This is the only cultural center dedicated solely to bluegrass music," said Chris Joslin, executive director. "The building is designed so folks can experience music behind the exhibits."
For starters, guests walk into the museum's Pickin' Parlor, where spread before them are nearly every imaginable bluegrass instrument. People are invited to pick them up and play. As the name indicates, the Bluegrass Hall of Fame has scads of information on every inductee including the aforementioned Mr. Scruggs and his musical partner Lester Flatt, the Stanley Brothers, The Carter Family, J. D. Crowe, Ricky Skaggs. And of course, Bill Monroe, who grew up near Rosine, about 45 minutes from Owensboro.
Scattered throughout the downtown riverfront facility are a variety of important instruments to ogle, such as Pete Seeger's banjo and Bill Monroe's Uncle Pen's fiddle. (Monroe's uncle had a strong musical influence on him.) Some 225-plus video interviews of important bluegrass artists and musicians encourage visitors to stay a while, while changing temporary exhibits and the addition of Hall of Fame inductees give guests a good reason to return.
Nearly every weekend, bluegrass bands from across the country and around the world perform here.
If you want to know more about the beginnings of bluegrass, the Monroe homeplace and a life-sized Uncle Pen's Cabin, reconstructed on the original site, are open daily for tours in nearby Rosine.
Corporate groups have their choice of meeting and/or hosting events in a number of spaces within the BGM. The 477-person Woodward Theatre is a world-class performance hall with state-of-the-art audio and video capacity and is great for presentation and town hall-style meetings. Attendees can enjoy a guided tour during a breakout session, then move up to the third floor's 4,000-s.f. private event space for a social event overlooking the Ohio River. Its 990-s.f. balcony can seat 225 guests or 500 for a stand-up reception. All this plus an outdoor stage and grassy area with seating for 1,500.
For those of you who are pickers, the museum hosts a free open jam session every Saturday and Sunday afternoon.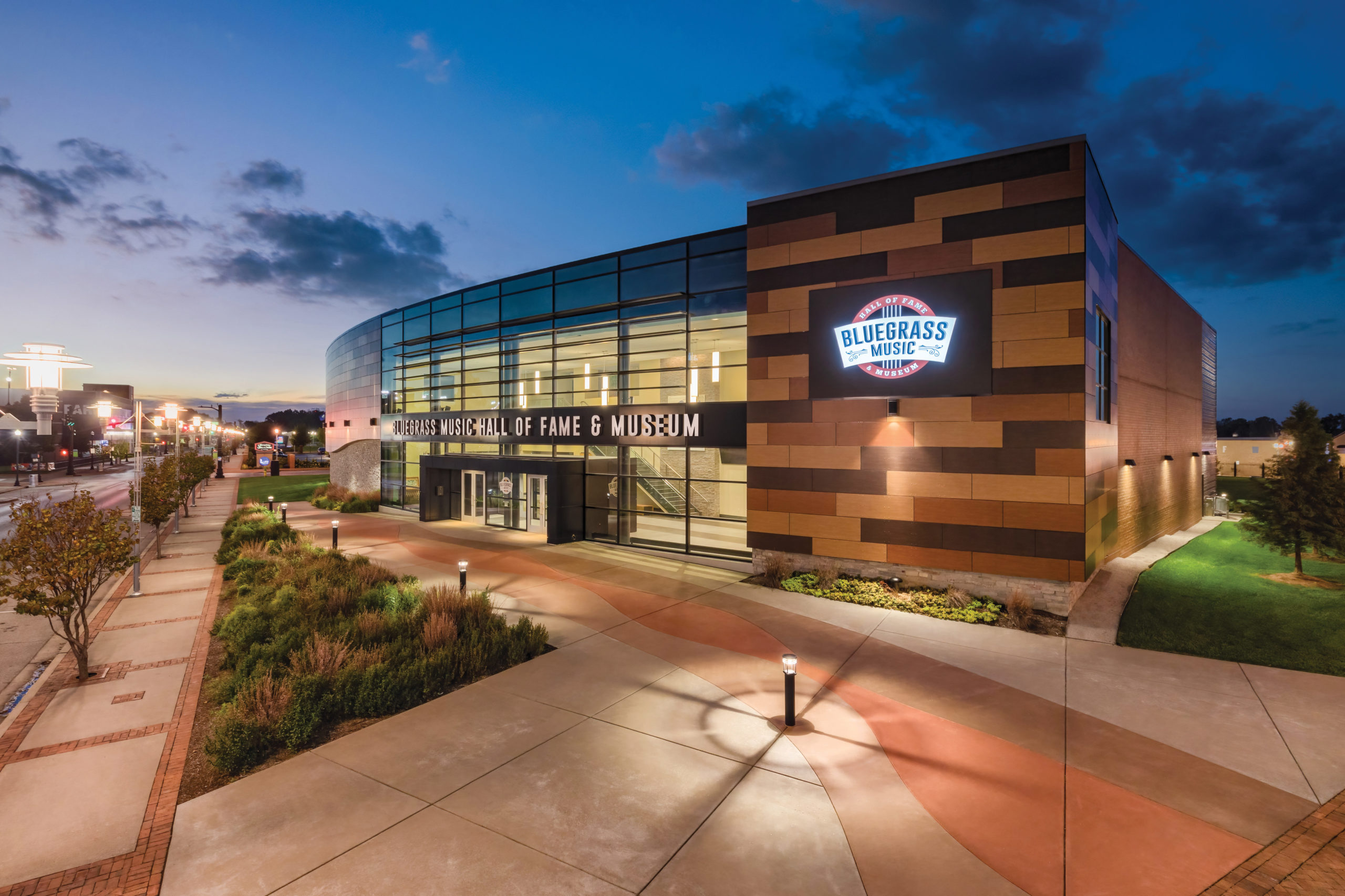 For the past 19 years, the BGM has presented the ROMP Festival. The initials stand for "River of Music Party" and a party it is indeed. Crowds have grown from a just a couple of hundred to 30,000 and the event has hosted well-known performers such as Steve Martin and Alison Krauss.
Scheduled for June 22-25 this year, the family-friendly event is held at Owensboro's 150-acre Yellow Creek Park and is pure bluegrass from beginning to end. In addition to live music on two stages, ROMP features artist-led instrument workshops for all musician skill levels, plus workshops in songwriting, clogging and flat-foot dancing, yoga, and Bluegrass Jamming 101. Expect organic and farm-to-table foods, craft vendors offering Kentucky Proud products, art installations, and kids' activities.
If you play an instrument, by all means bring it and jam to your heart's delight. At rompfest.com, check out the musician lineup, possible camping options and vote for the best participating bluegrass band in the Second Annual Virtual Band Contest. The chosen band gets a prime spot on center stage.
For further info and to purchase tickets for live performances, take a peek at visitowensboro.com or phone (800) 489-1131. For particulars on guided group tours, corporate retreats, special events, or renting the building for a buyout, call (270) 926-7891.
Katherine Tandy Brown is a correspondent for The Lane Report. She can be reached at [email protected].
Click here for more Kentucky business news.