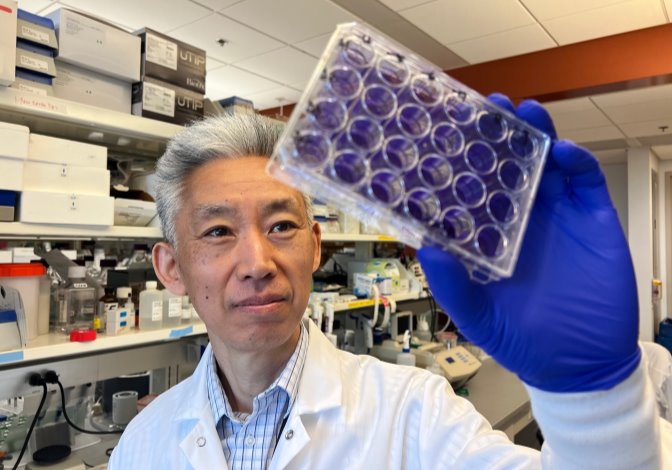 LOUISVILLE, Ky. — The University of Louisville has been awarded $3.7 million from the National Institutes of Health to further innovative research that could help combat future pandemics.
Infectious disease researcher Donghoon Chung will lead the work at UofL as part of the newly created NIH Midwest Antiviral Drug Discovery (AViDD) Center for Pathogens of Pandemic Concern. The multi-institution center, led by the University of Minnesota, is one of nine across the U.S.
At UofL, Chung's research will target the viruses' genome – viral RNA. Viruses inside the body use this RNA as a blueprint to create copies of themselves, spreading the infection. Chung hopes that new therapeutics to fight potential pandemics can be developed by finding a way to stop this process.
"Once inside the body, viruses 'commandeer' host cells as factories and the viral genome becomes manufacturing instructions on how to make more Zika virus, for example," said Chung, an associate professor in the Department of Microbiology & Immunology. "The goal is to stop them from successfully copying that genome."
As part of this research, Chung will work closely with UofL's Center for Predictive Medicine and its Regional Biocontainment Laboratory, one of only 12 regional and two national biocontainment labs in the United States and the only one in Kentucky. Established with support from the NIH to conduct research with infectious agents, the lab includes Biosafety Level 3 facilities built to the most exacting federal safety and security standards.
The new funding supporting Chung's work is part of NIH's $577 million effort to develop antiviral candidates to combat COVID-19 and other viruses with higher potential to cause a future pandemic. Researchers like Chung will identify and validate the candidates, with the most promising moving toward late-stage preclinical development.
"The COVID-19 pandemic has highlighted the need for new antiviral drugs, especially those that could easily be taken by patients at home while their symptoms are still mild," Anthony Fauci, director of the NIH's National Institute of Allergy and Infectious Diseases (NIAID), said in a release. "Decades of prior research on the structure and vulnerabilities of coronaviruses greatly acccelerated our response to the COVID-19 pandemic, and we hope that similar research focused on antivirals will better prepare us for the next pandemic
Click here for more Kentucky business news.