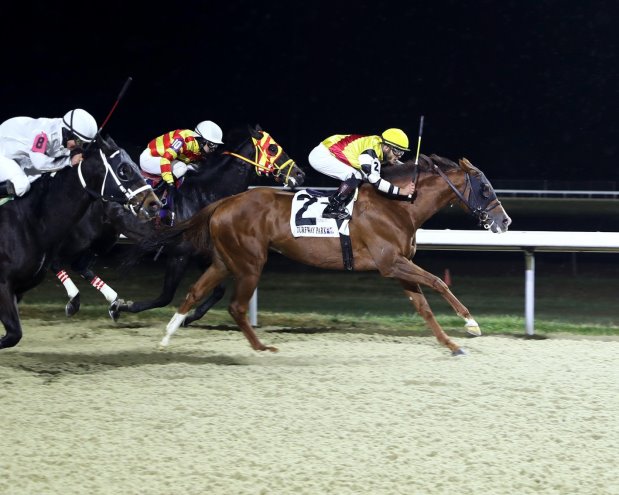 LOUISVILLE, Ky. — Michael Dickinson has spent his life deeply involved in the horse industry, first as a steeplechase jockey and trainer, as a Thoroughbred trainer and most recently as an innovator of racetrack surfaces. Over the past two decades, Dickinson has developed and refined Tapeta Footings, an all-weather synthetic material designed to improve safety for both equine and human athletes.
In recognition of his innovations to improve the safety of horse racing, the University of Louisville Equine Industry Program has named Dickinson, the 33rd recipient of the John W. Galbreath Award for Outstanding Entrepreneurship in the Equine Industry.
"I am honored and flattered to receive the Galbreath Award," Dickinson said. "The safety of the horse has always been a long-term goal of mine ever since I was a child when on small ponies, I had to keep up with my mother, who was on a Grade A International Showjumper. We used to jump post and rail fences, some with ditches, drops, and stone walls. Since then, I've always felt very grateful and indebted to all the horses I rode."
A native of Yorkshire, England, Dickinson was a champion steeplechase jockey and trainer before becoming a successful Thoroughbred trainer in the United Kingdom. Since coming to the U.S. in 1987, he has won over 80 stakes races in the U.S. and Canada. In 2000, he led all New York-based trainers with a win percentage of 35% from starters. One of his greatest achievements in training was conditioning 1996 Breeders' Cup Mile winner Da Hoss to a repeat win in that race's 1998 renewal at Churchill Downs after a two-year layoff.
Dickinson is a member of the Steeplechasing Hall of Fame and has four listings in the Guinness Book of World Records, including the record for the most racing wins in one day – 12.In 1996, Dickinson began building his Thoroughbred training facility,
Tapeta Farm
, in Maryland, employing the most innovative technology in equine care and horse husbandry. Unsatisfied with available track footings, he began developing 
Tapeta Footings
, now recognized as a safe, consistent all-weather synthetic surface for racing and training Thoroughbred horses.
Tapeta 10, the latest version of Tapeta Footings, has substantially reduced equine fatalities and outperformed conventional dirt and turf surfaces. Tapeta surface has been installed at Turfway Park in Kentucky and Gulfstream Park in Florida, Golden Gate Fields in California and Presque Isle Downs in Pennsylvania, and facilities in Canada, Australia, and the United Arab Emirates and the United Kingdom.
A faculty committee selects recipients of the Galbreath Award in the Forcht Center for Entrepreneurship in the UofL College of Business.
The award is named for the late John W. Galbreath, a self-made man who distinguished himself in both businesses and as a horseman. The 32nd Galbreath Award recipient was Tom Aronson, an original business architect of two of the most successful companies in the history of horse racing, the Television Games Network (TVG) and Exacta Systems, both of which became billion-dollar wagering companies. A list of all Galbreath Award laureates and nomination information is available on the Galbreath Award website.