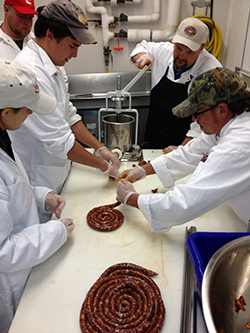 LEXINGTON, Ky. — As health-conscious consumers seek out convenient and protein-packed snack options, meat snacks have emerged as the perfect solution. According to Transparency Market Research recently reported the demand for these savory treats is expected to surge through 2029 due to to protein-focused, lower-carb diets.

To help meat processors capitalize on this trend, the University of Kentucky Meat Cutting School will offer a free Processed Meats Workshop in June to help meat processors ride the wave of that demand.
"The meat snacks category, such as jerky and snack sticks, is one of the fastest-growing segments of the snack food industry," said Gregg Rentfrow, meat science professor for the UK College of Agriculture, Food and Environment. "Meat processors who add processed meats to their retail offerings can increase their revenue by more than 35%. We will demonstrate how to make wet-cured hams and bacon and will share our recipes and smokehouse schedules."
Rentfrow said processed meats tend to be a staple in the Midwest and in northern states.
"We want to make processed meats popular in the Bluegrass," he added.
The free workshop focuses on the basics of making a variety of sausages and ingredient functionalities. Participants will meet June 14 at the UK Meats Lab from 8 a.m. to 5 p.m. EDT and the event is open to the first 30 registrants.
Send registration information to Rentfrow at [email protected]. The UK Meats Lab is at 325 Cooper Drive, Lexington, KY 40546.
Each year, the UK Meats Cutting School offers hands-on pork and beef processing workshops to teach processors the basics of slaughter and carcass fabrication. This year's events are sold out.
"We're looking forward to offering a robust workshop schedule this year," Rentfrow said. "We enjoy helping our meat wholesalers, butchers and retailers learn to perfect the basics and understand the entire process from carcass to counter."
— By Aimee Nielson, [email protected]