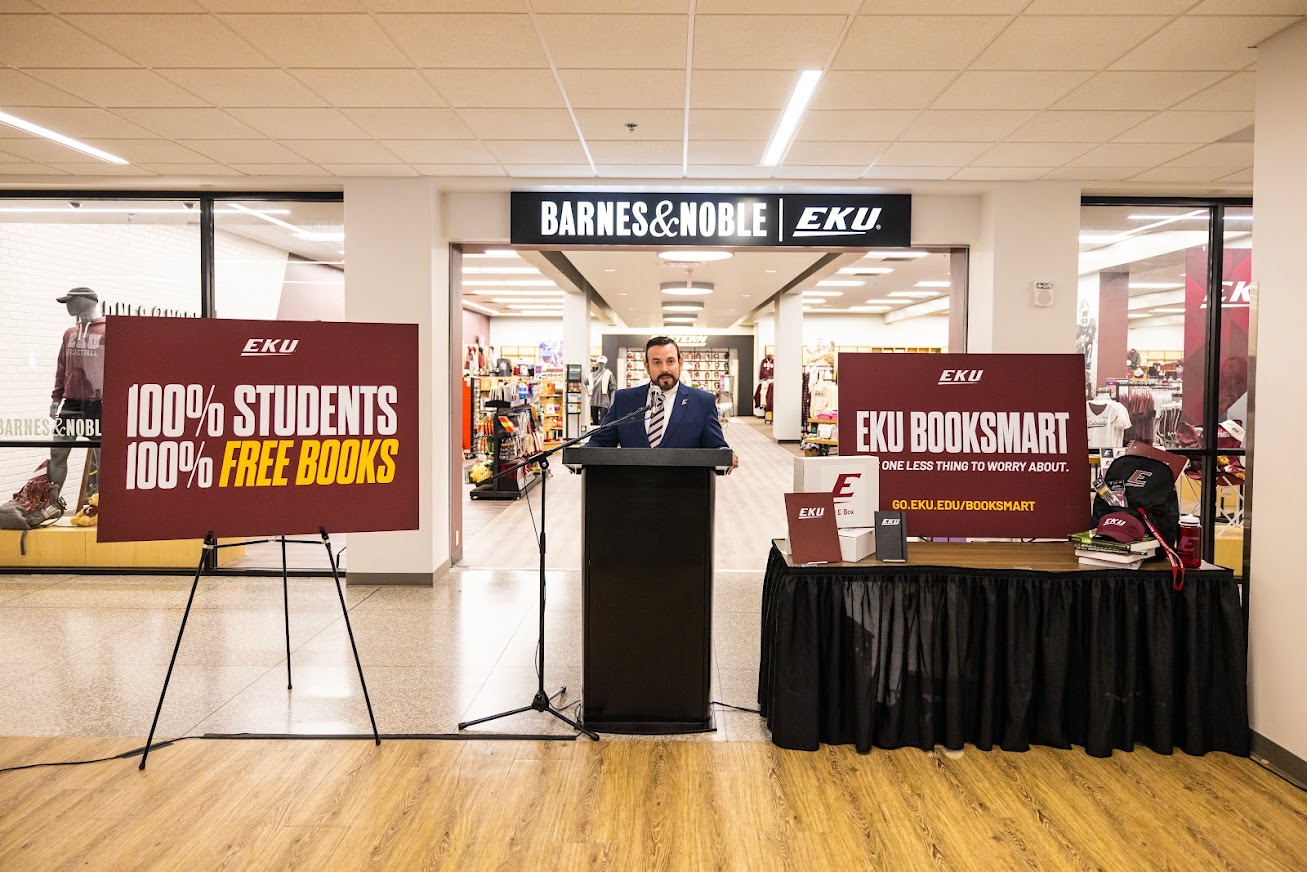 RICHMOND, Ky. — Eastern Kentucky University (EKU) announced the expansion of its EKU BookSmart program during the university's fourth annual Giving Day on Wednesday, April 19. Since the Fall of 2021, EKU BookSmart has provided undergraduate students with free textbooks. Beginning Fall 2023, the program will be expanded to 2,260 graduate and doctoral students online and on campus. EKU will become the first public university to offer free textbooks to all degree-seeking students.
According to the College Board, the average undergraduate student spends over $1,200 on books and materials over a year. EKU BookSmart was created as a way to provide students with an additional level of financial support in their education and lower the overall cost of attendance. Based on the College Board estimate of textbook costs, EKU students will have saved a combined $25 million through EKU BookSmart. Furthermore, the savings represent a 9.7% decrease in students' cost of attendance. With the program's expansion, the cumulative student savings will total over $43 million since the start of EKU BookSmart through the 2023-24 academic year.
"At EKU, we don't want the cost of textbooks to stand in the way of education. EKU BookSmart has provided tens of thousands of undergraduate students with free textbooks since its start in 2021," said EKU President David McFaddin. "We are proud to expand this program to include all degree-seeking students now, making education accessible and affordable to all who seek it."
EKU BookSmart, in partnership with Barnes & Noble, works as a textbook rental program. After registering for courses, books are gathered, packaged and shipped to students free of cost through EKU's Barnes & Noble Bookstore. Students also have the option to pick up their books on campus. Once the semester is over, students return their books to the EKU Bookstore or can purchase their textbooks at a discounted price. 
Fall-to-spring retention rates have increased since the implementation of EKU BookSmart, with a 4.7% increase for all freshmen. There has been a 2.4% increase in overall enrollment since 2021. Since the start of the program, fewer freshmen are failing entry-level courses, with a 2% decrease in drop, fail and withdrawal rates. 
"The BookSmart program is excellent for all students. It saves students a lot of money," said junior music education major Adriana Steele. "Before the BookSmart program, I spent $400 on books in my first semester. I remember hoping I had enough aid to get a book voucher. I can't personally afford to pay out-of-pocket to rent or buy my books, but now I no longer have to worry about that."
Donations can be made to the EKU BookSmart program to support and invest in EKU students.
EKU is committed to investing in students through programs such as BookSmart, to ensure they have the resources necessary to succeed and achieve a college degree.