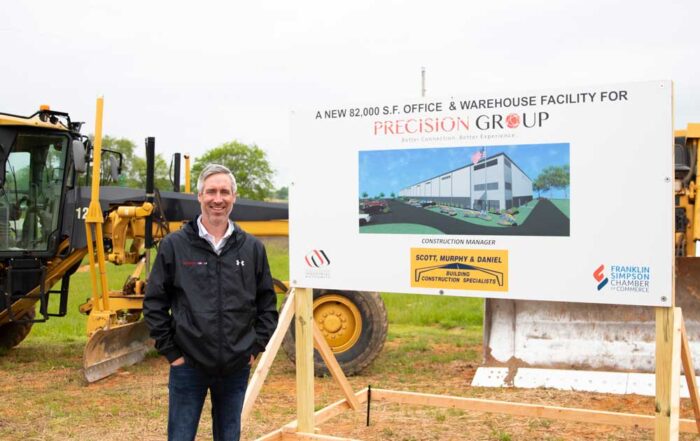 FRANKLIN, Ky. — A groundbreaking ceremony was held in the Henderson Industrial Park for a new facility being built for Precision Power. Scott, Murphy, and Daniel are constructing the new 82,000-square-foot building at the end of Garvin Lane on 15 acres adjacent to Interstate 65. Precision Power, started by Drew Hardin in Franklin in 2019, is currently located in two facilities in Franklin; one on Brown Road and the other on Highway 1008. The company hopes to move into its new building by the first quarter of 2024.
Precision Power is a telecommunications manufacturer of power supplies and technology installation materials. The company has numerous customers throughout the southeast, including the Franklin Electric Plant Board. Drew Hardin, President of Precision Power, said, "Our new facility will provide assembly and distribution of our product for our customers. Once we move into our new building, we can hire more employees from this area." It is expected that the new plant will be able to provide as many as forty new jobs in Franklin. Currently, Precision Power has 20 employees in the community.
"Precision Power is a high-tech company providing really good jobs in Simpson County," said County Judge Executive Mason Barnes. "Their investment in Franklin will help strengthen our local economy and bring diversity to our manufacturing base," said Judge Barnes.
"The Henderson Industrial Park continues to grow," stated Mayor Larry Dixon. "I am pleased to see the growth of Precision Power as well as the continued growth in Franklin's industrial base."
For more information about Precision Power or the Franklin/Simpson County area, contact Dennis Griffin at 270-586-4477 or [email protected].