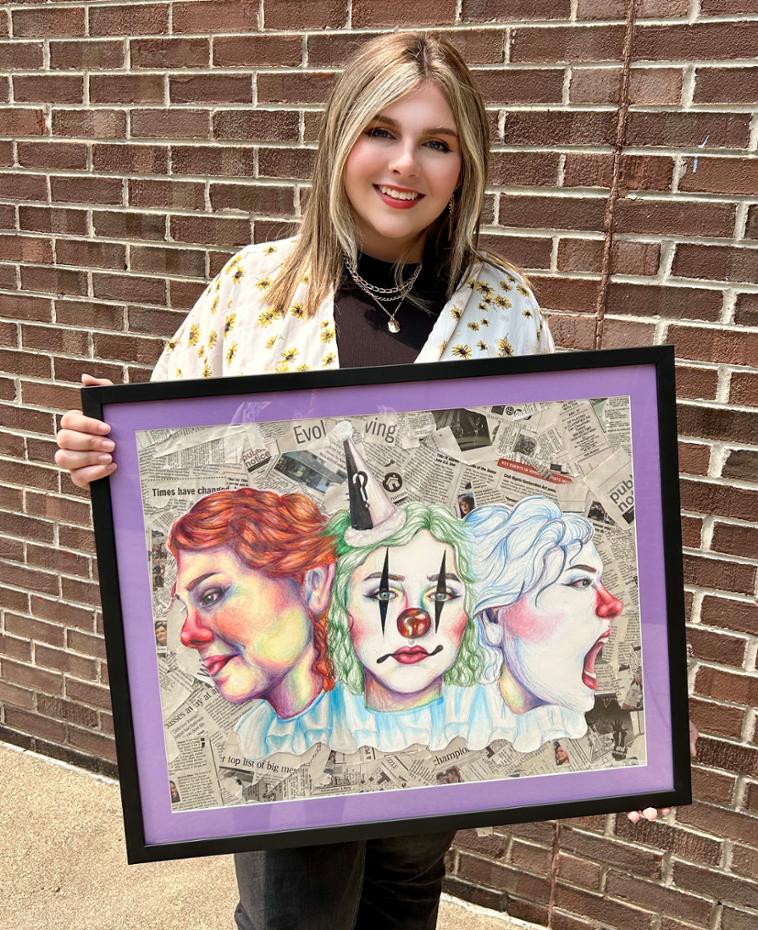 WASHINGTON — U.S. Rep. Harold "Hal" Rogers (KY-05) announced the 2023 Congressional Art Competition winners for Kentucky's Fifth Congressional District. Amiee Compton, a Shelby Valley High School senior, won first place, and her artwork will be displayed in the U.S. Capitol Building, representing Eastern Kentucky. Alyssa Smith, a Leslie County High School junior, won second place for her Supergirl pop art. Julia Bryant, a Whitley County High School senior, submitted an oil painting of Secretariat, winning third-place honors.
"Our student artists in Southern and Eastern Kentucky are incredibly talented, and I'm thankful that they have the opportunity to shine on the national stage by participating in this competition," said Congressman Rogers, Dean of the House. "The artwork we received this year was creative, thoughtful and executed with excellence. I'm proud of all of the students who courageously shared their artwork with us."
Amiee Compton competed in the Congressional Art Competition every year of high school, finally taking top honors with a creative mixed media piece entitled "Circus Act." She described the artwork as a depiction of reputation, featuring three self-portraits that represent the various emotions students often experience as their reputation is formed throughout high school.
"It is an honor to represent not only this congressional district but my state and the Appalachians at this year's Congressional Art Competition," said Compton. "For as long as I can remember, art and creating has been a part of my life. I hope it forever is. As time passed, I knew I wanted something bigger from it, to use my voice with my art. This piece is very personal to me, and I feel resonates with many from this area. Without the encouragement of my environment and community, I don't know if I could've gotten this far. Combining my passions for Appalachia, art, and being a self-advocate, I have created the piece, 'Circus Act.'"
"Amiee has been my student for four years; each year with her has been amazing. She has a natural gift for drawing and painting which has improved year after year," said Wayne Osborne, Compton's art teacher. "What makes Amiee special, though, is her voice. She has a very clear idea of who she is and how she sees the world. Combining that voice with her talent makes her very special indeed. I look forward to seeing her do great things."
As the winner of the Congressional Art Competition, Amiee will attend a national reception in June in the U.S. Capitol Building, where her artwork will be displayed for one year. She will also receive two free airline tickets from Southwest Airlines, with accommodations from The Center for Rural Development and Shaping Our Appalachian Region (SOAR).
The second and third-place winners will receive two free tickets from the Mountain Arts Center to attend one of their summer shows.
"I want to thank SOAR, The Center for Rural Development and the Mountain Arts Center for celebrating our talented art students this year," said Congressman Rogers.