By U.S. Sen. Mitch McConnell, R-Ky.
Students in Kentucky pursuing higher education have enough to worry about as it is — like passing their exams, or finding a job after graduation. They don't need the added worry of increasing interest rates for their student loans.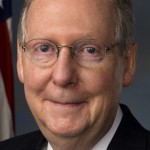 Yet, if Congress does not act before July 1, the interest rate on subsidized federal Stafford loans, given to eligible students to defray the costs of a four-year college or university, community college, or trade, career, or technical school, will double from 3.4 to 6.8 percent.
Because the doubling of the interest rate would only impact 40 percent of new student loans and lead to students only paying on average $6 more a month for any new loan, some ask why this is a compelling issue. But in this economy, too many college graduates already are having difficulty finding jobs.
In Kentucky, the unemployment rate for 20- to 24-year-olds is 14 percent, higher than the national average. And once Obamacare comes on line, health care costs will assume a significant role in this age group's budget. Young men could see their health insurance outlays increase by 50 percent. Unfortunately, liberal Democrats in Washington would rather see interest rates double than find a solution.
Washington Democrats made clear they are not looking for a compromise. They offered a short-term gimmick that would apply to less than half of new loans and cost over $8 billion. And while the assistance is temporary, it's paid for with permanent tax hikes.
Legislation I support, however, would give all students the certainty they deserve through permanent reform that would tie the interest rates on all federal student loans to the market rate, taking the decision out of the hands of Washington politicians. It would also guarantee that the rate doesn't change over the life of an individual student's loan.
This legislation would provide a long-term solution for all student loans instead of just a temporary extension paired with a permanent tax increase for only a subset of them. On the other hand, the liberals' plan for a temporary fix paid for with permanent tax hikes would cost taxpayers more than $8 billion while saving students about $6 a month.
President Obama has called for Congress to address this issue with market-based interest rates for new student loans that would be fixed for the life of the loan, and has said he would oppose a bill that does not lock in interest rates. The bill I and other Senate Republicans support passes his test. The Democrats' bill doesn't.
This summer alone, more than 280,000 students in Kentucky will take out nearly $7,000 worth of student loans. Kentucky college graduates hold about $23,000 of debt by the time they earn their degrees. That's a smart investment, but it is also a lot of money.
With the President and Senate Republicans in relative agreement, liberal Democrats in Washington need to come to the table and work with us to make sure interest rates don't go up for any student come July 1. I've met many Kentuckians who are investing in themselves through education, and I know they're counting on us to get this done.
Senator McConnell is Kentucky's Senior United States Senator and serves as the Senate Republican Leader.