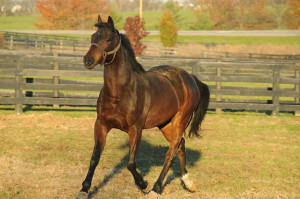 GEORGETOWN, Ky. (April 1, 2014) — Hops and Horses, a celebration to benefit Old Friends Thoroughbred Retirement, featuring Triple Crown winning Seattle Slew's jockey Jean Cruguet and Hall of Fame-nominated rider, Craig Perret, gets under way at 6 p.m. on Thursday, April 10 at West Sixth Brewery on the corner of West Sixth Street and Jefferson Street in Lexington.
The three-hour special event features commemorative glasses, sponsored by Southern States, celebrating Old Friends retiree, Bull in the Heather with a special drawing by Anjelica Huston, along with copies of the Old Friends/Daily Racing Form magazine suitable for autographing. Guests will also receive free selections and analysis of the "late double" for the Friday, April 11 races at Keeneland Racecourse.
For more information about Old Friends Thoroughbred Retirement, visit oldfriendsequine.org or call the farm at (502) 863-1775.