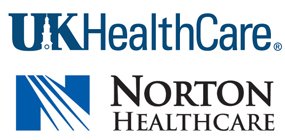 UK HealthCare and Norton Healthcare have formed a partnership that formalizes the two organizations' ongoing alliance in clinical programs, workforce, education and research.
"UK and Norton Healthcare's decision comes as the nation's healthcare system is preparing for reform," said Norton Healthcare President and CEO Stephen A. Williams. "Healthcare providers across the country have recognized that they must embrace collaborations that provide high quality care while emphasizing efficiency and limiting unnecessary, costly duplication of services. Regional cooperation and pooling of resources will be essential features of what is sure to be a national trend in the years to come and Norton Healthcare's and UK's decision puts Kentucky on the leading edge of that new reality."
University of Kentucky Executive Vice President for Health Affairs Dr. Michael Karpf noted that the "collaboration will significantly enhance teaching and research opportunities, thus attracting new research dollars and nationally-recognized physicians."
Officials with Norton and UK say the affiliation is expected to produce significant benefits in at least four areas: clinical services, teaching programs, children's health issues and federal healthcare reform.
Norton's system encompasses five Louisville hospitals; 12 immediate care centers; 10,900 employees; 400 medical providers and nearly 2,300 physicians.
UK HealthCare facilities include UK Chandler Hospital, Kentucky Children's Hospital, UK Good Samaritan Hospital, Kentucky Clinic, Markey Cancer Center and 80 specialized clinics and more than 140 outreach programs throughout central and eastern Kentucky. UK HealthCare is comprised of a team of 6,000 physicians, nurses, pharmacists and healthcare workers.
Currently, a $760 million expansion project is under way that includes a 1.2 million-s.f. facility.