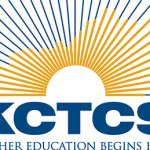 VERSAILLES, Ky. (Oct. 6,2014) — The presidential search process to replace retiring Dr. Michael B. McCall as president of KCTCS is going well and is on schedule, according to a report from the Board of Regents.
The new KCTCS president will oversee a system of 16 individually accredited comprehensive community colleges with more than 70 locations serving over 92,000 students. KCTCS now has an annual operating budget of approximately $929 million. It is the largest provider of workforce training in Kentucky, serving more than 5,300 businesses and training more than 52,000 employees annually.
The search committee has reviewed approximately 40 candidate applications from throughout the state, region and nation. The committee is comprised of internal and external constituents including KCTCS faculty, staff, students, business and workforce partners and community members.
KCTCS Board of Regents Chair P.G. Peeples is working with the Association of Community College Trustees search consultants to fill the position.
"We all have a lot to be proud of as we move forward in the process," said Peeples. "Confidentiality is critical to a successful search, so all candidate information is confidential during this stage of the process."
Peeples says he expects to provide more information later in the fall semester about the process and progress of the committee tasked with selecting a new president of the Kentucky Community and Technical College System .