Nonetheless, drivers urged to be alert for roadway issues
FRANKFORT, Ky. (Nov. 25, 2014) – Drivers will have something extra to be thankful for this week. To help Thanksgiving travelers, construction on most major roadways in Kentucky is being suspended through the holiday. Nonetheless, motorists are cautioned to be alert for lane closures in many locations.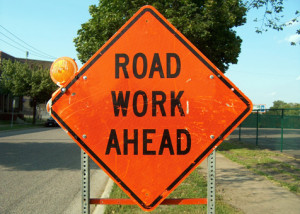 "We want to make travel as nearly carefree and stress free as we can. But most of all, we want everyone to arrive at their destinations safely," Kentucky Transportation Secretary Mike Hancock said.
Coinciding with the holiday, work on Interstate 65 in Bullitt County will be suspended. However, lane closures for both northbound and southbound directions will remain in place, with construction crews beginning work again on Friday.
Northbound I-65 is reduced from three lanes to two lanes between KY 61 and the Bullitt/Jefferson county line (mile points 118 to 123) due to concrete pavement replacement.
Southbound I-65 is reduced to two lanes between the Bullitt/Jefferson county line and KY 245 at Clermont (mile points 123 to 112) due to concrete pavement replacement. These lanes are divided by a median crossover. Southbound I-65 motorists who need to exit at Brooks (Exit 121) should stay in the right lane.
The speed limit is reduced to 55 mph in the work zones, and a 16-foot width restriction is in place.
Other project sites where construction is suspended for the holiday but delays may occur because of lane closures or restrictions include:
 U.S. 127/ Louie B. Nunn/Cumberland Parkway, Russell County – The speed limit is reduced near the interchange project. U.S. 127 is 35 mph and the parkway is 55 mph through this project.
 U.S. 23 North, Greenup County – Reduced to one lane at KY 244 intersection for the Ironton-Russell Ohio River bridge project. This lane restriction will continue until bridge work is completed.
 Hal Rogers Parkway, Perry County – Reduced to one lane between mile markers 57 and 58. Temporary traffic signals are in place with slight delays possible.
 U.S. 62, Lyon County – One lane in each direction between Eddyville and I-69. Work zone runs from mile point 9.1 near Commerce Street to mile point 11.7 near Goodman Road at the U.S. 62/I-69 Interchange. This work zone includes the U.S. 62 Intersection with U.S. 641.
 KY 307, Hickman County – Remains restricted at the Bayou De Chien bridge for bridge replacement. Traffic is controlled by an automated signal.
 I-69/Pennyrile Parkway Interchange, Hopkins County – Travelers restricted to one lane for northbound and southbound traffic along the Pennyrile Parkway.
 Audubon Parkway, Henderson County – Reduced to one lane of traffic in each direction near mile point 11.5. A median crossover will move travelers from the eastbound lane to the westbound side past the construction and then back.
 U.S. 41-Alternate, Christian County – Northbound lanes restricted from mile point 4.4 at the I-24 Exit 86 Interchange, extending northward to mile point 6.6 at KY 756/Crenshaw Boulevard.
 I-65, Hart County – Lanes reduced from three to two from Horse Cave to Munfordville (mile points 58-65)
 I-75, Grant County – Lane closures, lane switches and delays anticipated as construction progresses on a repair project on northbound and southbound lanes between mile points 152.4 and 166.3. The speed limit has been reduced to 55 mph in the work zone.
Dial 511 or log on to 511.ky.gov for the latest in traffic and travel information in the commonwealth of Kentucky.