David Barnett has high hopes for new program
PIKEVILLE, Ky. (Jan. 2, 2015) — University of Pikeville president Dr. James L. Hurley this week announced the appointment of David Barnett, Ed.D., as the founding dean of the College of Education.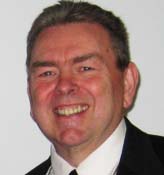 "Creating a College of Education is another important step in expanding our mission and continuing the implementation of UPIKE's Vision 2020 strategic plan," Hurley said. "Throughout our 125-year history this institution has produced outstanding teachers. This new initiative continues the momentum for a knowledge-based economy in Central Appalachia that will be built on education, technology and opportunity."
Barnett earned a doctorate in education from the University of Kentucky. He received a Master of Arts in Secondary Education, along with a bachelor's degree and Rank I in instructional supervision, from Morehead State University.
His career as an educator encompasses 27 years in the P-12 sector and 13 years in post-secondary education, most recently as professor and director of Morehead State University's Doctor of Education Leadership programs. Barnett also served as department chair, interim assistant dean and associate and assistant professor. He held a number of leadership positions in the P-12 sector, including superintendent of schools in Bracken and Fleming counties, assistant superintendent in Rowan and Bourbon counties and instructional supervisor and federal programs coordinator in Fleming County.
In 2013 Barnett was named an American Center Fellow at the Guangxi University in Nanning, China, and received an Honorary Doctor of Humane Letters degree from the University of Pikeville. A past recipient of Kentucky Association of School Administrators Distinguished Service Award, Barnett was also named NAACP Educator of the Year by the Northern Kentucky NAACP in 2001, and Statewide Administrator of the Year and Family, Career and Community Leaders of America in 1994.
Barnett has published two books on educational leadership, authored two chapters on educational issues and numerous grants and journal publications on educational issues. He has also presented at national and international education conferences.
"My first month's 'to do' list includes a number of important items, many of which entails a great deal of listening," Barnett said. "It's important for me to listen to UPIKE's leadership team and College of Education faculty as we map out our short- and long-term goals. It's important for me to visit and listen to our P-12 partners and local educational co-ops to learn how the UPIKE College of Education can work alongside them. I am very fortunate in that many educational leaders in this area are former students of mine. To have a chance to work with them in a different role is very exciting. By working with various talented folks found within this area's educational systems and our community, there is no reason within the next five years why we can't become one of top 10 educational programs in the country."