Rep. Riggs of Louisville proposes online financing for Ky. Entrepreneurs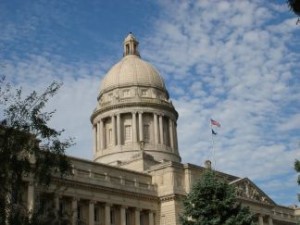 Frankfort, Ky.: A bill to use a state-run "crowdfunding" platform to help Kentucky entrepreneurs raise capital is on lawmakers agenda in the 2015 Kentucky General Assembly's session starting Jan. 6.
Rep. Steve Riggs, D-Louisville, has prefiled legislation to create online crowdfunding investment opportunities in Kentucky for those seeking to launch or expand a business. The legislation proposes to create an online platform for Kentucky entrepreneurs that functions much like the popular website Kickstarter.com. Once up and running, anyone can review the posted business ideas and invest in those they find promising. Likewise, the public's response helps those posting opportunities judge their idea's viability.
Riggs' legislation would allow people to invest up to $10,000 while helping businesses raise up to $2 million. Riggs said he got the idea to propose a crowdfunding platform in Kentucky during this year's National Conference of State Legislatures conference, which included a session on the method's potential. He discussed the idea with Kentuky business leaders and found much enthusiasm for the concept.
"This is a way for Kentucky to help businesses to grow and create jobs," Riggs said. "Too often, good business ideas struggle to get off the ground because of the difficulty of raising capital. Crowdfunding is becoming an increasingly popular way for people … to find the money to launch a product or service."
Crowdfunding has proven to be a very popular and powerful method of reaching investors of all stripes. A May 2014 report, released by the United Kingdom-based The Crowdfunding Centre and titled "The State of the Crowdfunding Nation", presented data showing that during the month of March 2014, more than US$60,000 dollars were raised on an hourly basis via global crowdfunding initiatives. Also during this time period, 442 crowdfunding campaigns were launched globally on a daily basis.
Crowdfunding has helped launch many high profile successes, mostly in the tech sector. The highest reported funding by a crowdfunded project to date is Star Citizen, an online space trading and combat video game which—as of 19 November 2014—claimed to have raised $61,000,000, beating the previous record of $10,266,844 set by the Pebble Watch.