Marianne Barnes is master taster for the Brown-Forman Sensory Science Department
LOUISVILLE, Ky. (Jan. 8, 2015) — Woodford Reserve Master Taster Marianne Barnes has been named to the Forbes "30 Under 30" list in the Food & Drink category for 2015.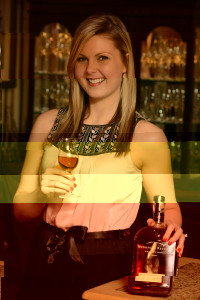 The "30 Under 30" list presents the entrepreneurial, creative and intellectual best of their generation, all under the age of 30, according to Forbes.
"I am incredibly proud and ecstatic to have been selected for such a prodigious honor," Barnes said. "Being selected by such an esteemed panel of judges to be featured in the Forbes "30 Under 30" list is a phenomenal privilege. I have always seen Forbes as the epitome of achieving professional success, and to be recognized alongside other very distinguished members is an indescribable rush."
The 28-year-old Barnes is "bucking industry conventions and making her own path" in the spirits industry, according to Forbes. Barnes is noted for her chemical engineering degree, earned from the University of Louisville Speed School of Engineering, and her specialized palate; both playing a role in her position as an expert taster.
Barnes serves as master taster for the Brown-Forman Sensory Science Department alongside Brown-Forman Master Distiller Chris Morris. Together with Morris, Barnes is responsible for maintaining the award-winning taste of the Woodford Reserve Brand.
In addition to being master taster, Barnes serves as an associate process research engineer in the Research and Development group, where she supports global production for Brown-Forman. With a certification from the Society of Wine Educators, a leading international organization of professionals dedicated to wine and spirits, Barnes demonstrates her mastery of spirits knowledge, distillation and production as a Certified Specialist of Spirits.
Barnes joined Brown-Forman full-time after holding an internship in Research Development with the company in 2009.