Opportunity to meet newly-elected members
COVINGTON, Ky. (Jan. 9, 2015) — Residents will be able to meet the newly-elected Covington City Commission members during a luncheon on Thursday.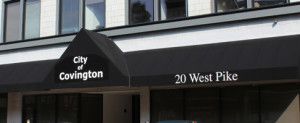 The monthly CBC luncheon will serve as a focus group for the newly elected commission as the audience provides themes and concepts that they believe should be part of a comprehensive business platform for our representatives.
Jordan Huizenga and Bill Wells were elected to the commission in November, joining Chuck Eilerman, Steve Frank and Mayor Sherry Carran.
Registration and networking begin at 11:30 a.m. with the program running from noon to 1 p.m. For more information call (859) 431-1500, ext. 1. Cost is $20 for members and $35 for non-members.