Bill will now be sent to House
FRANKFORT, Ky. (Jan. 14, 2015) — The state Senate today passed a bill—dubbed the Kentucky Right to Work Act—to allow people to work at unionized shops without paying dues to an organized labor group.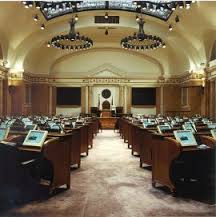 State Senate Majority Floor Leader Damon Thayer (R-Georgetown) said it isn't state government's role to create jobs, adding that was for the private sector.
"But it is the job of government to create an environment where jobs can flourish, where we have current employers wanting to stay in Kentucky and expand their operations and, of course, to attract employers from other states and countries to come here to Kentucky," he said. "There is no question in my mind that the passage of SB 1 is the absolute best step this General Assembly and governor can take to create a better environment for the creation and retention of jobs here in the commonwealth."
Thayer said nine of the top 10 states experiencing job growth and economic expansion at a greater rate than Kentucky are right-to-work states.
The legislation, designated Senate Bill 1, passed by a 24 to 12 vote.
Sen. Reginald Thomas (D-Lexington) spoke out against the legislation. He said the states with the highest quality of life are not right-to-work states and states with the lowest quality of life are right-to-work states.
"My biggest fear is if we pass this legislation, are we again encouraging a race to the bottom by Kentucky —that we want people to be paid less, earn less, have less money to spend on their families, spend for education, spend for healthcare," Thomas said. "Isn't that what we are doing by passing this legislation?"
Senate President Robert Stivers II (R-Manchester) said, "One thing I can tell you … is that when you look at where the jobs are being created … one of the main factors is whether you are a right-to-work state. That's not an assumption. That is a reality."
The bill will now go to the state House for consideration.