Open to community members 18 and older
LEXINGTON, Ky. (Jan. 21, 2015) — The University of Kentucky Police Department (UKPD) is offering an opportunity for citizens to gain insight into the daily functions and responsibilities of law enforcement personnel through its Citizen Police Academy (CPA), a series of seven classes covering several aspects of policing. The CPA is free. Registration is underway now for the spring 2015 academy and continues until the first day classes meet on Feb. 17.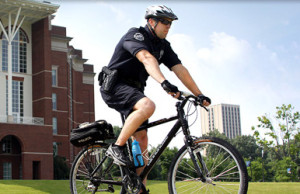 Graduates will be able to share knowledge in the community, thereby helping others become more familiar with police practices.
CPA classes will be held from 6 to 9 p.m. on Tuesday nights from Feb. 17-April 7, allowing for one week off during UK's Spring Break. Upon attendance at all seven courses, participants will take part in a formal graduation ceremony. Classes will be conducted in Room 249 of the Student Center.
The Citizen Police Academy is open to all UK faculty, staff, students, and members of the community who are18 years or older with no prior felony convictions. Prospective participants must complete a course application and submit to an electronic background check.
Topics presented during the Citizen Police Academy include:
University Policing Overview
Criminal Procedure
K-9 Operations
Firearms / Use of Force
DUI
Dignitary Protection Team
Crisis Management and Preparedness
Course material will be presented through lecture, audio-visual aids, and interactive scenarios.
To register, go to http://www.uky.edu/Police/citizensacademy.html.