DHL, Pizzas 4 Patriots providing 5,000 pizzas for Super Bowl Sunday
COVINGTON, Ky. (Jan. 26, 2015) — A major pizza order is making its way through Cincinnati/Northern Kentucky International Airport (CVG) on the way to feeding thousands of U.S. troops during the Super Bowl.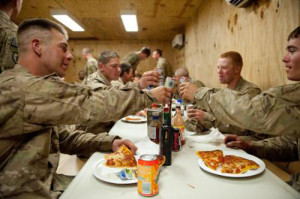 Pizzas 4 Patriots and DHL Express will be sending 5,000 pizzas to Afghanistan to feed troops during Sunday's game. It's the seventh consecutive year the organizations have teamed up to deliver pizza to the troops.
Since 2008, Pizzas 4 Patriots has worked with DHL Express to send nearly 150,000 pizzas in support of U.S. military personnel overseas, including a record-setting pizza delivery confirmed by the Guinness Book of World Records in 2012.
DHL has about 2,300 employees at CVG.
Related news:
DHL unveils its new global hub in Northern Kentucky