Ten-week course begins Feb. 19
LOUISVILLE, Ky. (Jan. 26, 2015) — Nucleus, an arm of the University of Louisville Foundation, is offering LaunchIt, a 10-week course that teaches entrepreneurs what they need to know to introduce a product or start a business.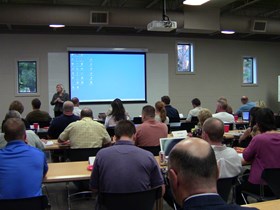 The course begins Feb. 19. Applications are being accepted through Feb. 10. Space is limited. Cost is $895.
"We have established a successful track record," said Nucleus CEO Vickie Yates Brown. "Participants value the contacts that they make. They're coached by experienced entrepreneurs who know how to launch and grow a business."
A "Lunch and Learn" event will take place from noon to 1 p.m. on Wednesday at the Nucleus TechCenter, 201 E. Jefferson St., in the third-floor conference room.
For more information, contact Mary Tapolsky at 502-569-2059 or [email protected].
Related news:
UofL Foundation buys former nightclub for Nucleus park
Governor lauds UofL's Nucleus during visit
UofL Foundation buys downtown building to be managed by Nucleus