Famed 'necklace lights' were switched off in 2014
FRANKFORT, Ky. (June 5, 2015) — Gov. Steve Beshear today announced that $300,000 from the Kentucky Transportation Cabinet has been approved for restoration of aesthetic lighting on a treasured landmark of Maysville — the Simon Kenton Memorial Bridge over the Ohio River.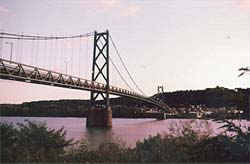 The famed "necklace" lights that outline the 84-year-old suspension bridge were switched off in February 2014 after inspectors found exposed wiring, damaged or inadequate connectors, missing and damaged junction box covers and other electrical safety hazards.
The funding total includes $50,000 for design work that will determine how much of the lighting system can be restored and how much must be replaced. The remaining $250,000 is for installation. The city of Maysville will maintain the lighting system thereafter, under terms of a memorandum of agreement that awaits approval by the Maysville City Commission.
Design work will commence upon the city's approval of the agreement and may take several months.
The project does not involve street lights or navigation lights on the bridge, which connects Maysville and Aberdeen, Ohio.