Event kicks off Kentucky Derby Festival
LOUISVILLE, Ky. (Feb. 9, 2016) — The 27th annual production of Thunder Over Louisville is scheduled for April 23 along the banks of the Ohio River downtown. The event—the Kentucky Derby Festival's Opening Ceremonies—was ranked in September as one of the nation's best events and the ninth best festival, parades and holiday event by BizBash.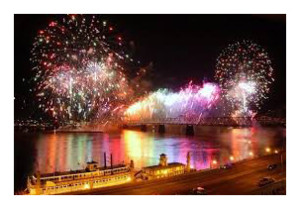 This year's theme, "No Strings Attached," refers to Thunder's spectacular air show and fireworks. It's also a nod to the soundtrack recorded by the Louisville Orchestra under Teddy Abrams direction. More than 40 well-known works by composers like Holst, Beethoven, Tchaikovsky and Mozart were recorded for the soundtrack. Songs from My Morning Jacket, Katy Perry, Michael Jackson and Metallica were also included in the repertoire.
Another packed air show has been planned for this year. The show will feature the U.S. Navy Parachute Team — The Leap Frogs. Also scheduled are the Trojan Horsemen T-28 Demo Team, Billy Werth and Kate Kyer. Other details are still being finalized.
Thunder Over Louisville is one of nearly 70 events produced by the Derby Festival in the spring. Thunder Over Louisville's 2016 Official Broadcast Partners are WDRB TV and SummitMedia's 106.9 PLAY.
Six companies are returning to sponsor this year's event — Horseshoe Southern Indiana, KentuckyOne Health, LG&E, Meijer, UPS and Valero. Ford Motor Company returns as sponsor of Ford's Thunder on the Ground.
This is the 26th consecutive year that UPS has been a presenting sponsor, the 17th straight year for Horseshoe Southern Indiana, 10th for LG&E and Meijer, fourth year for KentuckyOne Health and third year for Valero. For the fifth year in a row, Ford is title sponsor of the Thunder on the Ground attraction.