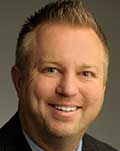 FRANKFORT, Ky. (June 1, 2016) – Fayette County Circuit Court Clerk Vincent Riggs is the new president of the Kentucky Association of Circuit Court Clerks. He was elected to the office by his fellow circuit clerks during the 2016 Circuit Court Clerks Spring Conference that took place April 19-20 in Frankfort. Riggs' term as KACCC president began immediately and is for one year. He succeeds Bell County Circuit Court Clerk Colby Slusher as president.
Riggs is the first Fayette County circuit court clerk to be elected KACCC president.
Circuit court clerks have offices in all 120 Kentucky counties and are responsible for managing the records of circuit and district courts and issuing Kentucky driver licenses and identification cards. The Fayette County Office of Circuit Court Clerk is located in the Robert F. Stephens Circuit and District Courthouses and has driver's license locations at Winchester Road and Keithshire Way.
"It is a privilege to be selected by my colleagues to lead the association," Riggs said. "I look forward to representing circuit clerks statewide and continuing to support the efforts of the Kentucky Court of Justice and the General Assembly to keep the court system funded at the level needed to carry out its constitutional duties. I'm also excited about being involved in the continued progress of the court system's e-filing program and other court technology that help offices of circuit court clerks to better serve citizens, attorneys and others with court business."
Prior to being elected as KACCC president, Riggs served as the association's first vice president, second vice president and was a member of the Education, Legislative, Driver's License, and Technology committees. The KACCC sponsors Trust For Life to promote organ and tissue donation through driver licenses and the Kentucky Organ Donor Registry.
Riggs, who is also an attorney, is actively involved in his local community and his church, St. Martha's Episcopal Church. He recently accepted an invitation to be a member of the Canaan House board of directors.
Circuit Court Clerks
Circuit court clerks are constitutionally elected officials and serve a six-year term. They provide professional recordkeeping, receive money due the courts, pay money to required parties and to the state, record legal documents, provide legal documents and other legal materials, maintain the jury system, administer oaths, handle affidavits, and issue driver licenses and non-driver ID cards.
Administrative Office of the Courts
The Administrative Office of the Courts in Frankfort is the operations arm for the state court system and supports the activities of 3,300 court system employees and 403 elected justices, judges and circuit court clerks. The AOC executes the Judicial Branch budget as the fiscal agent for the Kentucky Court of Justice.