Schools picked to host other postseason events
LEXINGTON, Ky. (April 19, 2017) — NCAA Basketball Tournament games will be held in Louisville in 2019 and Lexington in 2021, said the NCAA, which announced host sites for most postseason sports through the 2021-22 season.
The KFC Yum! Center in Louisville will host Sweet 16 and Elite 8 games on March 28 and 30, 2019, while Rupp Arena in Lexington will host first and second round games on March 19 and 21, 2021.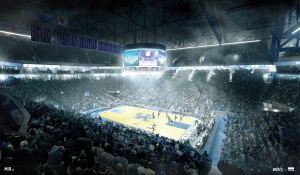 The NCAA said it received more than 3,000 bid submissions from NCAA member schools, conferences, sports commissions and cities vying to host predetermined rounds for 84 of the NCAA's 90 championships. A total of 613 sites were awarded for this cycle. The respective NCAA sports committees and the divisional championships cabinets/committees reviewed the bid proposals and selected the sites.
A total of 43 states were selected to host at least one round of an NCAA championship.
Kentucky hosts:
Nov. 16-18, 2018: Division 1 women's field hockey championship, University of Louisville
May 12-15, 2019: Division I men's golf regional, University of Louisville Golf Club
May 28-30, 2020: Division 1 outdoor track and field preliminaries, University of Kentucky
Nov. 13, 2020: Division 1 cross country regional, E.P. "Tom" Sawyer State Park, Louisville
May 10-12, 2021: Division 1 women's golf regional, University of Louisville Golf Club
Nov. 21, 2021: Division 1 cross country regional, Masterson Station Park, Lexington