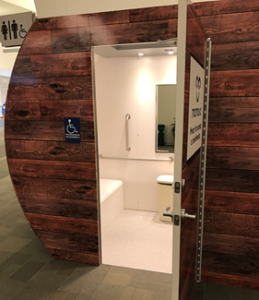 ERLANGER, Ky. (May 10, 2017) — The Cincinnati/Northern Kentucky International Airport (CVG) has partnered with Mamava to install four nursing suites throughout the Terminal, Concourses and administrative headquarters for nursing moms on the go.
The nursing suites are ADA compliant, and offer a clean and private space for moms to sit down, relax and pump or nurse when traveling at or visiting CVG. All suites are equipped with an AC and USB power outlet to power moms' breast pump, and charge electronics. The suites are designed to comfortably fit a mom, her luggage, additional children, partner and stroller.
"We partnered with Mamava in the interest of traveler convenience, dignity and support," said Candace McGraw, chief executive officer, CVG. "Our mission is to make travel through CVG an unforgettably positive experience, and if we can assist moms in this way, then we're serving that mission."
Suites can be found in Concourse A near Starbucks, Concourse B between gates B13 and B15, and baggage claim level of Terminal, which is available for travelers and visitors as it is pre-security. The fourth suite is located at the administrative headquarters building for employees and visitors.