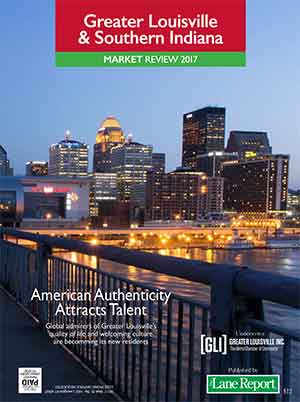 Last year Forbes magazine ranked Indiana in the top 15 states for business, and CNBC ranked it the number one state in infrastructure and cost of doing business. Indiana ranked so highly partly because of the city, county and state infrastructure improvements initiated throughout the Southern Indiana region.
Southern Indiana boasts two new bridges, opened in 2016, over the Ohio River that connect the region in three locations, on the west and east side of the Greater Louisville Metropolitan Area as well as in the center. This connection allows easy access via I-265, I-65, I-64 and I-71 to all the major employment and industrial areas throughout the metropolitan area, including the River Ridge Commerce Center, a world-class business and manufacturing park with 6,000 prime acres under development in Southern Indiana.
The Ohio River is not only picturesque; it is a transportation corridor and home of the Port of Indiana-Jeffersonville, which provides barge connections to the Gulf of Mexico through the Ohio and Mississippi rivers for more than 1,000 barges, 250,000 trucks and 17,000 railcars annually. The port is investing $10 million for a truck-to-rail and rail-to-water improvement project that will extend its rail line.
Louisville International Airport is less than 10 miles from the Indiana border. It is the third largest cargo airport in the U.S. and home to UPS Worldport. Nearby Clark County Regional Airport serves corporate and private aircraft and is located within 10 miles of the Ohio River. The South Central Regional Airport Authority is currently investing more than $10 million to expand the Clark County Regional runway. 
Ongoing road maintenance is essential for business to thrive in Southern Indiana. In 2016 alone, U.S. roads carried people and goods 3.2 trillion miles. In order to address this most often used mode of transportation, Indiana is in the process of widening I-65, the interstate that dissects Southern Indiana and connects it to I-265, I-64, and I-71 to accommodate more traffic. Also, private enterprise is partnering with state government to build a heavy haul transportation corridor connecting the Port of Indiana-Jeffersonville with the River Ridge Commerce Center, located just off I-265.
The railroad network carries one-third of U.S. exports. Local service, provided by CSX Railroad Corp., is investing up to $90 million in upgrades.
According to U.S. Sen. Cory Booker, "For an economy built to last we must invest in what will fuel us for generations to come. This is our history – from the Transcontinental Railroad to the Hoover Dam, to the dredging of our ports and building of our most historic bridges – our American ancestors prioritized growth and investment in our nation's infrastructure."
Southern Indiana has taken that advice to heart and has many advantages. It's within a day's drive of two-thirds of the U.S. population, and is truly on the way to everywhere.