By Robert Hadley
When it comes to deciding which communities make the short list of candidates for business location (or relocation) sites, owners look very closely at utility costs along with a variety of factors.
Fortunately, Greater Louisville ranks among the region's best when it comes to energy and water rates. Louisville comes in 12 percent lower than the national average in overall utility costs, according to the website of Greater Louisville Inc., the city's chamber of commerce.
The data are based on a cost-of-living calculator from MoneyGeek.com, and the comparisons between the Metro and surrounding cities are telling. For utility costs, Louisville is 6 percent lower than Indianapolis, 14 percent below Cleveland, 7 percent lower than Nashville, and a whopping 23 percent below St. Louis.
The low cost of utilities plays a role in making the Louisville Metro an area businesses not only seek out while also helping retain those already here. One has only to look at the explosion of hotel growth downtown and consider the number of large businesses, such as Humana Inc., Passport Health Plan, Hogan Lovells, Ernst & Young and others that have chosen to operate here.
"The competitive cost of utilities in Greater Louisville is an extremely important factor in attracting new businesses to our region," said Deana Epperly Karem, GLI's vice president for regional growth. "Our rates are well below the national average for both businesses and residences. The low cost of entry was key in securing GE, UPS and Ford decades ago, and it continues to be one of our region's biggest selling points."
The two major public utilities – the Louisville Water Co. and Louisville Gas & Electric/Kentucky Utilities – have plans in place to expand while keeping their costs low.
Nationally recognized energy providers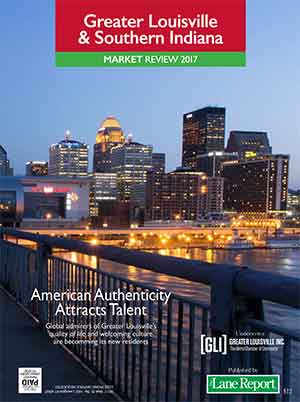 In Louisville Gas & Electric Co. and Kentucky Utilities Co., the city boasts energy providers nationally recognized for offering "competitive advantages in attracting and maintaining energy intensive industries," according to a company statement. For seven years, Site Selection magazine has ranked both firms among the top 10 nationwide in terms of economic development.
One of the reasons for this prestigious ranking has to do with the area's significantly lower utility costs, 15 percent to 25 percent below the national average, the company says.
"Maintaining a diverse generation portfolio, relying upon both baseload fossil-fueled energy sources and intermittent renewables, has been part of our company's fabric for almost 100 years," said Paul W. Thompson, president and chief operating officer of LG&E and KU. "Our dedicated team works with state and local economic development personnel to attract new, and expand existing, businesses to Kentucky. Our economic development rate, coupled with our sustainable offerings, (incentivizes) business growth and development."
Although the city derives the majority of its energy from coal and natural gas, Louisville's grid will see a 20 percent boost in power derived from eight hydroelectric plants at the Falls of the Ohio after upgrades are completed this fall. Other plans allow businesses to cull energy from solar panels installed on their property or to subscribe to solar energy captured at other locations.
Like Louisville Water Co., LG&E and KU are undertaking ongoing maintenance projects to improve the grid's reliability. New meters will allow customers to better track their energy use, while give the substations a heads up when an outage occurs.
Further expansion at Louisville Water Co.
Part of what makes Louisville an attractive base for business is the competitive rates it offers for water, especially important as evidence shows water prices nationwide on the rise.
Industry analyst Circle of Blue claims water costs have jumped 41 percent across 30 major U.S. cities since 2010, "faster than the cost of nearly any other household staple last year," its website claims.
With the Louisville Water Co., however, the increases are much less dramatic. In its 2015 annual report, the company reported the average monthly price between 2011 and 2015 rose only 16 percent, from $19.83 per month to $22.97.
Given the expansion the company has undertaken in recent years, as well as ongoing maintenance, this is no small feat.
"We're a business where we have very high fixed costs: power, chemicals, employees," said Louisville Water's manager of public relations, Kelley Dearing Smith. "But our first 3-6,000 gallons of water are priced to be affordable. And we do that by keeping an eye on the budget."
Fortunately, the company has a built-in advantage: the 75-billion-gallon-per-day Ohio River.
Smith is referring not only to business and residential customers within the Metro area, but also municipal customers from surrounding counties. Serving those adjacent communities has been a part of the Louisville Water Co.'s long-term strategy for two decades, she said.
In May, a $20 million pipeline to supply Hardin County's municipal water district was completed. The project eliminates the need for Hardin County's two districts to pipe water from a treatment plant at Fort Knox.
"It's really grown in the past several years," Smith said, referring to LWC's expansion plans. "We realized that for Louisville to be successful, the region needs to be successful and water is a huge part of that. We don't ever want water to be a barrier for jobs and growth."
Other plans include the design of a pipeline parallel with I-64 to divert water to Shelbyville by 2019.
Within the city, Louisville Water has a 20-year plan to upgrade 4,200 miles of water mains in the Metro area at a cost of $625 million, according to a March 21 press release. One of the most visible phases of this plan is the $23 million replacement of a 1930s main under Eastern Parkway.
LG&E and KU
220 West Main Street
Louisville, KY 40202
(502) 589-1444
lge-ku.com
Louisville Gas and Electric Company and Kentucky Utilities Company are part of the PPL Corporation family of companies. LG&E and KU are regulated utilities that serve nearly 1.3 million customers and have consistently ranked among the best companies for customer service in the United States.
LG&E serves 324,000 natural gas and 407,000 electric customers in Louisville and 16 surrounding counties. Kentucky Utilities serves 549,000 customers in 77 Kentucky counties and five counties in Virginia. More information is available at lge-ku.com and pplweb.com.
Louisville Water Company
550 S. Third St.
Louisville, KY 40202
(888) 535-6262
LouisvilleWater.com
Louisville Water Company began as Kentucky's first public water provider in 1860 and today delivers drinking water to nearly one million people in Louisville Metro and the surrounding region.  Louisville Water's treatment plants are ranked as two of the top 16 in North America and the utility's drinking water is so good is has a trademarked name, Louisville pure tap.
---
 Atmos Energy
atmosenergy.com
Columbia Gas of Kentucky
columbiagasky.com
Delta Natural Gas Company
deltagas.com
Duke Energy
duke-energy.com
Equitable Gas
peoples-gas.com/welcomeequitablegascustomers.aspx
Hardin County Water District No. 1
hcwd.com
Hardin County Water District No. 2
hardincountywater2.org
LG&E and KU Energy
lge-ku.com
Louisville/Jefferson County Metropolitan Sewer District
msdlouky.org
Louisville Water Co.
louisvillewater.com
Touchstone Energy Cooperatives
touchstoneenergy.com