By Abby Laub
Starting a successful business is one thing. Maintaining and growing a company is another thing, and the Greater Louisville marketplace is chock full of people who can streamline and enhance the journey of running a thriving enterprise. Entrepreneurs of all stripes in the region do not face a lack of business services, and many of those surround technology.
"It's not just unique to Louisville, but just to the economy today; we're really in the third wave of technology," said Erik Dunnigan, managing director of Coastal Cloud. "It was the dotcom era in the '90s, then social media and now it's artificial intelligence and data analysis."
Coastal Cloud focuses on business consulting and analysis, and builds IT platforms to drive those efficiencies. Coastal Cloud Midwest in Louisville is one of three Coastal Cloud domestic solutions centers and is special, Dunnigan said, because Louisville is in the middle of everything.
"Louisville is appealing to us for access to market," he said. "It's right in the middle of so many major markets, and we've already doubled our sizes here since February. You can drive and touch a majority of the U.S. population in a day. It's got great logistics and is a nucleus for business."
Leveraging information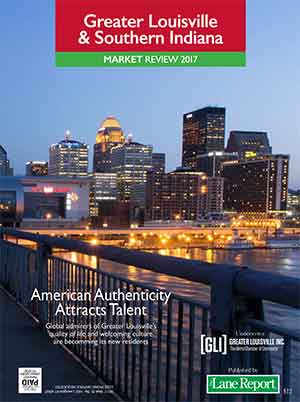 Companies are not lacking in information but often need help streamlining that data and figuring out the best ways to leverage it for their business.
"We try to help companies make use of all of the information that's out there," Dunnigan said. "[Business owners] are trying to track so many things and are overwhelmed by data. Everyone is carrying so many devices. We integrate platforms so they have only one source they need to look at."
Coastal Cloud provides business software services for clients in a broad range of industries including communications, high tech, education, economic development, real estate, professional services, manufacturing, logistics and healthcare. It brings state of the art technology from top-level brands to businesses in the region.
Size does not matter when it comes to streamlining data for business use. Dunnigan said Coastal Cloud works with clients on projects as small as $10,000 all the way up to multimillion-dollar projects.
"It used to be that you'd buy software from one of the big guys, and they'd come on site and hire a firm and spend years installing the software; you use it for three years, and then you have to do an overhaul and install 2.0," Dunnigan said. "It's shifting now, it's all cloud-based. It's an open ecosystem that's like the app store on your phone. Companies don't need huge multimillion-dollar installs now. There's a new methodology of how you can deliver solutions, so we can jump from the smaller guys to the big guys and vice versa."
At Dean Dorton Allen Ford, a premier Kentucky CPA firm, advisors are seeing expectations of rising revenues, profits and employment – specifically among the manufacturing and healthcare industries.
"To thrive the current economic cycle in the area, most clients are focused on growth and rigorously analyzing potential investments to ensure a realistic return on investments and their overall strategy," said Dean Dorton Director of Business and Technology Consulting Jason Miller.
"The gains in momentum we've seen lately are coming from those companies addressing their needs through technology – strong companies continue to invest in and leverage technology to drive revenues and profits," Miller said. "We have also seen many companies increase their investments in process improvements and have assisted companies in identifying and prioritizing improvements, in order to maintain profitability."
The benefits of real-time information and tailored insights through upgraded technology and process improvements outweigh the upfront costs for many organizations, he said.
This doesn't necessarily help, however, in solving the problem of finding skilled workers and implementing risk management strategies.
"Every organization, regardless of size or status, is facing a whole new world of risk from cybersecurity to reputation including occupational fraud or something seemingly as simple as online social media platforms," Miller noted. "It is critical to have a plan in place for addressing these issues now – tomorrow may be too late."
With so many factors to consider, Dean Dorton is able to ease the load for clients through several tools.
"Our initiative to revamp our outsourced accounting services leveraging technology continues to evolve and improve," Miller said. "We continue to find new ways to leverage Intacct for improved insights into businesses. We continue to leverage Bill.com for efficiencies in the accounts payable workflow. Our new tool, Expensify, has allowed us to make client's employees more efficient and improve our processes for managing employee expense reimbursements and corporate credit card reconciliations. We are always evaluating tools to minimize the front-end effort and time, which allows us to spend that time helping clients understand the story behind the information and digging right down into their performance issues."
Business advisors can analyze the whole landscape for clients, not just numbers, and save time for businesses so they can focus on what they are uniquely qualified to do.
"There is a lot of 'noise' in the market, which is why having trusted business partners that think outside the box and have the expertise to exploit new technologies is so important to future success," Miller said. "There can be substantial cost savings for companies with limited resources and those that consider pragmatic, low-cost solutions first – such as cloud and outsourcing solutions – before turning their attention toward more comprehensive investments and strategies, will certainly have the advantage in years to come."
Keeping businesses safe
IT solution providers are not the only people seeing growth in Greater Louisville. Kentucky Employers' Mutual Insurance is a mutual insurance company providing workers' compensation insurance coverage to more than 24,000 businesses in Kentucky.
Todd Benson, KEMI business development manager, is in the Lexington headquartered business's Louisville office and said KEMI is seeing a growth in Rubbertown, as well as with automotive supply partners along the I-64 corridor, and the east end where the new bridge provides easy access to Southern Indiana's River Ridge.
KEMI, he said, is in a unique position as the largest provider of workers' compensation in Kentucky. Its rates are not based on geography but rather focus on industry (or "class") and individual business experience.
"Our pricing model allows us to adjust our rates by 40 percent for businesses that have a proven track record when it comes to workplace safety, and this has a significant impact on our ability to compete against other insurance carriers," Benson said.
Microfactory good for prototypes
With endless tools to ensure their success, it's no wonder new companies continue to call the region home. Some of these entities may be very small but still require the technology typically afforded only by major corporations.
FirstBuild, a co-creation community backed by GE Appliances, gives entrepreneurs and creators access to world-class engineering and design talent in order to bring new appliance products to market in new ways.
Complete with an innovative "microfactory" that's dubbed as a "playground for adults," creators use the space as a catalyst to make their new home appliance visions a reality. The Microfactory at FirstBuild is open to the public, but some areas and machines require training and expertise.
Through the use of advanced manufacturing techniques and rapid prototyping tools, products can be made on a very small scale up to the thousands, enabling products to quickly move from concept to creation to showroom floor.
In the first year that it opened (2014-15), the new model of manufacturing brought eight new appliance products to market and generated more than 7,500 global FirstBuild online community members, 800-plus product ideas, and more than 40 collaborative projects with University of Louisville and other maker startups.
FirstBuild has boosted Louisville's reputation as a hot spot for entrepreneurial activity.
"The breakthrough work at FirstBuild is a great example of the kinds of big things that effective partnerships between the City of Louisville and industry leaders like GE can deliver," Louisville Mayor Greg Fischer said in a press release.
This spring, another example of the entrepreneurial activity was the opening of Interapt LLC's headquarters in Louisville.
In April, Interapt, a tech development startup focusing on business innovation services and workforce development, announced it is establishing a new Louisville headquarters with a nearly $3.7 million investment that will create 250 full-time jobs.
Interapt will renovate a 22,000-s.f. manufacturing and warehousing facility at 1226 Rowan Street in the city's Portland neighborhood, near downtown. The new headquarters will include dedicated space for community-focused workforce development and technology training programs.
Focusing on the business clusters
Louisville Forward continues to focus on its five major business clusters; Business Services, Advanced Manufacturing, Food & Beverage, Lifelong Wellness and Aging Care, and Logistics & eCommerce.
Business Services may be lesser known than the Food & Beverage sector, which includes the skyrocketing premium Kentucky bourbon segment and household-name fast food and fast casual chains, but it is no less important. Support services underpin so many other companies: anything from a call center to human relations consulting. Because today's world is digital and work can be done from nearly anywhere, Louisville's high quality of life coupled with its high value proposition for businesses gives it a competitive advantage over other cities.
Home to businesses such as human resources consultant Mercer and financial service company Computershare, many financial service and processing operations have helped prove Louisville's strength in the Business Services cluster as a great place to do business.