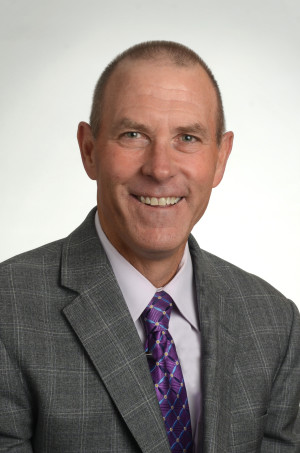 HIGHLAND HEIGHTS, Ky. (Oct. 13, 2017) — Northern Kentucky University has announced Dr. Dale Stephenson as the new dean of the College of Health Professions. Dr. Stephenson will assume the role on Jan. 15, 2018.
Dr. Stephenson currently serves as professor and inaugural director of the School of Allied Health Sciences at Boise State University. In this role, he is responsible for the development and implementation of strategic goals and objectives for the academic departments of Radiologic Sciences, Respiratory Care, Kinesiology and Community and Environmental Health.
Dr. Stephenson reports to the college dean and provides direction and leadership to achieve the school's vision and mission while maintaining its values and philosophy. As director, his activities have included supervision of 50 faculty and staff, creation and maintenance of the school's strategic plan, management of a $3.5 million appropriated budget, development and sustainability of community partners and stakeholders, and oversight of all advancement activities.
Dr. Stephenson's administrative roles at Boise State have included director of the B.S. Environmental and Occupational Health Program, director of the Center for Excellence for Environmental Health and Safety, and chair of the Department of Community and Environmental Health. Prior to his 20-year academic career, Dr. Stephenson worked for six years as a health and safety scientist at Los Alamos National Laboratory.
Dr. Stephenson's honors and awards at Boise State include the College of Health Sciences' Excellence in Faculty Teaching Award (2008 and 2011), the College of Health Sciences' Excellence in Faculty Service Award (2010) and the Provost's Excellence in Advising Award (2009).
"Dale brings a wealth of experience to his new role and will provide excellent leadership for the College of Health Professions and for NKU as a whole," said NKU Provost Sue Ott Rowlands. "His research and teaching specialties lie in the discipline of occupational health, specifically as they relate to the assessment and control of airborne exposure to toxic agents. As validation of his expertise in occupational health, Dale was certified in 1994 in the comprehensive aspects of industrial hygiene allowing him to use the title of 'CIH' during the performance of his professional activities."
Dr. Stephenson earned his Ph.D. in Environmental Health from Colorado State University in 1991 and his B.S. in Geology from Metropolitan State University in Denver, Colorado, in 1984. Dr. Stephenson holds or has held professional memberships in the American Industrial Hygiene Association, the American Conference of Governmental Industrial Hygienists, the Air & Waste Management Association and the National Environmental Health Association.
Noteworthy among his achievements is Dr. Stephenson's employment with the United State Peace Corps., serving with his wife as volunteers in Mali, West Africa, from 1986 to 1988. Dr. Stephenson has two grown sons, is known for his passion for the game of squash and enjoys hunting and fishing. He assumes the role of Dean of the College of Health Professions from Dr. Dale Scalise-Smith.