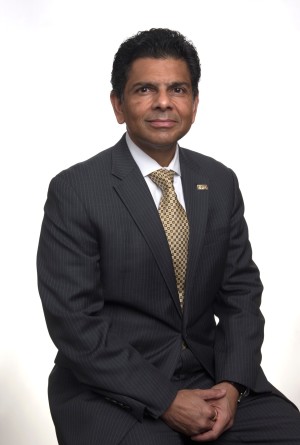 HIGHLAND HEIGHTS, Ky. (Nov. 9, 2017) — Northern Kentucky University has announced Ashish Vaidya (ahh-SHEESH vi-DEE-ah) as the university's sixth president. NKU's Board of Regents unanimously elected Dr. Vaidya as president on Thursday. He is expected to assume the role on July 1, 2018.
Dr. Vaidya is currently serving as interim president of St. Cloud State University in Minnesota. The presidential search committee, compiled of NKU Board of Regents members, faculty, staff, students and community members, recommended Dr. Vaidya after an eight-month process.
"We knew what we wanted in our next leader. Someone who reflects the entrepreneurial spirit of NKU, and I feel confident that Ashish is that person. In my conversations with him, it's clear he will be a dynamic leader who will champion our causes and build on our strong foundation," said Rich Boehne, NKU Board of Regents' chair.
Prior to serving as St. Cloud State University's interim president, Dr. Vaidya served as provost and vice president for academic affairs at St. Cloud State since 2015. Previously, he served California State University, Los Angeles, from 2010 to 2015 as provost and vice president for academic affairs, and as special advisor to the president for regional economic development.
He also served California State University Channel Islands as dean of the faculty from 2005 to 2010, as the MBA director from 2003 to 2005, and as founding director of the Center for International Affairs from 2004 to 2006. Prior to that, he served as the MBA director for California State University, Los Angeles, from 1997 to 2001. He has served on the faculty of both California State University, Los Angeles, and California State University Channel Islands.
"The momentum at NKU right now is truly amazing. It's what first caught my attention, and I continue to be impressed the more people I meet. As I learned about the university, its history and its role in regional stewardship, it fits well with what I was looking for. I'm honored to serve as NKU's sixth president and looking forward to the adventure that lies ahead," said Dr. Vaidya, NKU incoming president.
Gerard St. Amand has served in an interim capacity since May. St. Amand postponed retirement from NKU when former President Geoffrey Mearns left NKU earlier this year. (Click here for details on all of NKU's past presidents.) 
Dr. Vaidya holds a bachelor's and a master's degree from St. Xavier's College (Mumbai, India), and a master's and a doctorate from University of California, Davis. He is married to Nita Vaidya, a sociologist. They have two children: Jaanhvi, a technology consulting analyst with Accenture; and Avaneesh, a student at the University of Arizona. 
Incoming President Vaidya will join the university as NKU celebrates its 50th Anniversary, opens the Health Innovation Center and engages in new projects such as the partnership with St. Elizabeth Healthcare and the UK College of Medicine to establish a northern Kentucky medical campus. For more on NKU's history or information on the university, visit our website at www.nku.edu. To learn more on NKU's presidential search, click here.