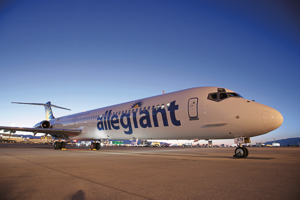 LOUISVILLE, Ky. (Nov. 16, 2017) – Today Allegiant celebrates the inaugural flight to Las Vegas' McCarran International Airport (LAS) from Louisville International Airport (SDF). This flight marks the beginning of year-round service to one of the region's favorite destinations.
"We continue to be very pleased with the community's strong response to Allegiant and its contribution to our passenger growth," said Jim Welch, chair of the Louisville Regional Airport Authority Board. "Growing air service to the western U.S. and expanding flight opportunities for the region remains among our highest priorities."
"In just six months, we have added routes to eight destinations from Louisville International Airport, and we are ecstatic to begin the only low-cost, nonstop service to Las Vegas," said Lukas Johnson, Allegiant senior vice president of commercial. "We know Las Vegas is a popular destination for Louisville-area travelers, and we are excited to offer a friendly, convenient option that everyone can afford."
In addition to Las Vegas, Allegiant also provides nonstop service from Louisville International to Destin-Fort Walton Beach Airport (VPS), Fort Lauderdale-Hollywood International Airport (FLL), Fort Myers-Punta Gorda via Punta Gorda Airport (PGD), Orlando Sanford International Airport (SFB), Phoenix-Mesa Gateway Airport (AZA), Savannah-Hilton Head International Airport (SAV) and Tampa-St. Pete via St. Pete-Clearwater International Airport (PIE). The flights to Las Vegas operate twice weekly on Sundays and Thursdays.
Louisville International Airport offers nonstop flights to 28 destinations, including 17 of the region's Top 20 domestic markets. With just one stop, travelers from Louisville can also reach 170 destinations in 81 countries spanning six continents.
For additional information regarding Louisville International Airport, visit www.FlyLouisville.com.