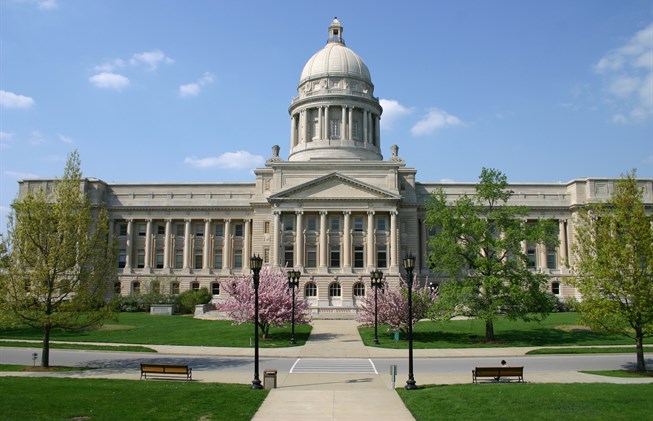 FRANKFORT, Ky. (Dec. 28, 2017) — On Dec. 15, the Consensus Forecasting Group (CFG) revised their "official" estimate of tax receipts for this fiscal year – FY 2018. The CFG determined that General Fund revenues will be $156 million less than previously budgeted. In response to their determination and in accordance with statutory requirements, Gov. Bevin has issued a Budget Reduction Order that specifies spending reductions prior to the end of this fiscal year, June 30, 2018.
Language in the biennial budget bill (2016 HB 303, Part VI) requires spending reductions equal to the shortfall to be allocated proportionately among all branches that receive money from the General Fund budget. Additionally, the Governor, the Chief Justice, and the Legislative Research Commission are required to implement reductions for their respective branch budget units as may be necessary to resolve the shortfall.
In accordance with the budget bill, the shortfall, after adjustment for dedicated severance tax revenue, is allocated to the three branches of government in proportion to their share of General Fund spending for the fiscal year.
   Executive Branch   $152,523,900   1.3%
   Legislative Branch           807,900   1.3%
   Judicial Branch             4,668,200   1.3%
          Total                 $158,000,000
How the Legislative Branch and the Judicial Branch implement reductions is up to the heads of each of those branches. Within the Executive Branch budget, reductions are allocated among the Executive Branch agencies and the Constitutional Officers in proportion to their share of General Fund spending for the fiscal year:
Constitutional officers
   Attorney General                                $       141,000   1.3%
   Auditor of Public Accounts                            63,300   1.3%
   Department of Agriculture                           217,800   1.3%
   Secretary of State                                         22,800   1.3%
   State Treasurer                                             25,400   1.3%
   Other Executive branch budget units   152,053,600   1.3%
                                                  Total     $152,523,900
The schedule attached to the Budget Reduction Order details the spending reductions for each appropriation unit within the other Executive Branch units.
The FY 2018 spending reductions are less than requested by the Governor when he asked for planning estimates earlier this year because the Budget Reduction Order addresses only the revenue shortfall and cannot be used to replenish the Rainy Day Fund. In addition, spending reductions specified in the Budget Reduction Order affect more agencies, thereby reducing the percentage applicable to most agencies.
The Next Biennium
Fiscal years 2018-2019 and 2019-2020
In addition to addressing revenues for this fiscal year (FY 2018), the CFG issued their "official" estimate of General Fund receipts for the next biennium – fiscal years 2018-2019 and 2019-2020.  While the CFG projects a slight overall increase in tax revenues compared to FY 2018, the increases are modest for FY2019 and 2020 – $287.5 million and $284.1 million or about 2.7% and 2.6%, respectively.
In addition to only modest increases in revenue, the Commonwealth will be addressing various budgetary strains associated with pension funding, Medicaid, and other funding requests. Furthermore, responsible budgeting demands that the Budget Reserve Trust Fund be replenished to a reasonable level. As a result, it is certain that there will be a need to reduce spending well beyond the reductions implemented in the FY 2018 Budget Reduction Order. Those spending reductions are likely to approximate one billion dollars.
In this Budget Reduction Order, as in the past, spending reductions have not been ordered in cases that would jeopardize important governmental activities such as K-12 education (including the funding of the SEEK formula), corrections, Commonwealth and County Attorneys, Election Finance, Kentucky Retirement Systems, Teachers Retirement Systems, Board of Elections, Executive Branch Ethics Commission, School Facilities Construction Commission, Local Government Economic Assistance and Development Funds, Economic Development, Kentucky Higher Education Assistance Authority, etc. Protecting those categories from reductions in the next biennium will be difficult, if not impossible – there is just not enough revenue to satisfy all of the funding needs.