It's safe to say Northern Kentucky is "having a moment." The northernmost tip of Kentucky sits advantageously next to one of the nation's biggest metropolises. But the six-county section of the Bluegrass State is blazing its own path through a genius combination of private enterprise, political unity, community activism, and an engaged and invested populace.          
A balanced approach with emphasis on the riverfront and Southbank lifestyle, the manufacturing and logistics sectors in places like Florence and Hebron, dynamite announcements at Cincinnati/Northern Kentucky International Airport, continually growing healthcare and education prowess, hopping commercial and residential estate markets, intentional historic preservation and leadership collaboration make the region a bright spot that other areas can learn from.
"Northern Kentucky has struggled for a while. It's been down on its luck, but the same can be said for a lot of places in America and Kentucky, but it's an incredibly vibrant area," said Kentucky Gov. Matt Bevin. "It's a huge part of the infrastructure of America. It has a river that's just beautiful, the people are great, the seasons are great – it has everything. It's a matter of dusting it off, holding it up, letting the sun reflect off of it. It will attract people, and I think the future of Northern Kentucky is extremely bright."
The governor is a fan.
"It's got everything – it's a vibrant, key part of America," Bevin said. "I don't think there's anything Northern Kentucky can't do as well or better than anyone else."
Northern Kentucky Chamber of Commerce President and CEO Brent Cooper said Northern Kentucky is disproportionately strong compared to the rest of the state in logistics, transportation and distribution, but also cited the formidable manufacturing and healthcare sectors that employ one in four of the region's working people. All of these sectors are intrinsically connected, and they work together.
"It's a team effort here in Northern Kentucky," he said, pointing to new developments like Northern Kentucky University's $97 million Health Innovation Center, which soon will link education and healthcare in cutting edge ways and focus on many of the chronic illnesses affecting Kentuckians, including behavioral health. "This is a big joint venture. Healthcare will really drive the state."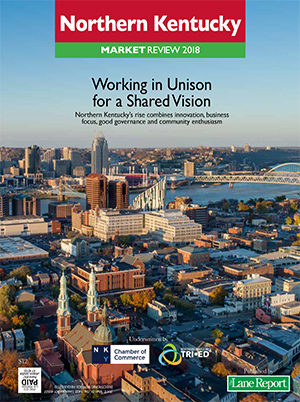 Northern Kentucky also has its sights set on the booming tourism sector. A significant milestone was reached in late 2017 when all three fiscal courts from Kenton, Campbell and Boone counties unanimously voted for a 1 percent increase in the bed tax to begin funding an all-new Northern Kentucky Convention Center. Though it comprises only six counties, Northern Kentucky accounts for 20 percent of the state's tourism spending.
"Our convention center makes money, but it could make a lot more money," Cooper pointed out.
A new convention center plan is beginning to emerge. The present prime riverfront location in Covington will continue to be a major asset for the local economy. Also, Northern Kentucky was just named as the newest "official gateway" to the world-famous Kentucky Bourbon Trail by the Kentucky Distillers' Association.
Frankfort is on board
The attention given to Northern Kentucky by the state capital also is significant. One big deal in 2017 that came out of that partnership was CTI Clinical Trial & Consulting's official opening in Covington, after moving its headquarters from just northeast of Cincinnati to the south side of the Ohio River. CTI officials were quick to point out that it was Gov. Bevin's personal attention as well as the red carpet laid out from investor and real estate developer Corporex that helped make the move happen.
"Whenever someone makes a decision like this, there's a lot of moving parts, but I am very hands on," Bevin said. "That's the way I believe a governor should be as it relates to economic development, so I was very involved (in the deal). Speaking with (CTI CEO) Tim Schroeder, (Corporex Chairman & CEO) Bill Butler, the judge-executives – I was very involved with every person to make sure we got that company to come, and it was a great decision for them to do so. Tim is a great leader and a great man, and he's already making a difference in Northern Kentucky. We've just begun to see the impact; we'll continue to see more of that."
"We're literal and figurative new kids on the block, and so far it's been really phenomenal," Schroeder said. "There's a tremendous sense of community here that as someone who's lived in the area for many years and is here as a permanent resident you really get a feel of that vibe, and it's really impressive. I've been really wowed by how everyone across the board has really welcomed us and made us feel like we've been here forever. We're thrilled with the location."
Corporex Managing Director Thomas Banta added, "We've seen a lot of positive assistance out of Frankfort. They really 'get' economic development. Don't underestimate how valuable that is."
CTI's offices are in eight floors of Corporex's RiverCenter with stunning views of the Ohio River and Cincinnati. Schroeder cited Covington's proximity to CVG, hotels in walking distance, all of things to do around it and the sense of community as major assets. The $36.4 million project will create up to 500 Kentucky-resident jobs.
CTI has operations  and associates worldwide. In December 2017, it acquired Eurotrials, a full-service contract research organization, with more than 20 years of experience, and strong local expertise in Europe and Latin America.
In 2018, CTI will work hard to keep growing and advance the products of its pharmaceutical and biotech partners to advance their products so they receive appropriate approvals, FDA or otherwise, Schroeder said. He noted Covington's strategic location between three major research university institutions in Lexington, Louisville and Cincinnati.
Perhaps equally as significant, he said, is the fact that a talented and educated workforce now sees Northern Kentucky as an equal or better option than cities like New York City or Chicago thanks to the great quality of life and lower cost of living.
Literally minutes away from CTI is Bexion Pharmaceuticals, a company working to develop innovative cures for cancer. NKY Chamber officials speculate a significant life sciences hub is beginning to emerge in the region.
Historic urban core supports startups
Also, the startup scene is thriving. Catalytic Fund's Director of Community Initiatives and Communications Jill Morenz cited outlets like the Pike Street incubator corridor in Covington as a great example of urban renewal combined with business startup prowess. The Catalytic Development Funding Corp. of Northern Kentucky is a private sector, not for profit providing financing assistance and services for developers of quality residential and commercial real estate projects in urbanized Ludlow, Covington, Newport, Bellevue and Dayton. The fund aims to accelerate Northern Kentucky's urban renaissance though targeted investments in catalytic real estate development and redevelopment projects in urban neighborhoods.
Morenz cited names like UpTech, bioLOGIC Corp. LLC, Aviatra Accelerators and Northern Kentucky Innovation Network as game changers for local entrepreneurs. And they're beautifying the urban core.
"The Pike Street incubator in Covington – that's where UpTech and Aviatra are – and the alley behind Pike Street was christened Innovation Alley," Morenz said.
Next door in Newport, the city earned status in January 2017 as the first "Smart City" in the Midwest when it introduced MyLo, an internet smartLINK mobile node that features USB fast-charging outlets, a connected interactive tablet, emergency calling capabilities, atmospheric sensors, data analytic devices, and two 55-inch outdoor displays for wayfinding and advertising purposes.
The ongoing collaborative effort in the Southbank was exemplified again in October 2017 when Duke Energy made another big Northern Kentucky cash influx through its Urban Revitalization grants, providing $307,352 to 10 projects.
"Our urban cores are the hearts of our communities," said Jim Henning, president of Duke Energy Ohio/Kentucky, at the announcement. "These important collaborations will create jobs, spur additional commercial activity, and serve as hubs for these communities and their residents for generations to come."
The Catalytic Fund will manage a lot of the grant funds, one in Dayton, Covington and Newport.
Morenz noted the shift in historic neighborhoods moving structures back to mixed usage, like when they were built – a business owner opening shop on the first floor and living above it. Many of these charming downtown areas are within walking or biking distance to Cincinnati's equally bustling and revitalizing urban core, specifically in trendy areas like Over The Rhine.
"Things that set us apart from Cincinnati's urban core are safety and affordability," she said. "We share walkability, tons of things to do, and bridge proximity."
Improving infrastructure
Speaking of bridges, infrastructure and transportation are also heavy on the minds of local, state and national officials. Much of this is centered around the 55-year-old Brent Spence Bridge, which though structurally sound is functionally obsolete. Kentucky transportation officials issued results of a year-long study in December 2017 backing construction of an additional major new bridge and improved feeder highways.
Built in 1963 for $10 million and designed for up to 80,000 cars a day, the Brent Spence Bridge is a key logistics and transportation link for 10 states from Michigan to Florida – and especially for local business that ships in and out of the airport. Today the bridge averages 170,000 vehicles a day, including ever-increasing numbers of economically important semi trucks. It's ranked among the top traffic bottlenecks in the U.S. Through traffic is 12 to 20 percent of daily totals.
The Kentucky Transportation Cabinet study envisions a new bridge with 11 lanes to augment the Brent Spence, which would be dedicated to northbound local and I-71 traffic beginning in around 2024. The new structure would handle all I-75 traffic, north and south, plus southbound I-71 travelers and southbound local motorists.
Ongoing improvements will be widening of interstates and aggressive study of a Cincinnati Eastern Bypass.
"It will be done, we'll get there," said Gov. Bevin. "It should have started a long time ago, and we're being more intentional now with the conversations. We're going to have to look at the different options that are available, and at the same time start doing more for public transportation in the area."
Meanwhile, already underway is a significant project to expand the Ky. Route 9/AA Highway that runs through the Southbank and connects to the currently underutilized Taylor Southgate Bridge in Newport. This will improve some of the current north-south flow. This new boulevard also will provide a new four-lane entrance to the city of Newport.
The Taylor Southgate Bridge was built for 32,000 cars but is used only by about 8,000 cars a day.
Another major player in the region's transportation scene, the Cincinnati/Northern Kentucky International Airport (CVG) has worked successfully to reduce fees and improve service. In October 2017, the U.S. Department of Transportation released its average airfare ranking report for second quarter 2017. CVG is now the lowest fare airport in the region and the only one in Kentucky to offer direct flights to Europe.
Overall, airfares at CVG have dropped 16 of the last 17 quarters dating back to 2013. Since then, fares have dropped approximately 37 percent, and passengers are paying $200 less per ticket.
In August 2017, WOW air, Iceland's low-cost transatlantic airline, announced new international flight services from CVG to Europe via Keflavik International Airport in Iceland.
Logistics powerhouse
Ease of travel affects both the moving of people and the moving of goods.
Gov. Bevin called logistics "obviously a huge part" of Northern Kentucky. In January 2017, Seattle-based Amazon made it even bigger with its announcement that it would create up to 2,700 jobs at a new air cargo hub at CVG. It was the largest such project announced in Kentucky history. Amazon has been an active member of the business community in Kentucky for nearly 20 years, employing more than 10,000 people in full-time jobs across 11 fulfillment center locations.
The effects of Amazon's first ever Prime Air hub are likely to be transformative over the long haul.
Shortly after Amazon went public with its decision, DHL Express announced it would add 900 new jobs at its CVG hub as it completes the latest $108 million expansion of its Americas Hub.
Manufacturing and workforce development
Logistics goes hand in hand with manufacturing, since the ability to build products also requires the ability to quickly distribute them. And those manufacturers need a good pipeline of skilled workers.
Northern Kentucky's trained workforce is an important reason it is home to a formidable industrial sector, specifically in the auto manufacturing, food and beverage, and aviation sectors.
Safran Landing Systems makes, among other things, aircraft wheels and brakes. Auto component maker Mubea recently completed a $73 million expansion. HAHN Automation develops innovative solutions for automating production processes. Flottweg produces separation technology. Perfetti van Melle USA creates candy like Airheads and Mentos.
Many of these companies also call Northern Kentucky home, and many expansions – including an $11 million at Perfetti van Melle USA last spring – were announced in 2017 alone.
It's no wonder manufacturers choose to operate in Northern Kentucky. The Regional Economic Development Initiative (REDI) Cincinnati, which includes Southwest Ohio, Northern Kentucky and Southeast Indiana cited the region's low cost index as below the national average, being home to a diverse workforce of 1.3 million people and as already home to 450 foreign-owned companies. REDI Cincinnati is the first point-of-contact for companies locating or growing in the 15-county region at the heart of Southwest Ohio, Northern Kentucky and Southeast Indiana.
Entities such as the Northern Kentucky chapter of the Kentucky Federation for Advanced Manufacturing Education (KY FAME) work hard to ensure that these new employers have an active pipeline of employees available with skills to match their needs. KY FAME is a company-sponsored earn-as-you-learn program that has been copied by other states.
And finally NKY Chamber officials touted the major legislation passed roughly a year ago when Kentucky became a "right-to-work" state. Business groups, including the Kentucky Chamber of Commerce, had prioritized the bill for the 2017 General Assembly, with a push to promote economic growth. The effects are expected to ripple through Northern Kentucky, as yet another part of the continued upward activity.
A community effort
Northern Kentuckians are accustomed to helping others, and there are many entities available to help people, in business or not, get immersed into a healthy and thriving community, grow the economy and create more opportunities.
At the all-new Horizon Community Funds of Northern Kentucky, President Nancy Grayson is all about bringing people together, and the region specializes in collaboration.
"We try to think creatively to work together and partner together for common goals," Grayson explained. "I think it's helped with business to have a clear voice, helps for schools to provide more talented workforce."
Horizon is a community-wide foundation that provides a way to pool resources in order to give back, make a lasting difference, and to improve quality of life for generations.
As the newest community foundation in Northern Kentucky, Grayson noted that the fund has the support of the Commonwealth of Kentucky and the Greater Cincinnati region.
At the Northern Kentucky Regional Alliance, President/CEO Karen Finan said its mission is "to transform Northern Kentucky by uniting and mobilizing community leaders around initiatives that produce tangible, measurable results."
The Regional Alliance board is comprised of leaders from corporations like Duke Energy, Corporex, KLH Engineers, PNC Bank, Haile Foundation, CVG and Verst Group Logistics.
"Our board and many other corporate entities offer regional resources and a true passion for Northern Kentucky," Finan said. "As with many communities, Northern Kentucky is experiencing an opportunity for transformation. We plan to impact and in some cases, accelerate this opportunity by working through and with other organizations and individuals who are moving NKY forward."
Heading into 2018, the alliance is focusing on health and community initiatives. It's also looking toward a focus on job creation and community vibrancy with more emphasis on advocacy and partnerships with NKY Chamber and Cincinnati USA Regional Chamber, Finan said. "Northern Kentucky, as part of the Cincinnati region has an opportunity to aggressively advance as the business cycle continues to trend upward."
Covington continues its rise
Northern Kentucky's largest city, Covington, had a solid 2017. In May, Renaissance Covington was one of three communities honored with a 2017 Great American Main Street Award (GAMSA) presented by the National Main Street Center Inc. (NMSC).
Covington is made up of 19 neighborhoods and commercial districts. According to the NMSC community profile, "The area features a casual mix of Midwestern strength and Southern charm and has developed a flourishing creative population. Brimming with beautiful Italianate brick buildings, the district has seen an influx of new independent businesses and insatiable demand for downtown residential units over the past few years."
Since 2003, vacancy rates have dropped from 26 percent to 5 percent, and the district has added 790 jobs. Part of the appeal is the beauty of the streetscapes. For example, Covington's Madison Avenue is newly lined with flower boxes. The city is full of old housing stock and unique pockets like the Licking River Historic District.
"Each of Northern Kentucky's river cities has its own unique identity and all share some similarities," said Tom West, AICP, the city's economic development director. "Covington is home to a variety of business districts, each with its own identity and appeal to a variety of businesses. While Covington has direct access into downtown Cincinnati and the busiest interstate highway in the nation, recent investors have also cited the walkable downtown, riverfront and Mainstrasse areas as key to both housing and business development."
Despite all of it, he added, the city's greatest asset is its people.
West and other city leaders are an open book, and will remain increasingly so. In November 2017, in an ongoing commitment to transparency and accountability in city government, the City of Covington has launched a new initiative, COVDATA. It allows anyone to browse datasets and reports of information collected by the city to document government operations.
City Manager David Johnston stated in a press release, "Here in Covington we see transparency and openness of our city government as fundamental values as how we serve."