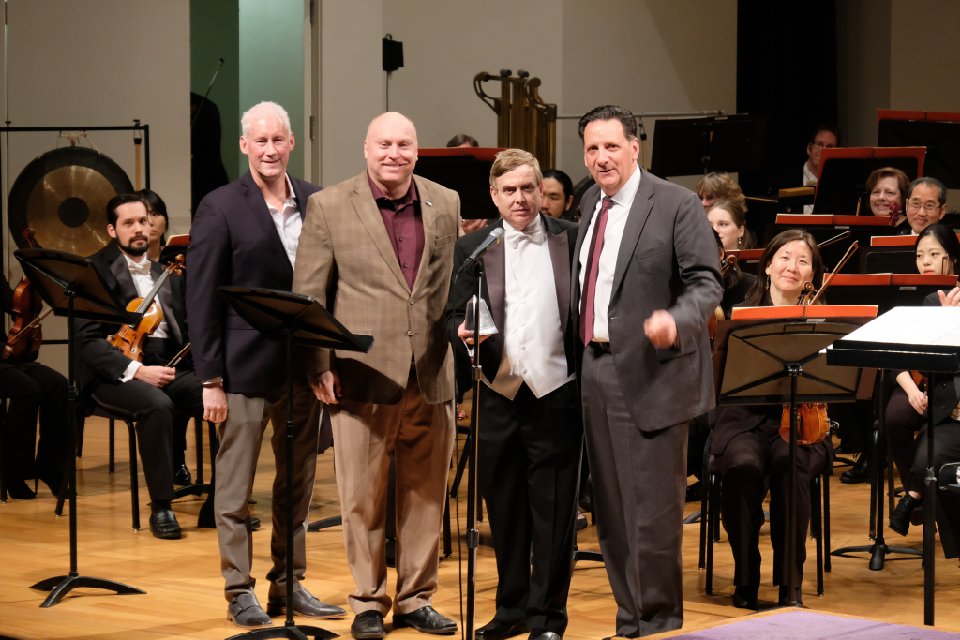 FORT MITCHELL, Ky (Feb. 1, 2018) – Before a packed house at the Kentucky Symphony Orchestra's (KSO) concert Saturday night, Northern Kentucky Chamber of Commerce President & CEO Brent Cooper and Immediate Past Chair Bob Heil presented the very first NKY Community Award to J.R. Cassidy, the veteran KSO music & executive Director.
The NKY Community Award will be awarded to exceptional individuals, businesses or organizations that have helped to advance or promote the region. Nominations are open to the community, and awards will be presented throughout the year as nominations are received. NKY Chamber staff will review submissions; with additional input from the NKY Chamber's Board of Directors' Chairperson.
"I believe that the success of our region is inextricably linked to the time and talent that members of this community are willing to contribute," said Cooper.  "This is our way of not only bringing awareness to these individuals and organizations, but also thanking them for their efforts."
Said Heil, "J.R. Cassidy certainly personifies this award.  For nearly 25 years, J.R. has led the charge for delivering world class music to Northern Kentucky."
Rhonda Whitaker, NKY Chamber Board chair and the current chair for the ArtsWave campaign in Northern Kentucky, said, "We are thrilled to honor J.R. This choice reflects the business community's recognition that the arts are a critical part of not only our quality of life, but of our economy. J.R. Cassidy & the KSO have helped make our community a better place to live, work, play & raise a family."
Individuals interested in learning more, or in submitting a nomination, should contact Lynn Abeln at [email protected].
The NKY Community Award is sponsored by meetNKY.