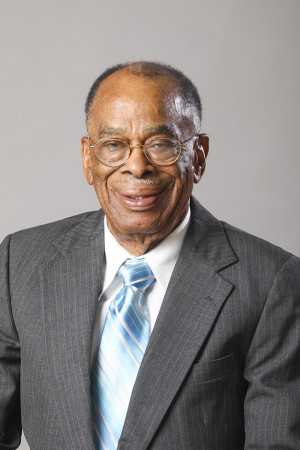 FRANKFORT (Feb. 5, 2018) — A new residence hall atrium at the University of Missouri (MU) has been named for a civil rights trailblazer and longtime Kentucky State University faculty member and administrator.
Dr. Gus T. Ridgel, MU's first African-American graduate, currently serves as senior advisor to the president at Kentucky State. The Gus T. Ridgel Atrium is part of the newly named Lucile Bluford Residence Hall at MU.
"Dr. Ridgel is extremely deserving of this honor," Kentucky State University President M. Christopher Brown II said. "We've been standing on his shoulders for years. He's a trailblazer and he continues to live out his legacy daily. We value all that he brings to the Kentucky State University family."
Ridgel retired in 1996 as vice president for finance and administration at Kentucky State after a long career in higher education. His wife, Dr. Gertrude C. Ridgel, also served in various faculty roles at the institution from 1960 to 1986.
He was part of Concerned Student 1950, the first group of African-American students admitted to the University of Missouri. Ridgel was admitted to the graduate program in economics in 1950 after civil rights groups won a court ruling desegregating the university.
Upon admission, Ridgel discovered the economics program was two years long, not one like he previously anticipated. He didn't have the money for two years.
According to a New York Times story, his department chairman comprised a solution: do all the coursework and write a master's thesis in one year. Ridgel told the Times: "no one had ever done it."
Blazing a trail, Ridgel received a master's degree in economics two semesters later.
Ridgel would later earn a doctorate in economics at the University of Wisconsin and conduct postdoctoral work at the University of Chicago, Duke University and other institutions.