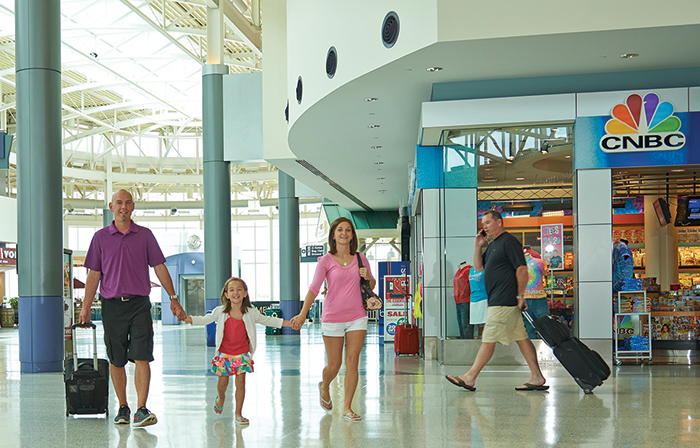 ERLANGER, Ky. (Feb. 7, 2018) — The Cincinnati/Northern Kentucky International Airport (CVG) is the lowest fare airport in the region and is breaking records in local passenger and cargo growth.
For two consecutive years, every airline partner experienced passenger growth, and carriers are consistently adding and/or expanding new flight options. CVG and its airline partners have already announced 12 new flight options launching this year. With all the recent news, it may be tough keeping up with the positive change. The following provides an overview of CVG airline activity as of February 2018.
• Air Canada continues to provide nonstop service to Toronto three times daily.
• Allegiant will serve 21 destinations from CVG with more than 80 weekly flights on a seasonal and/or year-round basis. New service to Charleston, South Carolina begins April 5 and new service to Sarasota, Florida begins April 13.
• American Airlines serves eight destinations from CVG with more than 200 weekly flights. Last year, American started operating larger mainline aircraft serving Dallas/Fort Worth.
• Delta will serve 36 destinations from CVG with more than 500 weekly flights. New nonstop service to Austin, Texas begins May 1, and new nonstop service to Phoenix, Arizona begins Nov. 4. Delta is also adding year-round service to Seattle, and increasing capacity in 15 other markets. Delta provides the only direct flight to Europe in Ohio and Kentucky.
• Frontier will serve 20 destinations from CVG with 88 weekly flights. New nonstop service to Austin, Texas; San Jose, California; and Jacksonville, Florida begins April 8. New nonstop service to San Antonia, Texas and Raleigh/Durham, North Carolina begins April 9.
• Southwest will serve CVG with more than 33 weekly flights and three destinations, one being seasonal service to Phoenix that operates March 8 – April 7, 2018.
• United serves six destinations from CVG with more than 160 weekly fights. United has increased daily flights to Washington-Dulles from three to four, and also added nonstop service to San Francisco in 2017.
• Vacation Express will serve five destinations from CVG after it adds new service to Cozumel, Mexico and returning service to Grand Bahama Island this spring. Other destinations include Cancun, Mexico; Punta Cana, Dominican Republic; and Montego Bay, Jamaica.
• WOW Air will provide low-cost international service beginning May 9, 2018. WOW will offer nonstop flights to Reykjavik, Iceland and one-stop flights to Amsterdam, Paris, Copenhagen, Dublin, Frankfurt, London and Berlin.
Overall, CVG serves 61 destinations on a nonstop, year-round or seasonal basis, including 179 peak-day departures and the only nonstop flight to Europe in Ohio and Kentucky with service to Paris Charles de Gaulle.