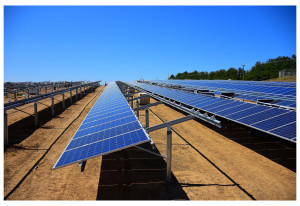 WINCHESTER, Ky. (Feb. 8, 2018) — Sekisui S-Lec America will install more than 2,000 ultra-high efficiency solar panels at its state-of-the-art interlayer film manufacturing facility in Winchester, company President Pedro Cordoba announced today.
The roof and ground mounted solar array comprised of 2,035 400-watt panels will produce enough energy each year to power the equivalent of 84 average homes. The 814-kilowatt system will be engineered and installed by Solar Energy Solutions of Lexington and will be completed in July. Installation of the solar energy system will establish SSA as one of the top five private producers of solar energy in Kentucky.
SSA's Winchester plant opened in 2007 and employs 98 associates. The company produces Polyvinyl Butyral (PVB) interlayer film products for automotive glass.
"The installation of this solar array is another strong sign of SSA making real its corporate strategy of pursuing aggressive, profitable growth combined with careful environmental stewardship," Cordoba said. "At SSA, we see profitability and care for the natural environment, through prevention of global warming, preservation of biological diversity and the construction of a recycling-based society as mutually supportive goals. This is further evidenced by our current site's certification as a zero waste to landfill business."
Solar Energy Solutions is Kentucky's and the region's largest and most experienced solar design, engineering, and construction company. Founded in 2006, Solar Energy Solutions has more than 850 active photovoltaics projects in the utility, commercial and residential arenas throughout Kentucky, Ohio and Indiana.
Solar Energy Solutions recently completed the installation of more than 2,300 solar panels at the Oxmoor Center in suburban Louisville, which is the largest ever retail location-based solar array in Kentucky.
"President Cordoba and his entire team at SSA should be commended for taking this major step toward environmental stewardship, sustainability and clean energy," said Solar Energy Solutions General Manager and Co-owner Steve Ricketts. "The company is a clear leader in its commitment to reducing carbon emissions through the sustainable and profitable path that solar energy provides; an example that many local businesses are already looking to follow."